Unfortunately the REALITY is well beyond SPECULATIONS …!
හතුරුසින්හ යටතේ … ශ්‍රිලන්කවේ ක්‍රිකට් අඳුරු අගාදයේ පතුලට…
We all thought & hoped recruiting a Coach paying the world's third highest monthly salary (6 million) offered for such a professional today, would resolve our problems & bring back the glory days. Only England's Trevor Bayliss and India's Ravi Shastri are being paid more than Hathurusinghe as a Cricket Coach, currently in the world.
Unfortunately, it wasn't the case as we all realized now and SL ODI Cricket had plunged in to deeper devastation, with no return in vicinity under this highly overpaid /overrated coach. There is a contrasting difference in the outcome, compared to the massive progress achieved England today under Bayliss & India under Shastri, substantiating their professional worthiness to earn such salaries.SL ODI Cricket dwindled under Hathurusinghe since he was appointed as head coach in Dec 2017 to date:
SL played 22 ODIs – Lost 15 – Won 7 – W/L : 0.466 – Tied 0Look at the 4 year progress England made under Trever Bayliss since Sep 2015 to date:
England's 1st year progress under Trevor from Sep 2015 – Sep 2016:
England Played 22 ODIs – Won 14 – Lost 7 – W/L: 2.000 – Tied 1
Compare above progress with England's poor Record in the year before Trevor took over Coaching (from Sep 2014 to Sep 2015):
England Played 25 ODIs – Won 10 – Lost 15 – W/L: 0.666 – Tied 0 (before Trevor took over, Eng ODI standard was somewhat similar to poor SL).
As clearly seen from above stats, England's ODIs Win/Lost Ratio has been massively improved from 0.666 to a startling 2.000 starting from the first 12 months itself under Trevor & steadily progressed to highly impressive 2.526 today in 3 years.
Under Trevor since Sep 2015 to date: Eng: played 68 ODIs – Won 48 – Lost 19 – W/L : 2.526 – Tied 1
Similarly, India's steady progress under Shastri . Unlike this hopelessly underperforming substandard SL coach, those two high-profile Coaches had immediately justified their lucrative stipends, by producing well-worthy results for the respective nations, starting from first 12 months of their tenure itself. In that context SL, it is now obvious the blunder made by SLC in Dec 2017. SL should have hired someone like Trevor Bayliss, who coached Sri Lanka between 2007 and 2011, leading to the final of the 2011 World Cup.Now look at some of the unforgivably grave blunders Hathurusinghe had adamantly done during the past 12 months. He inflicted irreparably damage to SL's Shorter formats, especially to the ODI team, despite upcoming WC.
1) Appointing, ODI place unworthy Dinesh Chandimal as the skipper of ODI side.
Chandimal's slow & low selfish approach was one of the main causes in many humiliating whitewashes suffered by SL in the past couple of years. (ie: Series whitewash vs Pk in Oct 2017 was mainly due to selfish bottle-necked batting of Chandimal. His contribution in that Whitewash was collecting an appalling 41 runs @ 8 AVERAGE with unbelievably LOW 45 STRIKE RATE, wasting all 5 ODI innings in the series).!
Past 2.5 yrs since July 2017, this is how this 9-year experienced Chandimal had performed in ODIs:
last 29 ODI ings – 802 runs @ 29 Av – 67 SR. Is this sufficient to justify a spot (let alone captaincy) in any international team? But in the eyes of this SL Coach, he even deserved the captaincy.
2) Bringing back the format unsuited Kusal Mendis to extend his massive burden for the ODI team further, despite the upcoming important WC.
Kusal Mendis had already caused substantial damage to the ODI team & he was significantly responsible for many defeats suffered over past 24 months. He was already tried out & classified as a failure, after offering ample chances (Since Jan 2017 – 40 ODIs – 855 runs @ 22 Av including 8 x 0) & dumped at that point (similar to Chandimal) by the previous selectors. Just look at Kusal Mendis performances & his appalling series records that caused SL, defeat after defeat in the past 18 months highlighted below:
– Zmb in SL – 5 odis- 115 runs @ 28 av – significantly caused the Historical defeat
– Ind in SL – 4 odis – 58 runs @ 14 Av – significantly caused this Whitewash
– Pak in UAE – 2 odis -12 runs @ 6 Av – & Chandimal's: 5 odis – 41 runs @ 8 Av significantly caused this Whitewash (despite Tharanga's 200 runs @ 50 Av)
– Tri-nation series in BD – 5 odis – 83 runs@ 20 Av – (Despite this type of contributions, Opener Tharanga somehow managed to pull the series win with another fine unbeaten *50+ in the final).
– SA in SL – 5 odis – 86 runs @ 17 Av
– Asia Cup – 2 odis – 00 runs @ 00 Av
– Eng in SL – 3 odis – 61 runs @ 20 Av
– SL in NZ – 3 odis – 38 runs @ 12 Av
For no justifiable reason, perfect winning combination struck in the last 2 ODIs in SA series in 2018 was disrupted by axing productive Opener Dickwella, just to slot in Kusal Mendis as Opener in Asia Cup by his angel coach Hathurusinghe for no justifiable reason what so ever.
As everyone expected – except for the adamant SL coach; Kusal Mendis doomed both ODIs with twin upfront zeros, slotted in to bat as an opener from nowhere, in the place of consistent run maker Dickwella, by this coach in Asia Cup. Mendis AVERAGED ZERO in that short lasted important series!
Repeated upfront collapses triggered by Mendis put lots of unnecessary pressure on rest of the batters, including Opener Tharanga (highest performer for SL in that series too – Av 32). Eventually SL crumble & faced consecutive defeats against bottom ranked Afghanistan & BD. As predicted by many, again this highly overrated coach paved the path for early exit from Asia Cup 2018, thanks to his vision-less, favorites pampering adamant decisions.
Even though, Mendis scored a flat deck 50exploiting the 2nd string Eng side in the final match of dead rubber (after 23 innings straight failures over 16 months since his last 50), he still AVERAGED 20 in that series Vs Eng to cause the 3rd consecutive home series defeat in 2018, apart from so many in previous year as indicated above list.
3) It is really sad to note, Kusal Mendis had managed just 268 runs @ 15 Av from 18 Odis played since the coach blindly granted him extended stay in ODI arena to continue further damage, at the expense of ridiculous ELIMINATION OF TOP RANKED ODI run-maker for SL since 2016 – Upul Tharanga – who had accumulated 1,399 runs @ 40 Av – 84 SR from 41 ODIs for SL.
Worthwhile noting the discarded Opener Upul Tharanga's consistently outstanding batting Achievements since January 2017:
මෙන්න අපේ සුපිරි පුහුණුකරුගේ විශම ලෙස අන්දචින්තනය… ATROCIOUS SELECTION DISCREPANCY at a Glance:
– UT: 2018 Provincial SUPER 4 DOMESTIC: 396 @ 66 AV / 109 SR – 2 X 100/ 2 X 50 – 242 runs came from 47 x FOURS & 9 x SIXES.! – UT: INTERNATIONALS: 1,315 RUNS @ 40 AV – 88 SR – 742 RUNS CAME FROM 154 X FOURS & 21 X SIXES from 38 odis played SINCE 2017
– Upul became World's 3rd best ODI batter in 2017 – – Scoring over 1k (1,011) odi runs @ 48 av- 92 SR in 2017 – 2×100+ & 6 x50+ (only behind Virat & Rohit)
http://stats.espncricinfo.com/ci/engine/records/batting/most_runs_career.html?class=2;id=2017;type=year
Here is Upul Tharanga's last 21 ODI Innings Statistics: From Sept 01 , 2017 – to date:
Odi Innings: 21 – Odi Runs: 702 – Batting Av 37 – Strike Rate: 82 – ONE x 100+ (unbeaten 112* Vs Pk) & 3 x 50+ scores (61 Vs Pk / 95 Vs India / series winning 56 Vs Bangladesh in a final of a triangular series that brought him his 13th MoM award in 2018) .Apart from above 4 x 50+ scores including an unbeaten 112* & a near hundred (95), Tharanga had scored another Couple of near 50 scores (48 & 49 vs India) included in his past 21 ODI innings.
Upul Tharanga got out for a duck in Dambulla 1st Odi Vs Eng (just the 2nd Duck in 38 innings played over 22 months). But that was enough for the Coach to to dump him witout allowing further participation in the remained 3 ODIs in the series & virtually ending his career just before the upcoming WC!
AXED THARANGA's ODI record in 2018 : 39*, 56 ,10 , 9 ,19, 36, 19 ,27 ,36 , 0 (he also made a 95 & 49 in India in Dec 2017 ) – this is just the 2nd duck in 38 odi innings he played since 2017 !
– His replacement K MENDIS in 2018 : 0, 19, 36, 28, 3, 0, 31, 14, 38, 0, 0, 0 ( 6 SINGLE DIGIT Scores including 5 x DUCKS within 12 innings causing ASIA Cup Exit.
What justification is there to cutoff such a PROVEN & highly CREDENTIALED ODI player with upfront boundary/six hitting ability at will to be axed like that to place a repeatedly stamped shorter format FAILURE like Kusal Mendis? THAT IMPOSSIBLE THING HAD HAPPENED DUE TO A LAPSE of a Fifty score after JUST 8 INNINGS since his Series WINNING last 50+ in BD Triangular Decider !
Upul Tharanga was the solitary player who scored heavily for SL since 2017 – missing 3 certain MoM awards for his diehard efforts of 119 r@ 132 SR in SA – Missed the MoM award & got Whitewashed due to the failure of the rest of fable batting unit.
In SL's overall ODI history – Upul Tharanga is the 2nd ever-Best SL Opener in SA 9 in / 359 runs @ 40 av / 95 SR / 1×100 – 2 x50 (only behind Marvan 55 av/ 86 SR – who had played just one series there).
His record making unbeaten 112* (carrying the bat through out the inning as the World's first skipper to do so) Vs Pk in 2017 to win a match & avoid the whitewash would have certainly earned him the MoM award as well … but sadly all hopes ruined by the rest in the crumbling batting unit as usual., stranding Upul at the end without partners, with 2 overs remaining to make those few runs needed to win!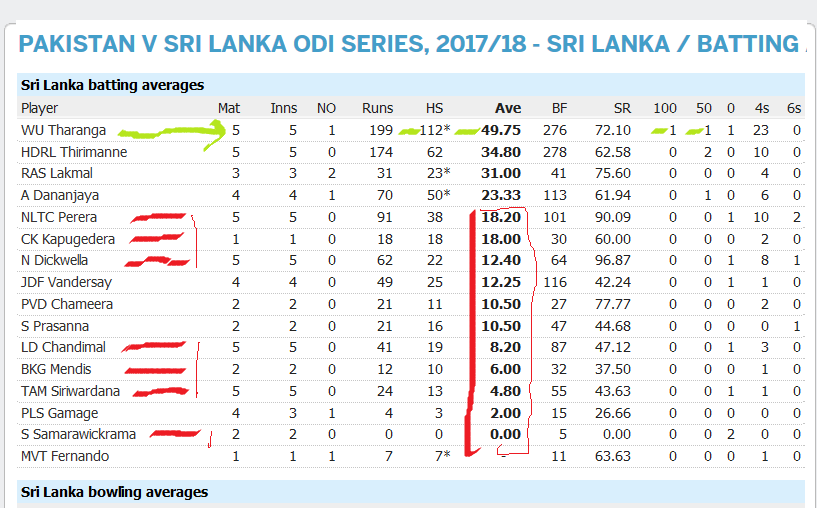 Upul also missed another MoM award opportunity for his blistering 95 @ 118 SR in India in Dec 2017 series decider, ruined by the rest of all in batting unit. After halting Upul @ 95 with a dubious stumping decision… 8 wkts crumbled for just 52 runs, vanishing the certain chance of a series victory in India as well.
Dubious Stumping was given when Upul Tharanga had scored a blistering 95 (82 b), missing his well deserved 16th Century by just 5 runs.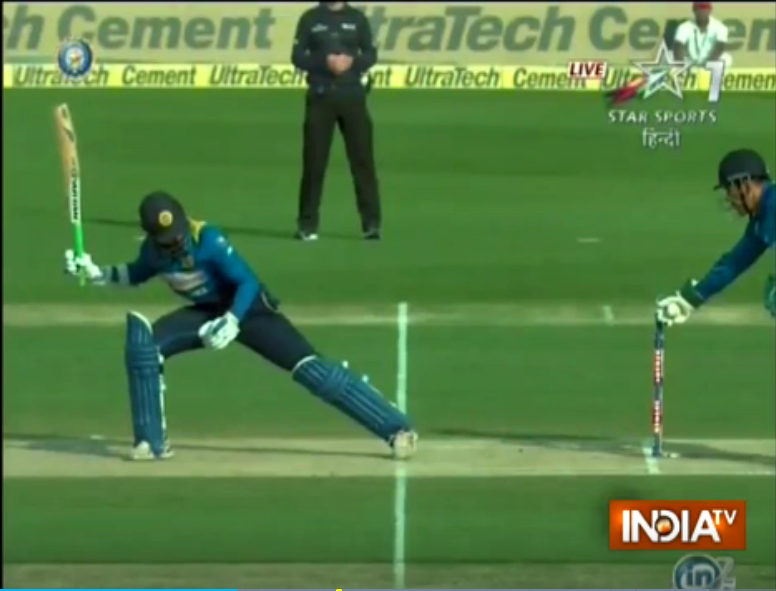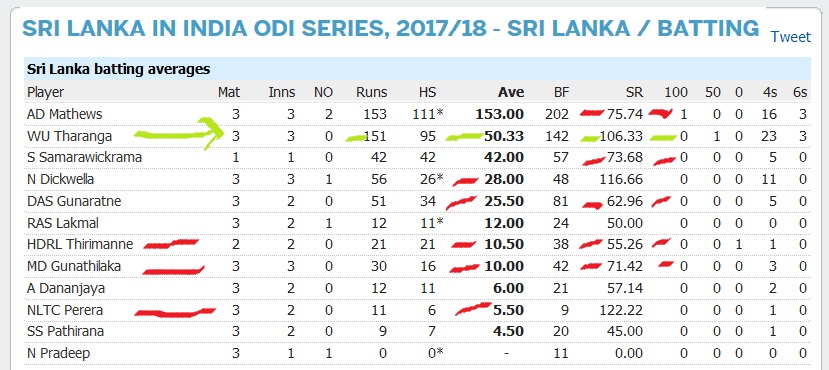 Upul had also won the MoM award in the decider for his vital 56 runs knock in the solitary series SL won in 2018 (in BD triangular series where others supported his effort with bat for the first time in 18 months).
Thereafter, Hathurusinghe axed him for his solitary dip in form for a single series in 2018, despite constantly producing 1.4k runs @ 40 av – 80+ SR for SL well over 3 yrs up to that.
I SERIOUSLY ASK EVERYONE, IS THE ABOVE RECORD LOOKS LIKE A PLAYER TO BE DUMPED LIKE THAT AT SUCH CRUCIAL A TIME LIKE THIS?
Certainly Hathurusinghe is not a saint to keep his favorites like Chandimal (abysmal SR in 60-70s) & Mendis (recent 18 ODIs av 15) despite enormous damage done to ODIs over 3 yrs, while axing the Best batter in the lot.
Kusal Mendis had managed just 268 runs @ 15 Av from 18 Odis played since the coach blindly granted him extended stay in ODI arena.
Hpefully the New Chief Selector Mr. Ashantha De Mel will take note of this ongoing ludicrous Circus in ODI arena & take some reasonable action to rectify it, before it is too late.