No one can deny the fact that Kusal Mendis is naturally gifted to play longer version of the game adjusting well to it's demands. But that doesn't mean he can become a good ODI batter as well. This is a proven fact with costly 50+ matches wasted on him bringing total disaster to SL. Unfortunately, he had contributed massively to the decline of ODI standard in past 2+ yrs.  But I don't blame him. The culprits behind this futile move should be held responsible.
Kusal Mendis' last 20 ODI innings with 6 x Ducks to his credit: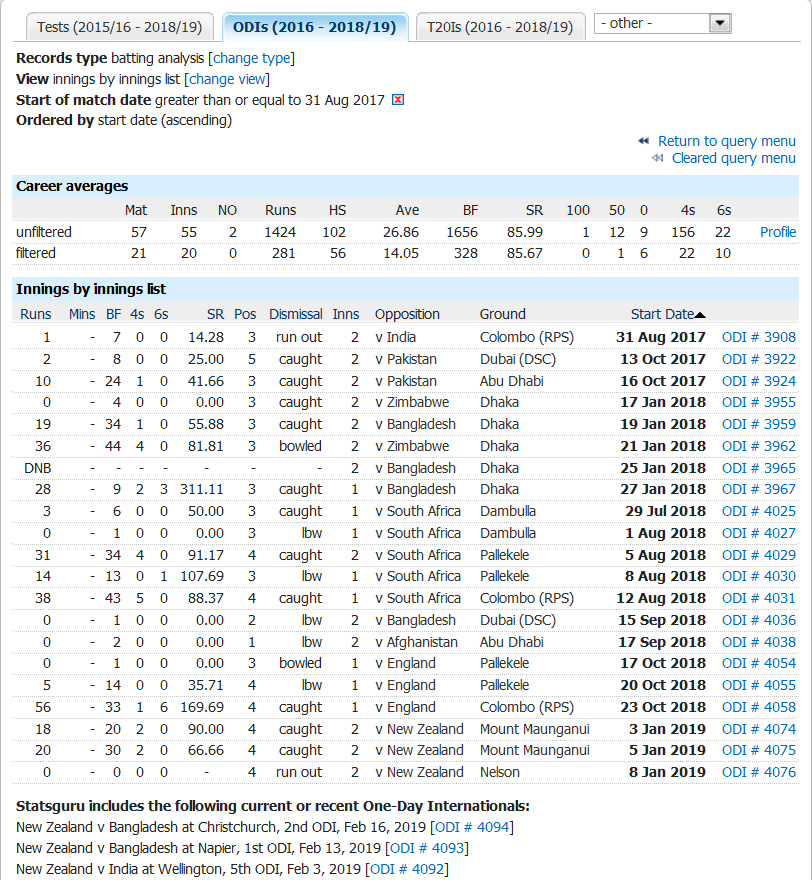 Kusal Mendis had played 57 ODIs @ pathetic 26 Av – showing further decline in ODIs, unable to cope-up with the demands of shorter version, against stronger opponents (in 2018 – 16 Av/ in 2019 – 12 Av) . Kusal Mendis' last 17 ODI innings yielded sorrily 268 runs @ 15 Av for poor SL (equivalent to a tail-ender/bowler like Akila Dhananjaya) – Kusal Mendis' batting ininnings had heavily contributed to the defeats against Eng/ SA/ NZ / & BD/Afganistan ensuring instant exit from Asia bringing continuing misery to ODI side with the adorable COURTESY of his angel Coach Hathurusinghe .!
Kusal Mendis' special at a Glance –
His adverse effects on SL- ODI series desasters since 2017/18/19 :
Whitewashed Disaster in SA  :                  5 ODIs – 116 runs @ 23 Av
Historical disaster Vs Zmb in SL:               5 ODIs – 115 runs @ 27 Av (on 300+ flat decks)
Whitewashed Disaster Vs Ind in SL :        4  ODIs –  57 runs @ 14 Av
Whitewashed Disaster Vs Pk in UAE:       2 ODIs – 116 runs @ 23 Av
BD Trination in BD  Vs BD & WI :              4 ODIs –    83 runs @ 20 Av
Disaster Vs SA in SL:                                5 ODIs –    86 runs @  17 Av
Disastrous Asia Cup Exit (Afg BD):        2 ODIs –   00 runs @  00 Av (slotted in as Opener by the Coach)
Disater Vs Eng in SL :                                4 ODIs –    61 runs @  20 Av
Whitewashed Disaster Vs NZ in NZ :        3  ODIs –    38 runs @ 12 Av
There were/are many other classic Test batters similar to him (Ie: Dimuth, Chandimal, Thilan Samaraweera etc. ) seen in the past & present with limited talent & skills specifically suited just for Test cricket. They never blossomed in ODIs & would have been much better off,  if they had confined their entire careers focusing only on  Test cricket, when found-out their total failure in limited-overs arena .  Persisting with such players, expecting to cross over the line at some point out of their naturally gifted scope had never ever worked out, as evident from history.
A  batter with good temperament & exceptional ability to play longer innings doesn't mean that he is a readily available ingredient to mold a hero in fast-paced arena as well. Most of such will never become successful limited over guys as already proven with many cases in history ( ie: Thilan Samaraweera 50+ Odis @ 27 Av – SR 60s / this decade's fast-paced era debuted Chandimal, even after playing 146 ODIs over Nine years, could NOT Improve his match dwindling Strike Rates – 59 in 2017 /SR 76 in 2018 / SR 43 in 2019… became a huge bottle-neck to the ODI team in most doomed matches – costing heavily for  SL).
Let this guy Kusal Mendis confined to play Test Cricket onlly, along with Chandimal (as Dimuth) . If the authorities are brainy enough, that is the only way you can avoid this youngster's inconsistency reflected in his Test cricket today…! This visible setback in Test cricket is obviously due to his unending string of miserable failures in ODI cricket. If you want to protect this youngster from breaking down totally inflicting permanent damage to his Test career, that is the essential must needed to be done right now. That way you can assure to get the maximum out of his born talent to play in Test cricket.