By Trevor Chesterfield | November 28, 2010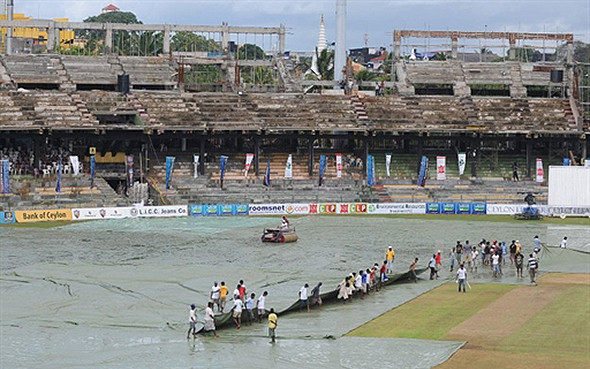 What we have had on day four has, because of persistent rain, delayed for a day a another inspection of Sri Lanka's bowlers. AFP PHOTO/Lakruwan WANNIARACHCHI.
When Kumar Sangakkara mentioned, as if in the strictest of confidences, how Sri Lanka had a plan to get rid of Chris Gayle, it brought an easy smile. Sport is full of such fancy stratagems.
How many captains or bowlers for that matter have a plan to get rid of so and so? Douglas Jardine targeted Donald Bradman well before he was knighted (Bradman that is not Jardine). It was branded bodyline by the Australian media in 1932/33 and changed one of the laws of the game.
Jardine also happens to be the favourite captain of another England skipper, but of a later vintage, the South African born Tony Greig. And precisely for all the reasons mentioned: the targeting of The Don who, for want of a fancy metaphor was seen as the Excalibur, or main threat (periculum summa to use a Lain phrase), to this plan in the Australian side.
As far back as 1898, George Giffen, the Australian WG Grace of his time and a captain, also wrote in his book "With Bat and Ball," how there were plans to dismiss batsmen such as Grace and other luminaries in visiting teams. Among the list of England batsmen Giffen mentioned were Archie MacLaren, J T Brown and C B Fry – the last three on the famous 1894/95 Ashes tour which England won 3-2.
Of course the plan is to ensure that the captain knows what he is doing at the time and that he has the bowlers to carry out the instructions, whether they be, fast bowler, seamer, spinner or the ace up the skipper's sleeve. Sometimes the plan(s) works; sometimes it needs careful execution and setting up the batsman.
Gayle was out to a delivery from debutant Suranga Lakmal. As it was the first time Gayle had faced the Matara educated fast-medium seam bowler, he can perhaps be excused for his lapse. Lakmal has a long way to go and if he is included in the side for the Test at Pallekele, it will be almost a first – Sri Lanka using the same fast bowler in consecutive Tests.
What we have had on day four has, because of persistent rain, delayed for a day a another inspection of Sri Lanka's bowlers. West Indies were lamenting their errors of Thursday that saw them reach 165 for five when it should have been 165 for three. Poor execution of strokes saw two wickets (Brendan Nash 160 and Darren Bravo 161) falling to part time spinner Tillakaratne Dilshan. The second wicket to a brilliantly judged effort pulled off by Rangana Herath.
This doesn't hide though what is a growing concern that while Sangakkara may have a plan to dismiss top batsmen, there are problems ahead. There are times, it seems that Sri Lanka's coaching strategy has lost the plot. They are preparing a bowling attack designed to play in the ODI 50 overs and the T20 instead of for Tests and this is where there is a major danger.
It is always a gamble to go into a Test with a set of bowlers who are under pressure and frankly what we have seen so far this year, suggests that Sri Lanka, with the decision to mothball Lasith Malinga for the World Cup, is a gamble.
For Premadasa, Sri Lanka are using a fourth set of bowlers in as many Tests and before going into this one, Nuwan Kalusekara had 25 wickets at 34.58 in 11 game, his last Test was against India in Mumbai a year ago. In that game he was in partnership with Chanaka Welegedara (1/131 off 30 overs) he managed a single wicket for 105 off 20 overs, squandering runs at more than five an over as India plundered the bowling – Virender Sehwag falling seven short of what would have been a third Test triple century.
Questions need to be asked whether this rotation of fast bowlers is a desperate ploy by the selectors, in this case, panels headed by Ashantha De Mel and now Aravinda De Silva to find the right combination. Shrewd man as he is, De Silva suggests there is a transition period. He also admits there is a concern over the fitness of the bowlers.
What we have seen so far is a disaster and it will continue this way until the current fast bowling coaching system is capable of putting fit men into the attack, and those who can deliver impressive spells, as Chaminda Vaas apart. For so long Sri Lanka's bowling has revolved around the Muttiah Muralitharan factor they have forgotten what it means to have a consistent fast bowling attack to give Sangakkara confidence.
A team needs 20 wickets to win a Test, since Murali retired, Sri Lanka have failed to achieve even that target. What are the so-called marvellous coaches running the system doing to find replacement? Precious little it seems.
No wonder Sangakkara lamented post-match in Galle how they had their eyes opened in the first Test was a wonderful batting exhibition by Gayle and laid bare how powerless Sri Lanka are as they cope without the Murali Magic at Test level.
© Trevor Chesterfield/Island Cricket.
(For reasons of copyright, permission is required from the author and/or webmaster/editor of islandcricket.lk for publication).