By Trevor Chesterfield | December 8, 2010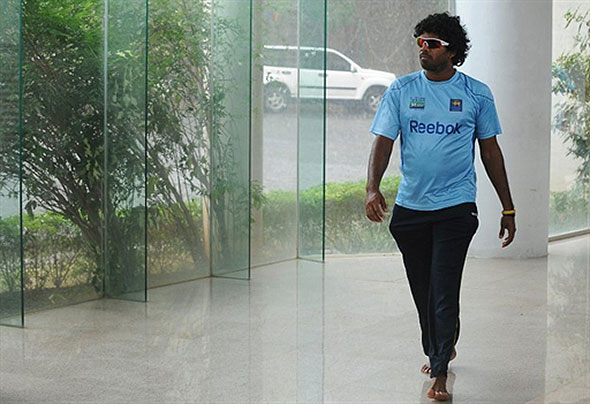 The decision to sideline Lasith Malinga for the World Cup seriously hurt Kumar Sangakkara's side this latest Test series and after the Galle disaster, it is going to need more than one series to reshape a Test bowling new-ball attack. AFP PHOTO/Lakruwan WANNIARACHCHI.
FAÇADES are remarkably deceptive. Take Cinnamon Gardens, Colombo, with its tree-lined old colonial charm, handsome white washed appearances, mostly exuding affluence and with it the image of an elite society.
It is an inner suburb boasting two Test venues less than a kilometre apart, where much of Sri Lanka's cricket heritage has been shaped. All very polite, and all so very civilised.
That is until the subject of Sri Lanka's role as host for next year's World Cup is mentioned. And the hopes as well of playing in the Test championship when it takes place 2013.
Suddenly, the conversation loses its articulate easy-going bonhomie. Finger-pointing and a stream of acerbic accusations are flying faster than bouncers and boundaries. It is as though those present have been guzzling arrack instead of tea and ready to step into a square ring without a referee.
There are also heated comments over team selection policy for the big CWC11 showpiece; so much wrangling over how building two of the three planned venues from scratch will miss the deadlines set by the International Cricket Council, and how the World Cup is being run by an organising committee without administrative credentials and of dubious quality. This alone adds to the growing intrigue as well as claims of financial corruption and hiring and firing without consultation and nepotism at the highest level.
Currently there are growing concerns over the team's long-term prognosis post CWC11. Not too surprising are the arguments voiced in these columns with the last one posted. Too bad if you don't enjoy such comments. For those tiresome (anonymous) types who do not enjoy reading the truth, and as such miss the points made, the advice is rather read Goldilocks and Three Bears or Tooth Fairy Tales.
Anyway, while Sri Lanka Cricket have been hoping to showcase the three World Cup venues during the West Indies tour of the island these last few weeks, there were serious problems with hosting the second Test at Premadasa Stadium.
Revamped for the CWC11 and hosting seven games, including the quarter-final on March 26 and the semi-final March 29, the view is that it is risky to host a five day game as part of the breaking in period. Initially scheduled for Dambulla as a stopgap if the Colombo venue was not ready, the thought is Premadasa surface will not be ready for a five-day game.
As a venue, the refurbished Khettarama stadium will be a fine showpiece when it is finished, despite the problem of not rebuilding the front entrance, which caused so many problems last year with police baton charging spectators. That was a great advert for the sport in the country.
It is a serious pity about the series with the West Indies being drenched by rain as a routine nusience, leading to three drawn Tests, and Sri Lanka slipping down to five in the rankings. Counting raindrops was what not on our menu when the series started. With the International Cricket Council now planning to use 2013 for the Test championship, with the four top nations vying for the honour of being No1, Sri Lanka's bowling resources are going to be exposed post CWC11.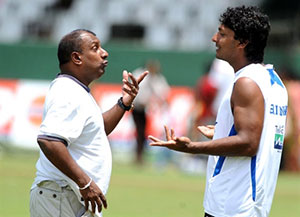 In the previous column, the view is that the selection panel of Aravinda de Silva have been hampered by a management team that doesn't want to allow the fast bowlers to deliver more than 24 balls in the nets during a practice session. Placing such bowlers in swaddling is going to reflect on the team's Test rankings by the middle of 2012.
De Silva has a problem with the fitness trainer and the team's physio over what he feels is a fitness area. Some may say he is old fashioned; frankly, he is being practical in his thinking and this is where the team's management are creating problems down the line.
Already the decision to sideline Lasith Malinga for the World Cup seriously hurt Kumar Sangakkara's side this latest Test series and after the Galle disaster, it is going to need more than one series to reshape a Test bowling new-ball attack. Also, going through another day deciphering the mixed signals on offer the first day of the Pallekele Test, from such as the Sri Lankan bowling coach added to the concerns voiced by De Silva.
If we are to believe the words of Champa Ramanayake, the team's bowling efforts on the first day were minor matter of misreading the pitch conditions. An interesting excuse after Sangakkara, on winning the toss decided to field first. It suggests the bowling coach is trying to pass the buck, as it were, by blaming the conditions.
Here it seems he is suggesting they didn't get to read the pitch conditions as accurately as they had assumed. It also says that Ramanayake is trying to suggest that this is the first game to be played at the new stadium.
Well now. As there have been four-day and one day games involving Sri Lanka A at this venue long before, it is a wonder they didn't ask the A Team coach and former Test and ODI wicketkeeper of 1996 World Cup fame, Romesh Kaluwitharana of his opinion and to learn a little what conditions can be expected from his comments.
South Africa A team coach Corrie van Zyl would have told them. In fact, during an interview he expressed a firm view how the playing surface at Pallekele is likely to be the best in the country. Certainly better than anything South Africa A came across on their tour of the island.
'It has good bounce and carry and get the length right, a bowler can cause fun for the batsman,' was the opinion of van Zyl after South Africa A's four day match against Sri Lanka A, with the game being drawn. 'I liked the ground and the way it is shaping, Sri Lanka can be proud of this new venue.'
What this indicates is a sad case how consultation between Sri Lanka A and the senior side has been sadly lacking. Or do those locals in the senior management feel it is beneath them to consult with those in the A and under19 squads, with both teams using the venue before this Test.
"We didn't know anything about the wicket (sic)," was Ramanayake wailed complaint. "There was some moisture and we thought we can capitalise on that. It didn't seam that much. The first ball was a good one, but it didn't seam or swing. We had a good start. We expected the wicket (sic) to do a lot, but it didn't do as much as we expected."
Perhaps the story related some years ago how there are those Sri Lankans who go to bed at night and wake up with a serious lapse of memory is true in Ramanayaka's case as well. And just what wicket (sic) he is carping about also begs a question. The laws says that wicket(s) – Law 8 – is what a bowler attempts to hit while bowling on a pitch (see Law 7).
Anyway, apart from Suranga Lakmal, who is promising, the medium to fast seamers in Dilhara Fernando and Angelo Mathews did little and Ajantha Mendis did not hit the right line and length as was needed. Perhaps after Galle, they were scared to go back to such as Dammika Welegedara in case they lost the plot yet again, as the bowling coach seems to have done.
What this is doing is throwing more reliance on spin bowling as a way out of this maze of confusion. A year from now and touring South Africa they won't have such a luxury of home conditions. It is also why too much concentration on the World Cup is adding to team selection problems and longer-term, if a team doesn't have the bowlers to win Tests on foreign fields (Tests that is not 50 overs slogs and T20s) it is in serious trouble.
Post CWC11, a new coaching staff is likely to be put in place and the new senior coach – it is said that talks between Sri Lanka Cricket and Tom Moody have taken place, although the big Australian has denied this – and the overall strategic development could be further retarded if the fitness and physio staff allow the current trend of the number of balls that need to be bowled in the nets to continue. Tests are won by bowlers who can deliver a consistent hostile spell the way Chaminda Vaas did. That talent no longer seems to be available.

© Trevor Chesterfield/Island Cricket.
(For reasons of copyright, permission is required from the author and/or webmaster/editor of islandcricket.lk for publication).