By Trevor Chesterfield at the R. Premadasa Stadium | March 26, 2011
---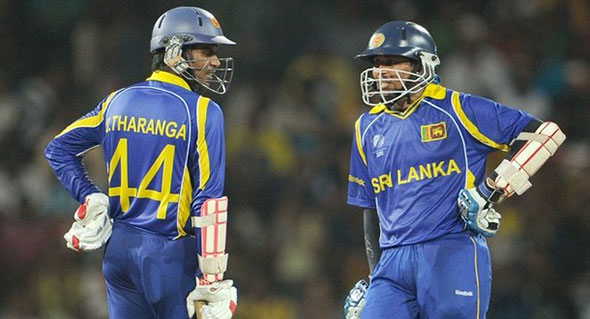 Upul Tharanga (L) and Tillakaratne Dilshan (R) have formed a formidable partnership in this World Cup. AFP PHOTO/William WEST.
---
All the theories of who would have their name etched on the World Cup have been blown apart in a series of results which have a strong Asian flavour.
Only New Zealand remain of the maybe teams and now meet Sri Lanka in the first of the semi-finals at Premadasa Stadium on Tuesday after England exited the quarterfinals Saturday night in a steamy Khettarama cauldron. They were handed a comprehensive 10 wickets hiding on the back of two centuries in a juggernaut first-wicket partnership which made a major impression on the tournament.
Repeating centuries by Tillakaratne Dilshan and Upal Tharanaga – they did the same against Zimbabwe – helped Sri Lanka to 231 without loss with Dilshan all but crippled by cramp, as records were set in a display of controlled batting by two batsmen who have learnt to compliment one another's styles.
So, instead of the possibility of a Duckworth/Lewis result that loomed at one stage earlier in the day with showers threatening from the south, the England bowlers were totally clueless how to defend the 229 their batsmen put together.
When a list of possible World Cup winners for 2011 was drawn up back in early February, Australia, England and South Africa featured heavily along with India and Sri Lanka. There was no Pakistan and most decidedly no New Zealand. It was suggested the Kiwis along with the West Indies would be fortunate to make the quarterfinals. Well, Shahid Afridi and Daniel Vettori lead their sides have found themselves in the semi-final draw; they also know how that extra step is not going to be easy.
If New Zealand managed to pull together some quality bowling and fielding to stun South Africa in the tournament's big upset, there was a certain elementary effort by Sri Lanka in their game against England, one which the England skipper, Andrew Strauss said that if they hoped to win, it was a matter of playing "intelligently".
Somewhere the message was lost in translation as England struggle when batting (280 was a good total as Afridi would confirm) and what they managed to eke out in the end was always going to be 50 or 60 runs short. Strauss admitted as much as their campaign ended with the side struggling to keep whatever gameplan they had together.
---

Man-of-the-match Tillakaratne Dilshan waves to the cheering crowds after his match-winning performance. AFP PHOTO/ Ishara S. KODIKARA.
---
If Dilshan struggled off the field after his second World Cup century, Sri Lanka's total of 231 is the most by a team completing a CWC victory when hunting down a target without losing a wicket. This surpasses a record by West Indies in 1992. It is also the third time that Sri Lanka have beaten England by 10 wickets.
In a pre-match game plan, Dilshan shared the newball with Lasith Malinga and from the start, put the screws on the England batting. While the wicket of Strauss set the pattern, the way Dilshan went about his innings was a matter of smart thinking. It was clinical as it was decisive and with Tharanga took on the bowling with precision and attention to the field placings.
It was the sort of demolition that you would expect from batsmen who have shown good form throughout the tournament. More interesting was how Dilshan has been eschewing the cut close to the body and edging an early catch as has happened more than once.
Towards the end it was something two guys enjoying a memorable perambulation with a few busy patches and a check on their wagon wheels explains who was in control and why.
When the first drinks break was taken after 18 overs, Sri Lanka had 94 runs on the board and by that stage, Dilshan and Tharanga were well in charge.
No doubt Strauss might have thought he should have bowled instead of batting, but the legacy of 46 wins by the team batting first has always be weighed against sides batting second. Pakistan beat Australia batting second and now Sri Lanka have managed to do the same. It sort of pokes a hole in the theory of win the toss, bat first and win the game.
As it is, England's innings profited from not only some clumsy outfielding, also dropped catches with Eion Morgan, the Irish connection in the England team, surviving three of the fumbling efforts. It made you wonder just how the normally reliable fieldsmen squandered such chances.
---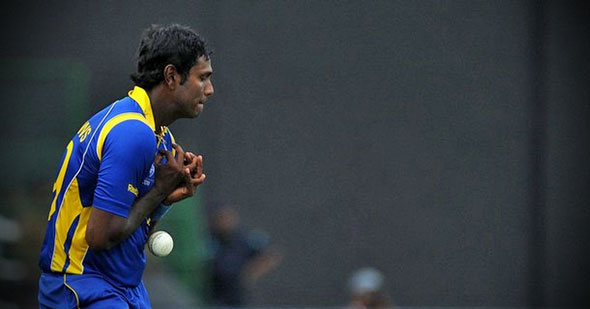 Angelo Mathews drops a catch off Eoin Morgan during the Cricket World Cup 2011 quarter-final match between Sri Lanka and England at The R. Premadasa Cricket Stadium in Colombo on March 26, 2011. AFP PHOTO/Ishara S. KODIKARA.
---
First he was put down by Thilan Samaraweera when 16 and the score 128; next when he was missed by Angelo Mathews off Muttiah Muralitharan in an effort a novice schoolboy would have accepted with ease, having reached 33 with the total on 160. The third offering was only two runs later and again off Muralitharan when Rangana Herath put him down and Morgan had advanced his score by a single.
Talk about frustration. Muralitharan was quick to show his displeasure to the fieldsman who displayed tight control in his 10 overs, giving away 47 runs.
The Trott/Morgan partnership survived enough scares, adding 90 for the fourth wicket with sensible batting. Once Morgan departed, however, the 43rd over, the scramble for runs began as the need for quick runs was a matter of urgency.
Trott's innings, which kept England's hopes barely afloat, even when Morgan was trashing the ball around, was an example of discipline with intuitive strokeplay. There was one lucky break for Morgan when a chunk off the edge of his bat flew past leg stump. Had the piece of the bat gone into the stumps, he would have been dismissed in as much a freak dismissal as that by Hashim Amla in the South Africa/New Zealand quarterfinal in Dhaka.
That is when the ball was chopped down on to the wicketkeeper's boot and flew to first slip.
With two early wickets and a new partnership developing, the Sri Lankans attempted to pressurise Trott and Bopara with stumping and leg before wicket appeals. Asking for a review of both, the stumping effort was an umpire's optional choice after Sangakkara sought a review that West Indian, Billy Doctrove had initially ignored.
It is easy to understand such attempts to break the partnership and keep the pressure on England. A wicket at this stage would have given Sri Lanka the edge after Sangakkara lost the toss to Andrew Strauss. What it did for England was build the innings momentum.
Trott and Bopara worked the ball around, finding gaps, with their tactical approach giving the visitors certain flexibility to turn the pressure on the fielding side, and the strategy began to work. It was the sort of early platform England needed work on building a total.
Strauss would be wondering about the shot he played to lose his wicket to an innocuous delivery by Dilshan. Instead of working the ball into the gaps and playing a leading role, the England captain frustrated his own attempts at putting runs on the board. Opening with Ian Bell as his partner, it was a short-lived experiment as he perished after only 19 balls through impatience.
From that point, it was really a question of developing the innings through partnerships which is where Trott became involved in two partnerships to pull England's innings out of what could have been an even more impoverished state.
This article first appeared on Trevor Chesterfield's column on cricketnext.com and it is republished here with permission from the source.