By Trevor Chesterfield | April 1, 2011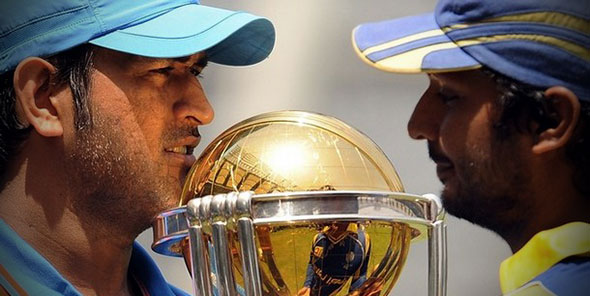 The final beckons. AFP PHOTO/Ishara S. KODIKARA.
There were "ohs" and "ahs" galore as Sri Lankans packed around television sets on the emerald island.
In some places, five deep in the streets in Colombo, even Galle, Kandy and say contacts also in far off Trincomalee . . . The bars and hotels wherever there was a TV set to check on the progress of whether it would be India or Pakistan that would be the side to oppose Kumar Sangakkara's team on Super Saturday at Wankhede in Mumbai.
Some even slipped out of a wedding reception to do a check: men in the traditional dress or suits and a sprinkling of women in saris.
It was late evening and Pakistan's challenge at Mohali was crumbling as the total was always going to be beyond them. Trying to chase down 260 to win is all about pressure and a climbing runrate in the humid night in the Punjab. It left the Sri Lankan supporters, some in the T-Shirt garb of their team either groaning or furious.
They desperately wanted Shahid Afridi's side to win, as there is this feeling among Sri Lankans that playing Pakistan in the World Cup final would mean they had a chance to win their second World Cup title. Trying to stay neutral is hard enough as family expect to be supported in this venture.
Sri Lanka's record in India since 2000 is not likely to encourage even the most smug and intransigent supporter of the team. Even wearing a South African team strip brings the accusation, all in good humour, of belonging to the "artichokes" and no longer the Proteas.
More seriously, Sri Lanka's strategy, which earned them a World Cup final place ahead of the unlikely New Zealand challengers in their semi-final win by five wickets, is where they have managed to press the right buttons when needed. If New Zealand had genuinely learnt lessons from the defeat by Sri Lanka, in their Group A game at Wankhede, they would not have batted in a similar slapdash manner in the last 10 overs of the innings.
Now the gameplan changes. Out goes the injured Angelo Mathews and in comes Suraj Randiv as extra cover for Muttiah Muralitharan. Whether he can bowl ten overs depends on how bad are the injuries. Three hours on the field can make a difference.
And if anyone carefully checks the bowling combinations used during the last three games Sri Lanka played, they would have soon worked out how strategy works. It is a matter of cleverly mixing spin and pace. Not so much the combinations, more the type of bowlers used.
It strangled the Kiwis in their Group A game; ditto England in the quarterfinal and Daniel Vettori's side in the first semi-final. The use of Muttiah Muralitharan and Rangana Herath – the left-arm and off-spin pairing along with Lasith Malinga's slinging action deliveries at plus 140 km/ph, is where Sri Lanka feel they have the bowling gameplan to wrap up this World Cup and choke India.
What can be guaranteed, however, is how Gary Kirsten and Eric Simons and the remainder of the management team have overlooked such a ploy as the semi-final winners meet in Mumbai on Saturday.
Sangakkara says batting second and chasing a total has been a challenge that his side is prepared to do. Their one defeat this CWC11 against Pakistan was when trying to hunt down the 278 target. Losing four wickets in a matter of seven overs and Pakistan's strangulation tactics as well as taking important wickets at the right time left the islanders struggling. Dropped catches and a missed stumping didn't help Pakistan's cause either, to wrap up that Sri Lanka innings for fewer than 200.
What was quickly evident is how a game that was played without Malinga in the side, it left Sri Lanka with a hole in their bowling strategy and it showed. The spin options failed to work as Ajantha Mendis, seen as the spook in the bowling pack was rested as without Malinga, the formula had an important ingredient missing.
This is where the left-arm spin of Herath has been seen as the Sri Lanka hidden weapon when bowling in tandem with Muttiah Muralitharan or Malinga he delivers a line, length and variety that has been as important to the Sri Lanka cause as that of Muralitharan.
Indian batsmen though are no longer worried by the Sri Lanka spin combinations; it is a matter, in this case of the batsmen working out in their own mind how to play the types of spinners used.
Herath opened the bowling in the semi-final against New Zealand and as with the ploy of using the off-spin of Tillakaratne Dilshan against England; the plan was one of frustrating the attacking batsmen – Andrew Strauss (England) and Brendan McCullum (New Zealand). It worked both times: Malinga firing them in from one end and batsmen adjusting to the cunning manoeuvre of spin at the other.
On the pitches at Premadasa Stadium, it worked; as did the latter overs of the innings where the run-rate slowed to a dribble and frustrations mounted and batsmen took chances.
All this is why India need to be on the hunt for what combination is being used. One thing that can be certain is how Sri Lanka will be guided by what they know from the experience of their Wankhede exercise against New Zealand.
Tradition and a legacy of results shows that India have the edge over Sri Lanka – by quite a long way – only it is a World Cup final, and anything can happen.