By Trevor Chesterfield in Dambulla | June 27, 2010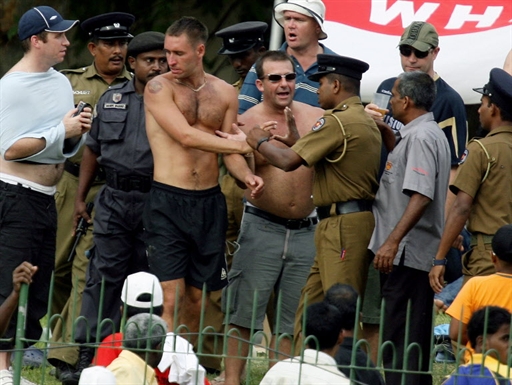 Sri Lankan policemen talk to an English fan who ran across the playing field naked during a Test match against England at the Sinhalese Sports Club Stadium in Colombo, 09 December 2007. © AFP/Deshakalyan CHOWDHURY.
This is a timely warning to those in charge of Sri Lanka police. Get your public relations behaviour sorted out or face a World Cup disaster.
Eight months from now the island nation is to act as one of the three South Asian countries hosting the 2011 edition of the World Cup. As part of security arrangements, it means the local police force, involved in venue safety regulations have until then to brush up on their public relations act. This also includes their top brass, who should know better, but are among the major offenders.
If they don't understand how to act, it will develop into a major disaster area and it is no use pointing fingers when it is too late and the nation's ugly image of poor police behaviour is splashed around the headlines of the world. And this is what will happen.
Already there are enough examples of crass, arrogant behaviour by the bullies in khaki outside the precincts of Rangiri Dambulla Stadium to make any senior tourist board official trying to show off the nation's ability to handle the public, cringe with embarrassment. Men with caps full of braid and sporting enough pips on their epaulets and fruit salad on their left breast trying to impress any visitor.
It is how they behave which tells its own story of whether they have earned the right to wear such paraphernalia or whether it is an ostentatious display and they are showing off their rank in a typically pretentious manner.
As any observant visitor will tell you, there are two types of security. The first involves efficient policing with good public relations and how police behave at major sports venues, where there are international events or the streets where public go peacefully about their business.
Those attending games are members of the public are not demonstrators: they have paid admission to watch cricket, or are attending the game or games for reputed news organisations representing the fourth estate and wear a name and ID tag that no security official can miss.
No one minds security, especially when you know there are fundamentalist fanatics around who would dearly love to massacre anyone who didn't share their twisted logic and beliefs. The more body bags the happier they are. In such cases, it is how the behaviour of security and law enforcement is applied which reflects on those involved and the image of the country.
Polite, helpful and smiling behaviour gets a far better, co-operative response than having what looks to be the barrel of an Uzi or whatever weapon they happen to push in your face as if your desire to go and watch a game, and you are left with the feeling you are actually intruding.
This is the jackbooted, snarling aggressive, bullying and swaggering behaviour so reminiscent of the horrific days of apartheid South Africa. This is where such dehumanising laws subjugated many to worry about how they reacted to objectionable police or security behaviour.
And having spent 32 years in South Africa, seeing similar tactics applied by Sri Lanka Police creates the same putrid stench of fear among the locals, or in our case questioning the need for such fractious behaviour of how the rules of entry into the Dambulla stadium had suddenly changed without notice, despite clearance.
The World Cup will attract a large number of foreign tourists to watch the games, many from various countries where police forces are well behaved and more organised. The emerald isle will be staging a number of games at three venues, one in Colombo. After this latest uncalled for experience, it is with relief there are none scheduled for Dambulla, the cultural centre of the island where local senior police officials, instead of being helpful were rude, arrogant and all that was missing was the truncheon and jackboot.
If this is how Sri Lanka's police and security are going to behave during next year's World Cup, it will become a major public relations disaster. The country and police cannot afford a repeat of the incident where police last August closed the gates on spectators with legal tickets trying gain access to Premadasa Stadium where Sri Lanka were playing Pakistan in a 20/20 international and treated them as demonstrators.
The police then resorted inexcusable behaviour, exacerbating their actions by baton-charging the spectators, resulting in major public condemnation of such an unnecessary brutal incident and where women and children were also among the victims.
It took almost a month before D S de Silva, chairman of the government appointed ad-hoc (non-elected) body that masquerades under the name Sri Lanka Cricket, apologised for the uncalled for incident. Yet memories are still deeply etched of such appalling behaviour by a law enforcement body, which acted as with the cops in apartheid South Africa, above the law with impunity because they were dressed in khaki with smirks on their faces.
Senior police officials behaved in a similar arrogant manner as media personnel, using the same gate for entrance to the Rangiri Dambulla Stadium for the Asia Cup game they have used all week were rudely directed to another gate without adequate explanation because the officials involved could not speak coherent English.
If this how Sri Lanka police and others security are going to act during next year's World Cup, it will turn into a public relations disaster for the island. Unlike the 2002 Champions Trophy when there were no security problems, certainly none involving the games or entrance to the two venues used, the current security has become officious and with a fatuous attitude.
Sri Lanka have recovered from 30 years of civil war, but the manner in which some security officials are going about their job, the feeling is that being a member of the public and fourth estate marks you as an enemy. The humiliation of their own people through such behavioural attitudes will not be tolerated by other South Asian visitors and foreigners visiting the country for the World Cup.
It was only inside Rangiri Dambulla Stadium where the policing was effective, efficient and performed with care and attention to the public and the media. It is the sort of example that those outside the venue who consider themselves as top brass could learn a lesson.
© Trevor Chesterfield/Island Cricket.
(For reasons of copyright, permission is required from the author and/or webmaster/editor of islandcricket.lk for publication).