By Trevor Chesterfield | August 16, 2010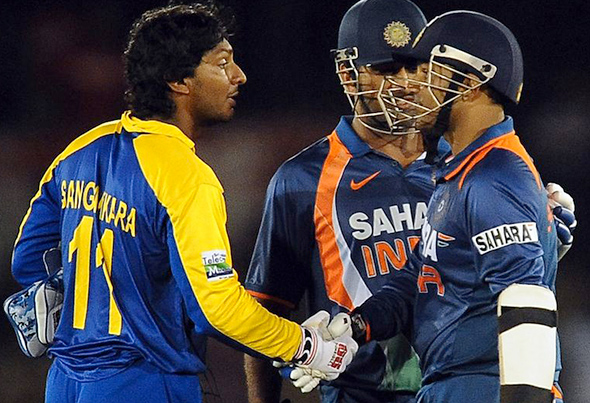 Kumar Sangakkara shakes hands with Virender Sehwag as Indian cricket captain Mahendra Singh Dhoni looks on at the conclusion of the third One Day International (ODI) cricket match of the Micromax tri-series between Sri Lanka and India at The Rangiri Dambulla International Cricket Stadium in Dambulla, some 150 kms north of Colombo on August 16, 2010. India won by six wickets with 171 runs for the loss of four wickets in 34 overs after Sri Lanka were 170 all out in 46.1 overs. AFP PHOTO/Lakruwan WANNIARACHCHI
A bemused Virender Sehwag helped India to a bonus point but has been denied a deserving century to celebrate India's victory at Rangiri Stadium.
Suraj Randiv bowled a deliberate no-ball to prevent the explosive Indian batsman from finishing India's second outing in the triangular series with a fancy flourish as they etched out a convincing six-wicket victory which wiped the confident, perky grins of off some Sri Lankan players and spectators faces.
With the scores tied at 170 after the first delivery of the 35th over went for byes, the single Sehwag wanted for that 13th century at ODI level was then denied the next two deliveries. But a cunning Randiv seems to know more about the laws and delivered a no-ball with the backfoot also close to the popping crease.
It may be a case of hard cheese old chum. But the laws are pretty specific and Law 21 (the result), explains it all for the curious with, in this case a reference to Law24 (no-ball).
Yet all it needed is someone who knew how to bat with an organised technique to put a total on the board that made a difference to the way the Indians batted. They needed to lift their game after their abysmal display of a week ago when bundled out for 88 by a disciplined New Zealand, whose innings of 288 on the opening day of the series has been the highest team total so far and the way the pitches are playing, it could be the only one to go beyond 250.
More amazing is how in consecutive games, the team batting first has been in early trouble with the ball moving ball and the side batting second, once the ball gets 10 or more overs old loses its bite and swing as well as drift to trouble the batsmen.
From the time Kumar Sangakkara won the toss and Upul Tharanga lost his off stump as he had no idea where it was when squared by the Praveen Kumar opening delivery, Sri Lanka were groping and the story became even worse when in the fourth over, Sangakkara paid the penalty for pulling too soon at Ashish Nehra's third ball of his second over. He carved a forward edge deep enough and when Kumar had Mahela Jayawardene lbw, it was going to be a struggle.
Kumar is a clever bowler and they way he has troubled the opening batsmen in both New Zealand and Sri Lanka suggests that India should consider him as a Test candidate. After all, figures of two for 20 in eight overs in the third game of this tournament are not to be ignored. But India's selectors are at times not noted for being adventurous.
As for the Jayawardene dismissal, it was a brave decision by Asad Rauf, as nine out of 10 times it would not have been given and hawk-eye (if it can be believed) did suggest the ball would clip the leg stump. But the Pakistani, blundering in the evening with a near Shakoor Rana type decision against Rohit Sharma to a dancing and beseeching Angelo Mathews appeal, makes anyone wonder about how they judge lbw decisions on a pitch that has some lateral movement.
Mathews gets carried away sometimes and needs to learn that in such conditions where the ball is tracking around, he is going to miss more lbws than he earns. It is a matter of getting the length right.
And sure Sharma placed himself in line the way he pushed his pad across the line, but the way the bat came down, there was an obvious edge.
Showing signs of the form that earned him man of the series for the Tests, Sehwag batted with smart technique and organised defence; mixing both aggression and defence against often aggressive, steady bowling, but at times it was just as wayward. It was aggression which bought Dinesh Karthik's wicket. He didn't have a clue about the ball as it zipped around the way it did.
Whatever Karthik thought he was trying to do by steering a short delivery from Mathews to third man, only Karthik can explain. It also proves yet again, just how lucky he is to retain his place. There are some useless batsmen around, and his mindless stroke on this occasion proved yet again that he is in the side as he is a Chennai pet.
If Virat Kholi felt he had a chance to make up for lost time and put an innings of substance together, he missed that chance by flashing too soon. Wafting the bat as if a flag, is not a smart option, and the bounce Dilhara Fernando managed to get helped the ball of its way for an early dismissal.
When looking back at the previous catches in both innings, it is easy to understand how someone such as Sehwag, struggling through the first 10 overs, was able to engineer this victory for India and bag the bonus point as well. Sri Lanka's 170 was never going to be defendable once the batsmen sorted out the pace of the pitch and the bowlers were left scrambling, struggling too with line and length and generally trying to find a miracle to win the game.
Sehwag didn't offer even the sniff of a chance and it was the batting performance of the series, even overshadowing the Ross Taylor innings of 95 a week ago. The New Zealander may have been more stylish, but the Sehwag ability was something that was good to watch. Handwork, streetwise technique and a combination of pulls, drives and deft touches left those watching – hopefully Karthik – understand how it is done without the hint of fuss or bother.
Also, a couple of Sri Lankan batsmen need to start examining their technique as well. Chamara Kapugedara, for a start, who was out to such a soft dismissal it makes you ask the question, if he has learnt, because at present he is just filling up team space. Tharanga too, as he was again undone on a pitch which did a little extra. Hopefully, someone in the management will explain what he did wrong. If he doesn't know where his off-stump is, learn to cover it.
As for Sharma, he is becoming a prime lbw candidate again and needs to sort this out as well.
Pitch conditions have been highly suspect so far this series. Sangakkara and the coaches panicked when they watched India bowled out for 88 on the first evening of the tournament. They were making frantic calls wanting a shaved pitch for their first game. Yet they batted with skill and style against Kiwi bowling that failed to measure up to the performance against India and their catching wasn't too good either.
At least the general fielding levels for the games has been solid and effective with some quality ground fielding. This is important as in the World Cup, it can mean the difference between a run out or a top catch to win a game, or losing a semi-final.
© Trevor Chesterfield/Island Cricket.
(For reasons of copyright, permission is required from the author and/or webmaster/editor of islandcricket.lk for publication).