By Trevor Chesterfield | August 08, 2010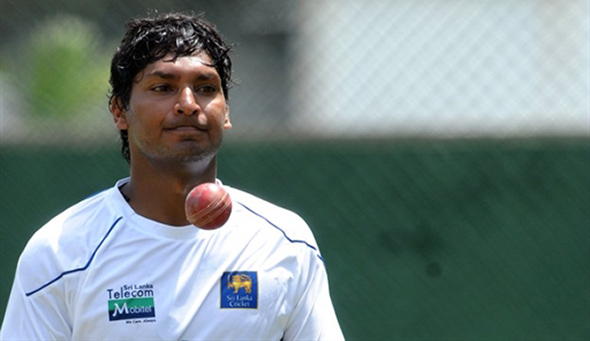 If Sangakkara grumbles over the batting failures, his suggestion that Sri Lanka played the better cricket has that double-edge approach. Statistics may suggest this possibility, but to play the better cricket means winning the series. This didn't happen and reasons are not hard to find. AFP PHOTO/Ishara S.KODIKARA.
Kumar Sangakkara had expected to lead Sri Lanka to a 2-0 series win over India in conditions that suited the home side. Why, there were confident whispers among some local writers before the start of play on Saturday that the epitaph tagline for the series was "India and Dhoni – Thanks for donating us another Trophy."
Well now, if anything a media award for imagination should go to those local writers, print and websites, for taking on such a banner flying promotion. It is always a problem though, how in Tests the unexpected happens. It is why expecting the unexpected at the P Sara Oval was predictable as India, wobbling at 62 for four by drinks in the first session on the last day they had defeat etched on the sign.
One dropped catch later (ouch!), and at lunch, they had sensibly scrapped the banner writing competition and concentrated on something more sensible; what were the captain's tactics to Sachin Tendulkar, why the only wicket-taker in the team, Suraj Randiv, was forced to bowl a tight off-stump line but fieldsmen clustered leg-side. There was no one in for the catch should he open the bat, or edge it behind for a catch to the lone slip. It was all so very elemental. Tendulkar is too streetwise for such an obvious ploy.
Randiv was good, getting bounce where as Ajantha Mendis was not, well, not enough to worry the batsmen as Vangipurappu Laxman with the fancy euphemism of Very Very Special and even Tendulkar, playing what is possibly his last Test innings on the island. Even by the time Tendulkar was out, it was basically over, the banner plans torn up land locals grumbling over their lunch.
Some even left so they wouldn't be forced to watch the final onslaught launched by Suresh Raina. They cannot stomach defeat.
"Oh but for those catches" were the tetchy remarks. What should be explained here is that there are no "ifs" and no "buts". Catches are either held or not. Ask Herschelle Gibbs.
Sangakkara should know that as well. His own dismissal is one he committed three times in this series; this time dragging the juicy longhop (well almost) down and a jugging Raina gleefully accepting the gift. What followed that effort was series of dismissals that had "leave it to the next man in" written all over it. Shoddy batting technique on one of those surfaces where no batsman feels he is "in".
At least that middle-order collapse brought together an unlikely but welcome partnership. Thilan Samaraweera who scored a dour, yet effective century in the first innings (almost as tiring to watch as any by Chris Tavaré in an Ashes duel), was joined by Mendis and did they have fun. Carnage at The Oval was apt enough. Sitting and watching it underlined yet again, the word so often forgotten in such cases, "character". Check any thesaurus and you will get the idea.
Samaraweera finding style and elegance so often missing in his innings and Mendis, having the time of his life, scoring a maiden half-century and more runs than in his Test career at this stage.
Sure there was praise from Sangakkara and the coach, but criticism should have been vented on the experience top order for its failure against a bowling attack that has been labelled as "weak" by Nishantha (Call me Mr Secretary) Ranatunga and the national curator Anuruddha (I have all the Answers) Polonwita. India's labelled weak Test attack managed to take 20 wickets at Tamil Union, which is more than Sri Lanka could achieve, despite the untiring efforts of Randiv to win the game.
Thumped around for a double hundred on his debut at SSC, Randiv looked at the Indian batsmen and the brand name of the restructured famed "Fab Four" and tackled them with gusto. At least he has the politeness when appealing, to turn to the umpire to ask the question. It is noticeable that some Sri Lanka bowlers are failing to do so.
While Friday produced some of the finest cricket of series and a fightback of enjoyable quality with some fun for the batsmen and showed up Mahendra Singh Dhoni's strategy as well (Galle should have been fresh in his mind), and use of his bowlers, it also explained how the game at first-class and Test level produces something special that you don't find in the T20 and occasionally in the ODI/limited-overs games.
If Sangakkara grumbles over the batting failures, his suggestion that Sri Lanka played the better cricket has that double-edge approach. Statistics may suggest this possibility, but to play the better cricket means winning the series. This didn't happen and reasons are not hard to find.
Sri Lanka were bowled out twice by an attack dismissed as "weak" by two SLC officials who should start explaining to the public whether Sri Lanka bowling is also so weak to bowl at SSC as well as at Tamil Union. As there is a limited overs triangular series to handle, they will forget about the P Sara Oval defeat, hoping the public will as well.
Now, look at the third Test bowling figures, especially those of Lasith Malinga and Mendis: Malinga, 42 overs and three wickets at 179 runs (average 59.66); Mendis 44 overs and two wickets at 174 runs (average 87.00). Why, Randiv bowled 54.1 overs and managed nine wickets at 162 runs (average 18.00). In fact, there were times when Mendis looked like a bowling machine with no variation. It suggests how the six he took in the practice game was a ruse to have him selected. Having worked him out, he was made to look as ineffective as he was in India last year.
In fact there are so many questions about the Sri Lanka side that need to be asked. Maybe Aravinda de Silva has a few answers. One is what is Angelo Mathews role in the Test side these days? Perhaps the left-arm variety of Rangana Herath might have been more useful in the third Test ahead of Mendis.
For the triangular in Dambulla, they are clinging to Chamara Kapugedara, despite another failure against New Zealand in a practice game at Pallekele; while finally, Thilina Kandamby has been axed. Mendis is in the squad as well after missing the Asia Cup for strategic reasons.
What these were is a good guess. Keeping him away from the Indian batsmen didn't help when it came to the games that mattered, he was seriously punished. It pays people to read carefully what is written, not just the headline as do so many and why they end up looking even bigger fools.
© Trevor Chesterfield/Island Cricket.
(For reasons of copyright, permission is required from the author and/or webmaster/editor of islandcricket.lk for publication).