By Trevor Chesterfield | July 28, 2010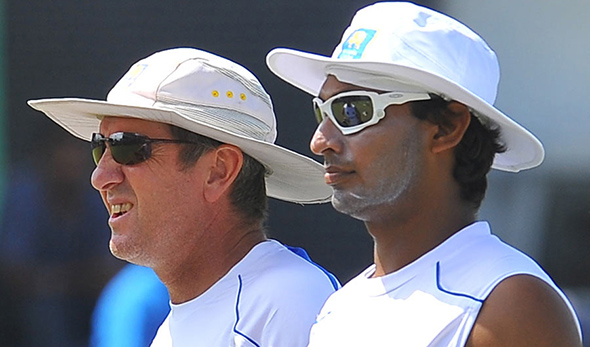 AFP PHOTO/Lakruwan WANNIARACHCHI.
As with most post-match conferences, there was a lot of reflection in Galle last week. A lot of bonhomie, backslapping and even tears from those you would not expect to shed them.
After all, it became quite a farewell celebration for Muttiah Muralitharan, so what is wrong with a little emotion, nothing at all. Just showing how some were feeling the departure a little more than were others.
Sport is like that: in the midst of it all, there is sadness, too. So many comments about greatness and any variety of adjectives being typed out, spoken and for Sri Lanka's sporting icon like no other, still offering that cheeky grin you would get from a schoolboy who has teasingly hidden the key to the cupboard of sweets he has been hording.
Forgotten amid all this was the lengthy spells he bowled that last day; over the wicket, occasionally around it; switching from the Town End to the Fort End, rotating his strategy and manoeuvring between ends before the delivery to Pragyan Ojha was edged to Mahela Jayawardene for the 800th wicket and the 77th and last catch the former Sri Lankan captain would take off Murali's bowling at Test level. It was all remarkable stuff and sheer entertainment.
In the aftermath, amid the eulogies, questions and answers from a variety of Sri Lankan and Indian journalists, with added pathos coming from Haroon Lorgat, the South African-born chief executive officer, who had been part of the Protea scene for 19 years. A Cape Town lawyer, we reminisced for about five minutes about our South African links. My complaint has long been how South Africa, which like Sri Lanka, is an adopted country for me by choice because of my wife, has not developed spinners.
Murali is a freak and his ability to bowl the way he did, with his arm, wrist and shoulder movements made it so. The good thing about this is that cricket has been far richer for his presence as a player. The only time he was targeted by a batsman was at Centurion in the 1997/98 season when in the last Test Hansie Cronje did so to get a Test over with.
It was a game, had Arjuna used his bowling resources well, Sri Lanka could have won. He made a mistake too many. As with the current tour of the island by India, that South African tour, tacked on to the end of a hectic schedule of 11 Tests in six months that left a new-ball bowling attack limping and Bob Woolmer the South African coach concerned.
"All we wanted was for him (Cronje) to make a mistake," said a rueful Ranatunga, "but he took us apart and the game away from us. Had we dismissed him early on I would have fancied our chances of winning the game as the rest of the South Africa batting was suspect."
He was so right. It was later argued how Murali and Sanath Jayasuriya bowled from the wrong ends. For this, Aravinda de Silva felt the breeze would have helped Murali bowing from the West Lane end of the ground.
Okay, why prattle on about past events when the headline tells us something else. That tour was done to help Sri Lanka out of a future tours programme fixture hole. The FTP had just been approved, and it became the first of three tours by Sri Lanka of South Africa between March 1998 and December 2002.
Apart from the 2003 World Cup, the 2007 ICC World T20 and the Champions Trophy 2009, Sri Lanka have not returned to South Africa. For some inane reason, however, between mid-2000 and mid-2006 there were three tours of the island. That was the weird FTP scheduling for you.
At the end of the Muralitharan farewell media conference, Sangakkara grumbled about the FTP again. In fact, a New Zealand friend and colleague, looking at the 2011/12 ICC FTP, was also surprised at what he saw. He alerted me to the cluttered programme for the Kiwis and Sri Lanka after the World Cup.
Administratively it could be said the ad-hoc government appointed (non-elected) interim committee have done what they could to arrange this Indian tour, as the next on offer is the West Indies in November. After that, there is England next year, following the World Cup and then? If we check the future tours programme, 2011 suddenly becomes loaded tours out of the country and the Australians on a visit this time next year. All with the possibility of fourteen Tests spread over nine months.
Australians are due back in about this time next year for three Tests, although there could be an unprecedented fourth Test in the wings to give one of the new outstation venues built for the World Cup a game. There are also three return Tests against Pakistan; these are likely to be played in the United Arab Emirates, but have to be confirmed.
Finally, after an eight year gap, a return to South Africa and three Tests, sans Muttiah Muralitharan and Sanath Jayasuriya who first toured with the under-24 side in the 1992/93 season. It was a tour where Murali pocketed his maiden ten-wicket haul at first-class level against a South African under-24 side led by Cronje and Jayasuriya, the captain, complained about some shoddy umpiring decisions. It was a game that was eventually lost because of the pace of Brett Schultz which was just a little too much for the tourists on a fast, bouncy surface.
Fourteen Tests in nine months. Well, that is what the FTP on the International Cricket Council site says. It now makes you ask, when Sangakkara was grumbling about not enough Tests and foreign tours, if he had actually checked this schedule. This is not a criticism but an observation of what next year could become. A busy one and with it, give the selectors a chance to trial some of the exciting young batting talent and test the theory of just how good Ajantha Mendis is in conditions outside the emerald isle and the subcontinent.
As a thought, maybe Sri Lanka Cricket, at the behest of their captain, can twist an arm in South Africa to scrap a couple of senseless slogs and add an extra Test.
If India can scrap three ODIs earlier this year to give their Test rankings, a boost with a two-match series against Graeme Smith's Proteas, what is wrong with Cricket South Africa doing the same for Sri Lanka and make it a four-match series for a change. This would at least comply with Sangakkara's argument of Sri Lanka being reduced to playing what some might call "afterthought tours" with two Tests instead of having three of four Tests to build a side and create an interest.
With Pallekelle available after the World Cup, a four Test tour is always an option. It will give those in Kandy a chance to sample Test matches again as frankly Asgiriya has long been a sad, dowdy relic. Its media centre is a place "from hell" that not even the magnificent scenery can distract attention from its woeful distasteful state. Not even the best efforts of the SLC media unit to make it as habitable as possible could make up for the appalling conditions that had a woman writer from a Colombo daily once describing it as a "mind-numbing insult".
As for Hambantota, accommodation will be a problem, as no tour budget will stretch to having a five star floating hotel available, as it appears will happen for the two matches.
© Trevor Chesterfield/Island Cricket.
(For reasons of copyright, permission is required from the author and/or webmaster/editor of islandcricket.lk for publication).