By Trevor Chesterfield | April 3, 2011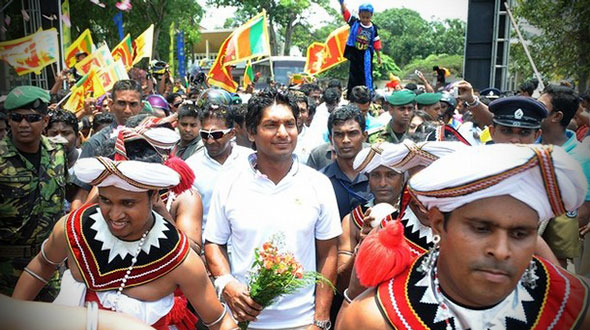 Kumar Sangakkara walks between traditional Sri Lankan Kandyan dancers performing for the cricket team's arrival in Colombo on April 2, 2011. AFP PHOTO/Lakruwan WANNIARACHCHI.
Now the bickering starts at home over reasons for Sri Lanka's World Cup defeat of six wickets by India in Mumbai. And as expected, the fall out is far from pleasant.
As Aravinda de Silva and the rest of the selectors mull how Kumar Sangakkara's team lost to India, the state media are making demands of a probe into how the team for Saturday's final was selected. Amid criticism aimed at the side by Sunday Observer, is the decision to play an injured Muttiah Muralitharan and a struggling Lasith Malinger in the game.
While fast bowler Malinga also hinted how injuries affected his fitness in the lead up to Saturday's World Cup final in Mumbai, state media sought an explanation of the selection of the side for the Wankhede showdown.
Better known for its obsequious pro-government stance on most subjects, the Observer made its demands known in a front page article. Of Muralitharan's role, where he often struggled around the boundary , there was criticism for him playing for what was a "sentimental farewell".
So too was Malinga's inclusion queried in another Sunday paper as questions were asked for reasons of the team's failure, ignoring how they were beaten by a better side in what was a pulsating final
One of several issues raised is whether Angelo Mathew's thigh injury was so disruptive as to require four changes in the side to that which had earlier beaten England and New Zealand in the quarterfinal and semi-final stages of the event at Premadasa Stadium in Colombo. His injury meant Suraj Randiv's sudden elevation to the squad after sitting out the six weeks of the tournament.
Mathews thigh injury is expected to sideline him for six to eight weeks during which he will miss the Indian Premier League. He was to have played for the new franchise Pune Warriors who bought him for US$980 000 at the January auctions.
Several observers saw Randiv as a cover for the struggling Muralitharan and the inclusion of all-rounders Nuwan Kulasekara and Thisara Perera as a way to help the struggling Malinga, adding the extra punch to the seam and swing bowling attack, as well as beefing up a susceptible lower middle-order.
This was particularly noticeable with the inclusion of that middle-order batting fake Chamara Kapugedera whose ODI batting average is 22.20 and failed in his one previous game – against Canada at Hambantota on February 20 when Sri Lanka began their campaign
"Was it advisable playing a half-fit Muralitharan?" questioned the Sunday Observer, complaining how, "Winning the mega-final is much more important than giving a farewell tribute to even a great cricketer of Muralitharan's magnitude."
This is from a paper that for weeks supported the inclusion of an aged Sanath Jayasuriya in the World Cup squad.
The Sunday Times, part of the independent media, also rapped the selectors for playing a half-fit Muralitharan, who at times struggled around the boundary, as also did Malinga. The newspaper was also critical of the selection policy and Sri Lanka Cricket administration.
It said how Sri Lanka's supporters were still trying to come to terms how their team lost; also saying how the World Cup defeat should now be used as a way to clean up the administration of the game.
Sri Lanka Cricket is run by a government appointed ad-hoc body, disparagingly referred to by one long-time critic of its policies as "Men from the Ministry" in his weekly column in another independent newspaper, The Island.
"Cricket has been run by successive interim committees, most reeking with corruption, nepotism, political interference and mismanagement," the Sunday Times said, urging a cleanup of those who are in charge of the game's administration.
Sri Lanka's captain, Kumar Sangakkara, has rushed to aid of the beleaguered selectors with his support over the changes made to the side for the final saying they were necessary.
"The changes we made were good," Sangakkara said on arrival at the airport. "Unfortunately, we did not do well enough in bowling and fielding. We were unable to maintain pressure on India after their first two wickets. India played very well and that is why we lost."
Malinga says his injury-prone body and fitness will not allow him to play in another World Cup.
"I hope to be of service to my team as long as I can, but I won't be able to play in the next World Cup " – in 2015 in Australia and New Zealand – "I have been carrying injuries for the past few weeks and with very little rest," the 27-year-old told state-run television after the side arrived back from Mumbai Sunday morning.
"I did what the team expected me to do," he added. "I couldn't bowl yorkers properly (at Wankhede on Saturday night) because the ball was too wet. It was difficult to swing it as well. I tried hard, and regret I couldn't take more wickets."
These are the remarks from the bowler whose slingshot action has earned him 127 wickets from 84 games during a limited-overs career spread over seven years with two World Cup hat-tricks to his credit; the first against South Africa in 2007 in the West Indies and the second against Kenya this year.
He sent the locals into a frenzy of excitement with a peach that trapped Virender Sehwag in front without a run on the board. He added hope to the Sri Lankan cause by dismissing Sachin Tendulkar with a rocket that caught the batsman on the crease, edging a catch to the wicketkeeper and captain Kumar Sangakkara with 18 to his name. It found India struggling at 31 for two and already talk of watching Sangakkara and the team parade the trophy through the streets.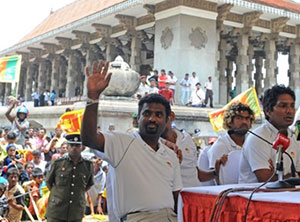 This was short-lived as the Gautam Gambhir/Virat Kohli partnership edged India's toe in the door as invaluable runs were added as the sweaty Sri Lankan grip slowly diminished.
Muralitharan, who like Malinga struggled through the last stages of the World Cup, felt not all was lost. He did admit though to being disappointed how his international career had ended without being in a side winning a World Cup for the second time.
"My main aim was to win the World Cup but unfortunately we couldn't do that because India was a better side on the day," he commented. "We scored enough runs (274 was a good score) but at the end, after taking two vital wickets by Malinga – Sachin and Sehwag – we couldn't crack their side. Especially because in the middle overs spinners didn't take enough wickets. That was the main reason.
"If I or Suraj (Randiv) had taken a few wickets, then the story would have been different. These things happen in cricket," he said. "You have to move on."
Many thousands of Sri Lankans flocked to a large variety of venues to watch the game on giant screens put up especially for the occasion. As it was, many of the thousands of spectators, had began to drift away by around 10.30 p.m. when it was obvious that India were going to beat Sri Lanka and that Malinga was not fit enough to conjure another hattrick to snatch an improbable victory.
Unlike Pakistan, where Shahid Afridi's side received a heroes' welcome, the Sri Lanka side received a cool reception with few turning out on the side of the road. No one wants to see a bus with tinted windows.
The team's media officer Brian Thomas was said to have had an expression on his face that would curdle milk and prepare it for a special brand of sour Sri Lankan-style camembert cheese.
On a happier note, former Sri Lanka opening batsman, Sidath Wettimuny, despite being on a business trip to Thailand, did text his thoughts in response to a request.
"Very sad we didn't capitalise on the two early wickets as the strength of the Indian batting line up was apparent. We simply didn't have the (bowling) sting while India withstood the pressure admirably. However, being a finalist is very special. We can be very proud of our cricketers," he said.
© Island Cricket/Trevor Chesterfield