By Trevor Chesterfield | September 05, 2010
Pakistan's incompetent cricket board tries to escape consequences through bluff, bluster and jingoism. World cricket must not let them.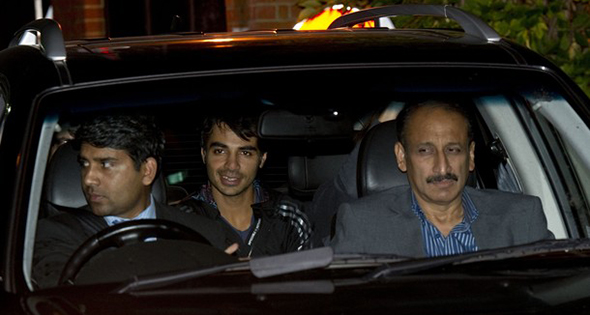 Pakistan's Salman Butt (C) leaves a police station in London on September 3, 2010. British police released without charge three Pakistani cricket players embroiled in fixing claims after questioning them under caution Friday, their lawyer said. "Mohammad Aamer, Mohammad Asif and Salman Butt of the Pakistan cricket team have today been questioned under caution by the Metropolitan Police," Elizabeth Robertson told reporters outside Kilburn police station in north London. AFP PHOTO/CARL COURT.
From the time they were exposed as cheats four years ago over the ball tampering issue at The Oval, there has been a growing stench about modern Pakistan cricket -which has developed the habit of eschewing openness and with it, integrity.
That was a moment when Darrell Hair, and the strict and fair umpiring levels employed, were questioned by those who knew they had been fiddling with the ball; then they lied about it to escape being shown up as villains in a dishonest caper, all against the tenets of fair play.
With such a background, it should surprise no one that such Luddites as these have again openly displayed how their management is as dysfunctional, maladjusted and incompetent as it has been since the early 1990s. Ijaz Butt, the current president of the Pakistan Cricket Board is as fundamentally flawed in his administration as he was over the disastrous terrorist attack on the Sri Lanka cricket team's bus in Lahore in March 2009. In the latest series of events in England, bowlers are said to have been involved in a no-ball betting scam. It is the tip of an unsavoury pile of garbage that has been collecting on its doorstep unmonitored for years -that has only become worse post Ijaz Butt, a pretentious Test player whose one moment of fame on the field was as a substitute.
In Pakistan's first tour of the West Indies in 1957-58, during the third Test in Kingston, Jamaica, Butt managed to run out Conrad Hunte for 260 in his partnership of 446 with Sir Garfield Sobers for the second wicket. Sobers went in to score the then world record of 365 not out in a West Indies total of 790 for three, declared. Recalling the incident, the warm-hearted Hunte said how he and Sobers had forgotten Butt had been brought on for Saeed Ahmed, who had temporarily gone off for minor finger injury repairs.
Butt, in his new avatar, says that without "proof", there will be no suspension of players. Such an interesting premise he has adopted here, as Pakistan try to cover with bluff and jingoism their already tarnished image.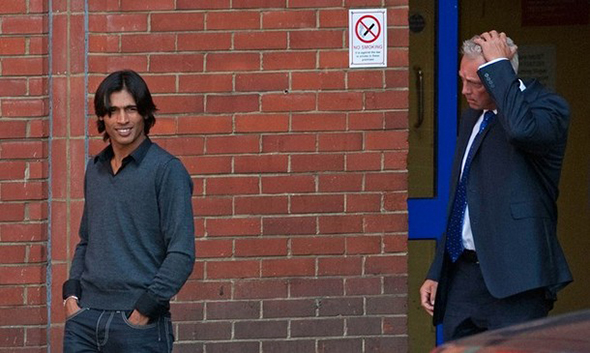 Back in June, during the Asia Cup, there was an incident where Mohammad Amir was shown on television doing something he shouldn't be doing: he had a mobile telephone clamped to his right ear just before going out to bat against Sri Lanka at Rangiri Stadium, in Dambulla. As it was caught, during a lapse of security, by a non-rights television channel camera pointed in the bowler's direction, it came out, and became an embarrassing moment. What a hissy fit it caused as well. Caught in the act, management naturally tried to fib their sordid way out of this one.
"Oh, he was adjusting his helmet," was the official excuse.
The point of this is that that was the moment that Amir was being instructed by the new con-artist in the M.K. Gupta mould, Mazhar Majeed. If it can be taken at face value, the following is repeated from the News of The World where Majeed talks about the Asia Cup game.
Majeed: "We don't do results that often. The last one we did was against Sri Lanka in the Asia Cup which was about two months ago. And you get a script as well."
Neither the Asia Cricket Council nor Sri Lanka Cricket have kicked up a fuss so far over this claim of how a game was fixed.
The SLC hierarchy have a problem of their own to handle, with player indiscipline.
Rameez Raja, the former Pakistan captain and board chief executive, remembered on the BBC programme Test Match Special how, in Sri Lanka in 1994, team manager Intikhab Alam confided to him how legends of the game were "fixing" matches on that tour.
Weeks later, in South Africa, Salim Malik, peering at Hansie Cronjé with his characteristic obsequious smirk, sought confirmation from Cronjé at Newlands, in Cape Town, whether "John had called with an offer". This was January 10, 1995, as the two captains went out to the toss. Cronjé later admitted to a feeling of embarrassment at having to acknowledge there had been a call from "John".
That was the point at which Cronjé had crossed the line. Since then they have been allowed to get away with a variety of misdeeds; it contributed to an institutional culture in which it is easier to deny and lie than tell the truth.
Butt, as did Javed Miandad, has an ego the size of the Himalayas. They bluster their way through while the corruption mounts, but little is done to curb the growing problems. Chris Broad and Simon Taufel still have nights of cold sweat over the way they were strafed in the Sri Lanka players' van, and left like "sitting ducks" on March 3 last year. These were claims Butt and other PCB officials also lied about. Why did it take 15 months or longer before pressure was brought to bear by the International Cricket Council on the report which condemned the PCB's role in March 3 security? Remember, seven policemen were left dead on the streets of Lahore; all the terrorists escaped.
This year, to give Pakistan a "home" venue, the England and Wales Cricket Board (ECB) and the Marylebone Cricket Club (MCC) staged a "spirit of cricket series" with Australia. And this is how the team behaves, as well as its discredited management.
If cricket is to become a respected international sport, it needs to have a transparent image, not one where bookies can manipulate results. It is why all South Asia-linked agents need to be investigated by the ICC and register with them, as a way to get rid of the ogres and match-fixers now poisoning the game.
The article above was commissioned by the Indian Express and first published on their website. It is republished here with permission from the source.