By Trevor Chesterfield | August 11, 2010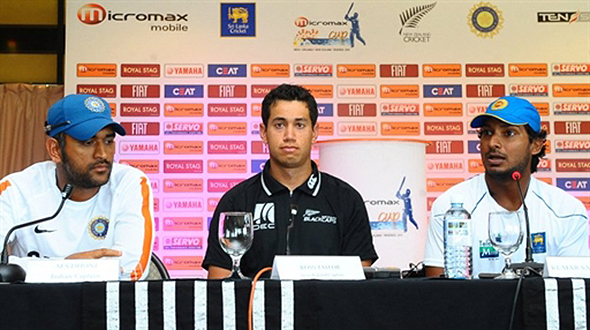 Kumar Sangakkara (R) is watched by his counterparts from New Zealand Ross Taylor (C) and India Mahendra Singh Dhoni (L) as he addresses a press conference in Dambulla, some 150 kms north of Colombo on August 9, 2010. New Zealand, India and Sri Lanka are set to play a one day international tri-series in the central Sri Lankan city from August 10. AFP PHOTO/Lakruwan WANNIARACHCHI.
What's going on here? Well you might ask. When the so-called head table at a launching of a major international tournament is bereft of senior administrators and represented by a board minion with a confusing title, understand the sniggering from the alert Indian media.
Too polite though to critise, but curious all the same that the arrival at the conference for some, left you wondering what had happened to showcasing the event. Missing were such "worthies" as Sri Lanka Cricket chairman D S de Silva, his so-called iron man Nishantha (I'm Mr Secretary) Ranatunga, and others among that non-elected coterie of ad-hoc government appointed officials known by the cute euphemism Interim Committee, along with the sponsors, were noted absentees.
Apart from the three captains, and here there was the impression that Kumar Sangakkara was there because he was needed to pose for photos for the event and would rather be somewhere else, there was also the additional CEO Mr Ajit Jayasekara and a woman representing the sponsors.
Just what is an additional CEO? Well, ask (I'm Mr Secretary) Ranatunga, he may have answers. But the chuckling and smirking at the title is not unexpected as the current Interim Committee have been doing their best to sideline the incumbent, Duleep Mendis, a former national captain, for some time.
As for Sangakkara's comments, there seemed to be a prepared list of answers to questions on offer, such as this one, "The important thing is to concentrate on playing each tournament, each match and winning them. The World Cup is six months away, and you are always building towards that as the final goal.
"At the same time (it is important that), each tournament and each match, counts for us (in our pre-World Cup planning). We have identified the core group. We have a few spots left for the players to come in (if they perform). So they get a good run in this tournament, hopefully. Everyone else will get a chance to consolidate and get good match experience."
It is what was expected he would say, and it made you wonder if he was still mulling the defeat at P Sara Oval and what when wrong when it was exposed in glorious live action and on the television sets around the world. Some comments from Sri Lankan expats in New Zealand and South Africa have been biting.
As for showcasing the tournament, why, a group of enthusiastic A Level students asked to do a tourism project in marketing skills would have done a better and far more professional job than that misfit of an organisation known as SLC Marketing. For the past three weeks, a top Indian TV station, CNN/IBN Live, have organised a promotion for a competition advertising event, only they have been given a rough carrousel journey to organise their planned all-expenses paid two VIP tickets for the final along with accommodation.
As was explained by Diksha Bedi, organising the accommodation in the country's cultural heartland is easy; it is getting a commonsense answer out of someone in Maitland Place that is impossible. No one answers their telephones and the switchboard operator is either on holiday or cannot respond in English, and flying into a panic when asked to be connected to someone not in their office.
This, if it is recalled, is a complaint levelled at SLC administration more than once in the past five years. Well, since the hijacking of the sport's administration by the sports ministry in April 2005. It seems the cash cow is too lucrative and under Gamini Lokuge's ministry there have been any number of accusations of misappropriation of monies. This is the same charge brought against the SLC club run administration in 2005 when the first of the interim committees was installed to run the game.
The big question is, will the SLC franchise be handed back to the clubs when the World Cup is over; or will this only take place in 2012, once the ICC WorldT20 event has been held and those running the game handling the TV contracts? There is a lot of big money floating around and currently, the ICC local organising committee handling the profiling of next year's World Cup has been noted for their tardy promotion of next year's event.
Over-paid and underworked they don't seem to be in a rush, and keep on feeding the same excuse and that is it is hand and why an Indian journalist and colleague since the early 1990s asked the same questions about this current series. Where is the promotion? Other than television advertising slots, and your usual websites and newspapers, it has been in a vacuum. This is the last big local tournament before the World Cup, but as a pile of daily email requests by lazy people for its schedule and teams indicate, it has not been well promoted.

© Trevor Chesterfield/Island Cricket.
(For reasons of copyright, permission is required from the author and/or webmaster/editor of islandcricket.lk for publication).