By Trevor Chesterfield | January 16, 2011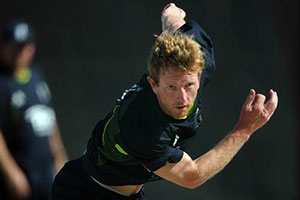 Unlike Sanath Jayasuriya, England's ICC World T20, winning captain, Paul Collingwood, knows how to retire gracefully. He didn't wait for the selectors to tell him. He did it on his own after an average Test series in the 3-1 Ashes success Down Under.
What is left at 34 is the remnants of an ODI and T20 career and from the way it is working out, he is unlikely to be leading England next year to defend the title won in the Caribbean when the tournament is held in Sri Lanka. So far, though, there have been no howls of indignation spewing from minds of those inhabiting the portals of most Colombo's media, pumping out their calumny over his predictions of what sides he thinks will contest the semi-finals of CWC11.
His prophecies were aired on an ICC podcast interview the final line up, as he sees it, being England (naturally), South Africa, India and, wait for it, Australia. And lest it be forgotten, Australia are hoping to retain the title they won in 1999, won again in 2003 and the Caribbean in 2007. Sri Lankan supporters are still grumbling over the Adam Gilchrist squash ball story of 2007.
As they say in the classics, 'shame, get over it'. Ask Mahela Jayawardene his opinion and he will tell you to accept it for what it was – a quality controlled batting performance.
All of you forgetting of course, how Gilchrist walked in at Port Elizabeth in 2003 as umpire Rudi Koertzen dithered over the decision and Aravinda de Silva's appeal. Sri Lankans are like that. They only remember those events which suits them, and forgetting where they blundered on the field (or off it). Not the players, most of them anyway are a decent bunch; well almost all.
There are those who point to their name and number on their back thinking how smart they are in the most pretentious way and forget how their pernicious behaviour left another taking the blame for an act that broke the laws and its tenants.
Anyway, Collingwood was asked an opinion on an ICC show of how he saw CWC11 semi-finalists with England along with South Africa and India in Group B. Each group has its strengths and weaknesses and Sri Lanka, in Group A will fancy their chances and rub Collingwood's nose in his predictions. It is hard to imagine anyone other than Australia and Sri Lanka qualifying from this group. Or is it?
New Zealand have been struggling since their high of 2009 when they played Australia at Centurion in the Champions Trophy final. Their record has been as bad as it was in the mid to late 1950s. But as readers were not around in that era, rather skip the comments.
Maybe though, Collingwood has overlooked something here and that is the overall draw, getting his sides a tad mixed, which is why his suggestion to leave out Sri Lanka is asking for a voting recount as it were. Sri Lanka play all but one of their group games on the island. The one exception is New Zealand in Mumbai.
Yet home advantage is not always the guideline it should be. England have failed to win a World Cup, even when it was held in England. Australia didn't win it in 1992 – New Zealand did reach the semi-final in Auckland – neither did South Africa in 2003; nor India 1987 and 1996. So don't get too carried away just yet. There is a long way to go and the event hasn't even started.
Like it or not, any batsman with an average of 25 or less who sits in the same dressingroom as those with 10 000 or so runs to their name and averages in the 50s and upper 40s, is a fraud and should be seen as such. Jayawardene has always been world-class; Kapugedara has still to learn what it takes to be world class. One is world class the other is still learning.
As for Makhaya Ntini, he achieved a moment of fame at Lord's in 2003 which no Sri Lankan bowler has yet managed – 10 wickets in a Test, or five in each innings. It seems there are those who fail to appreciate the status that Ntini achieved in his career, coming as it did only with the horrendous apartheid laws were swept away and he was allowed to carve a niche for himself in the international arena, where as before there had been none.
It just so happened that while Ntini was having fun, he also became his country's most important cricketer – some might say sportsman – in the post-isolation era. If he'd only been judged as a cricketer that would have been sufficient. He was a very good at what he did on the field, with all those Test wickets (390), series wins in Australia and England, and record breaking feats at Lord's (2003) and in Trinidad (2005).
He took more Test wickets than Malcolm Marshall, Ian Botham and Allan Donald. His place among the top echelon of the best fast bowlers is assured. But for South Africa, Ntini was a great deal more. He made black people proud of his phenomenal achievements in what is seen as a "white man's sport" and through his effervescence made all South Africans feel good about themselves.
He came to the sport very young, and being from an impoverished background, in the rural Eastern Cape town of Mdingi, meant he couldn't afford proper equipment, yet his enthusiasm never waned.
It is why his farewell in Durban was tinged with a certain dignity not understood outside South Africa, or by those who failed to understand the value he brought to the game and among his people.
© Trevor Chesterfield/Island Cricket.
(For reasons of copyright, permission is required from the author and/or webmaster/editor of islandcricket.lk for publication).