By Trevor Chesterfield | August 06, 2010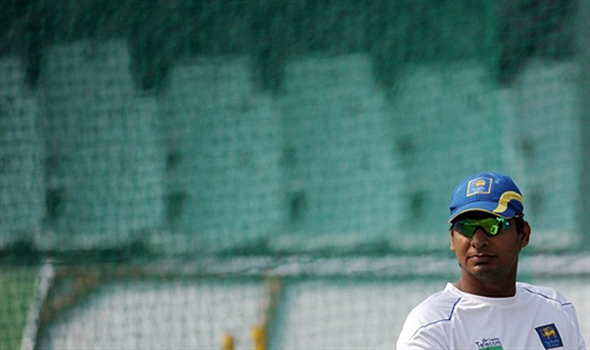 It was interesting tactics by Sangakkara. Here he was 200 runs ahead with Sehwag and Sachin Tendulkar, both early departures before the first drinks break and bowling to defensive fields, applying bowling tactics to try and slow the run rate as he knows too well how his bowling attack is under pressure. It is typical of a captain who also knows that apart from one bowler, Malinga, he has no one really to win matches. AFP PHOTO/ MANAN VATSYAYANA.
No one really knows if Nishantha (Call me Mr Secretary) Ranatunga was being serious or involved in a gigantic leg-pull. There he was on TEN Sport, being interviewed by Tony Greig and the subject of the fitness of the Sinhalese Sports Club pitch arose.
As with national curator, Anuruddha Polonwita the excuse is that it was the bowlers were at fault. Did this involve both teams? Or Just India? If he was telling the viewers that it was just the Indian bowlers, it becomes an interesting conundrum. An Indian score of 707 also says how Sri Lanka, now that Muttiah Muralitharan has retired, have no bowlers to win matches. Apart, this is, from Lasith Malinga. As we are in the middle of the Third Test, we'll get back to that after it is over as he still has to bowl in the second Indian innings.
As for the rest, the SSC farce is becoming an exercise which, if you take a close look at the pitch conditions and scorecards, thumbs its nose at Messrs Ranatunga and Polonwita. The Sri Lanka bowlers went for plenty and the way Ajantha Mendis was manhandled, even by the lower order (at Saravanamuttu as well), suggests the Muralitharan replacement is struggling.
During my weekly Monday column in The Island, the following appeared to prove the point that was made in the "Friday Farce" column about administration camouflage.
"As it is, Murali heads the list of wicket-takers at SSC: 166 in 24 matches at 20.69; trailing in his wake are Chaminda Vaas, 80 wickets in 21 matches at 25.05, Sanath Jayasuriya (26 wickets in 22 games), Rangana Herath (22 in six games), Lasith Malinga (20 wickets in six matches), with Dilhara Fernando propping up this list (18 wickets in nine games with an average of 41.22).
In fact, Anil Kumble (16) and Daniel Vettori (12) have fair records for the number of games they have played at SSC. Being a top spinner helps as apart from the odd sortie (Brett Schultz, nine wickets) and Mohammad Asif (six) touring teams' seam and swing bowlers have generally struggled. It was Schultz's left-arm pace in 1993, which condemned Sri Lanka to their heaviest home defeat. But Asif's efforts were in a drawn game, one where the batsmen of both sides took full advantage of the run-making production line facilities available in the second innings.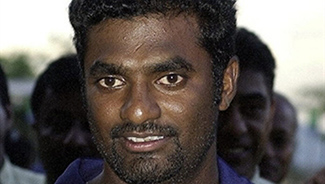 When this tour was rushed through early last month by the unelected government appointed ad-hoc coterie known as the Interim Committee, and the schedule was released, Muralitharan knew at once, why his swansong would be at Galle. All anyone needed do is look at the plethora of statistics from this latest Test SSC debacle for an explanation.
Galle International's congenial confines offered a better chance of a result than the soulless pitch prepared at SSC. Murali wanted one where he knew he had a chance of getting his eight wickets for 800. At the Maitland Place venue, the local run factory would have denied him such an opportunity.
He had enough experiences of the SSC conditions through the noughties to give him nightmares for the rest of his fruitful retirement. He was asked to perform like any sweating labourer, condemned to some chain gang by a fiendish curator who has a problem understanding how Test cricket needs a pitch like those at Galle and Saravanamuttu, which are creative and bring results."
A check on bowling statistics are other Test venues, such as Galle and Asgirya show a similar pattern. Murali is ahead of the others: Saravanamuttu, Muralitharan (52 wickets 9 matches), Dilhara Fernando (15 wickets, 3 matches); Galle, Muralitharan (111 wickets 15 matches, Vaas 27 wickets 12 matches), Asgirya, Muralitharan (117 wickets, 16 matches), Vaas (56, 14 matches). Surprisingly, the third name on the list at the Kandy venue is Shane Warne (15 wickets, 2 games).
All this throws up new light about the success of the bowlers at the venues. Statistics show how in Colombo, the seam and swing bowlers struggle; getting the right length is often an issue and Shaun Pollock mentioned this more than once on his four tours, starting in 1995 with the South African Under24 team which had the ever-thoughtful Bob Woolmer as coach. Failure to get the right length at the Colombo venues is important as the surface at venues (SSC and Saravanamuttu), creates a problem for new-ball bowlers with a little extra pace. Brett Schultz and Mohammad Asif hit the length at once. The blond, burly shape of Schultz was too much for Sri Lanka's batsmen in that 1993 game and won the match easily enough.
Asif, who collected 11 wickets in Kandy, struggled on the third and fourth day of that 2006 game which ended in a draw and blows apart the theory put out by the SLC secretary and the curator how poor is the bowling.
Take a look at the current Test at Tamil Union. What did it show? Sri Lanka's bowling attack again failing to finish off an Indian innings, and this time with Malinga thundering away at a so-called 140 kmp/h and ending with three for 119 in 30 overs; Mendis two for 109, also in 30 overs while the new off-spinner Suraj Randiv ended with four for 80 in 25.1 overs, the last wicket a straight burgle by the Sri Lankan fieldsman. It is not the first time that Tharanga Paranavithana has tried this trick.
How Rod Tucker changed that decision to being caught makes you wonder.
He did it against New Zealand last year at SSC in the second Test of that series. This is what was written at the time.
"There was an unnecessary embarrassment when Tharanga Paranavithana appealing for a catch that had the umpires conferring and going upstairs for a replay of the incident for which the fieldsman alone appealed. It explains how far off he was. The ball wasn't even on the half-volley as (Iain) O'Brien played it down. And maybe, Paranavithana needs to get his eyesight tested."
This time he managed to convince the umpire with his pantomime and Ishant Sharma would be right to feel, cheated.
Just how much influence Virender Sehwag will have on this third Test only time will tell. By his own admission, he has no fondness for "boring Test cricket". This is the sort of game that Sri Lanka's captain Kumar Sangakkara has tried to force on India this third Test, knowing his 1-0 lead can end in a 1-1 shared series.
Sangakkara admitted as much on the second afternoon of the Test when he tried to have Chanaka Welegedara bowl a useless shower wide of the off-stump, which because of bad light the Delhi batsman was left stranded on 97 overnight. Sehwag duly went on to his 21st Test century.
It is his galloping runrate and an ability to scare captains into adopting defensive tactics that makes anyone wonder why with so many runs to play with why go on the defensive. While Sehwag refused to fall into the trap set by Sangakkara on the second day, his one mistake on the third morning in trying to drive over mid-off ended with a catch greeted with uproarious glee by the locals. The irony was his effort to pick up two wickets at the close as Sri Lanka, edged by 11 runs on the first innings with India scoring 436 in reply to 425.
It was interesting tactics by Sangakkara. Here he was 200 runs ahead with Sehwag and Sachin Tendulkar, both early departures before the first drinks break and bowling to defensive fields, applying bowling tactics to try and slow the run rate as he knows too well how his bowling attack is under pressure. It is typical of a captain who also knows that apart from one bowler, Malinga, he has no one really to win matches.
And this is where the jingoistic claim for Sri Lanka to mount a challenge for No 1 Test ranking is as flawed as in their restructured bowling. And Mendis, gifted two wickets in the drawn fiasco at SSC last week to earn four, gave away 109 for his two wickets this time. This is the man that was suggested would be the new Muttiah Muralitharan.
As Tendulkar explained in the second Test, the Mendis factor no longer existed in current Sri Lanka conditions, certainly not with India's marauding batsmen prepared to take him on. He has wilted as such, but his six wickets at 46.83 explains just how much he has been tamed by batsmen the past two years.
© Trevor Chesterfield/Island Cricket.
(For reasons of copyright, permission is required from the author and/or webmaster/editor of islandcricket.lk for publication).