By Trevor Chesterfield | July 22, 2010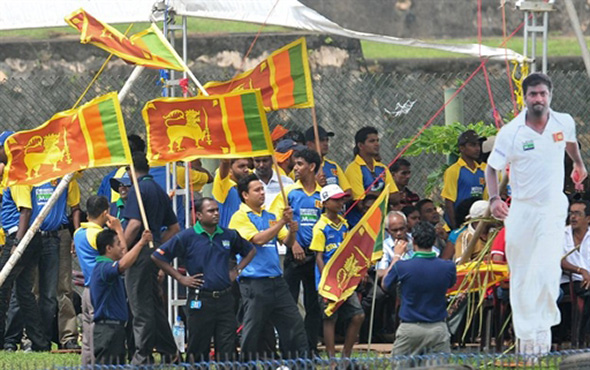 Spectators wave flags as they stand beside a cut-out of Sri Lankan cricketer Muttiah Muralitharan while watching play during the fifth day of the first Test match between Sri Lanka and India at The Galle International Cricket Stadium in Galle on July 22, 2010. AFP PHOTO/Lakruwan WANNIARACHCHI.
Sri Lanka Cricket threw the gates open at Galle International Thursday to allow the public to celebrate with Muttiah Muralitharan his farewell Test and taking his 800th wicket at this level.
Even the country island's president, Mahinda Rajapakse, turned up to have lunch and lend an executive touch of approval to the proceedings. He shook hands with players of both sides as well as match officials before heading back to Colombo.
They also had a bevy of smartly dressed local high school bands, including an all-girls band, to add pomp and ceremony to the post match proceedings, marching around the field where white flannelled players had worked hard to win the game and Muralitharan celebrate the occasion.
Despite having greeted him taking his 800th wicket – an edged catch by Pragyan Ojha to first slip Mahela Jayawardene (the same fieldsman helped Muralitharan take his 300th wicket, that of Shaun Pollock at Kingsmead in Durban in December 2000), the crowd stayed on for to celebrate the victory by ten wickets.
Also on hand was a small International Cricket Council delegation headed by the chief executive officer Haroon Lorgat with the new head of ICC media communications, Colin Gibson, while both captains showered praise for the efforts of the Sri Lankan.
As MS Dhoni, India's captain said, Muralitharan is the type of bowler to attracts an audience and as such, because of his phenomenal bowling, a farewell performance is always special.
"You don't want to surrender your wickets to the best bowlers in your opponent team," he said. "But at times they get the better of you. He (Muralitharan), bowled beautifully and put lot of pressure on the batsman and to earn his wickets. I think he really bowled to get those eight wickets in this game and I am really happy that he now has eight hundred wickets to end his Test career."
Lorgat said Muralitharan exiting the Test arena had been a special occasion. It was the end of an era and one where a tribute has to be played with the player adding an exciting dimension to the game.
"He has played some exciting Test cricket and for this, will be fondly remembered," he said. "What was interesting to note is that at one stage, when he was switching ends, the crowd were telling the other bowlers not to take the remaining wicket so that the prize could fall to him in the end. This is a tribute to the high esteem in which he is held by all."
Muralitharan's own thoughts are interesting as well.
"I thought it would be best to end it here in Galle because it is my favourite ground," he said. "This is because usually we always get a result with pitches are prepared like that. Even today, we can see that in four days we won the match.
"And this is the opportunity I was waiting for to perform well, to win the match and finish it nicely," he explained. "So the thought of play in all three Test this series, I thought my knees would not stand up to bowling fifty to sixty overs an innings, or a game. That was my thinking and they all welcomed that point of view."
They claim Murali as the world's best bowler; statistics prove that England's great enigmatic SF Barnes is better bowler in terms of strike rate: marginally perhaps, but better and you cannot manipulate such figures. Sri Lankans are going to dispute such a suggestion, only the myopic will attempt this and attempt to ridicule the suggestion. Sure, Barnes didn't play in many Tests, yet most of his wickets came from jousts in Australia and South Africa, the latter on matting and not in England.
Murali may have bowled on matting at school level, although there is no such record, while such transition requires a lot of development and adjustment. Questioned years ago brought a quiet smile.
The point about Cronje facing Muralitharan the first time as an eye-opening moment is because of the worry about his action. Later there were newspaper articles and photographs in sports magazines that queried the bowler; Cronje though said little, just that he "is a bowler with a different and interesting action".
What is also interesting is that Cronje is the one batsman who launched a pre-meditated assault on Murali the bowler in the Centurion Test of 1998. He had a certain style about his technique and his ability to tackle spinners in such a way left Arjuna Ranatunga realising that on that particular afternoon, the plan for a change was not going to work.
© Trevor Chesterfield/Island Cricket.
(For reasons of copyright, permission is required from the author and/or webmaster/editor of islandcricket.lk for publication).