By Trevor Chesterfield | July 12, 2010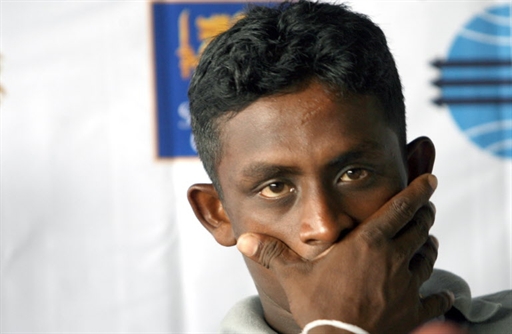 Ajantha Mendis (file photo) AFP Photo/ Pal Pillai.
It is almost two years since Sri Lanka unveiled their so-called 'freak' spinner, Ajantha Mendis to the world. At the time, most Asian media were as seduced and bewitched as were the Indian batsmen in that three-match series which Sri Lanka won 2-1.
Also those in the West Indies, if you recall, as it was where he made his international debut in a limited-overs series in the Caribbean, creating the origins of a myth. This was where commentators, a couple of veterans among them, were telling us Mendis was bowling a variety of spin "almost impossible to detect".
One even suggested he had eight types of delivery. How interesting that assumption was. It was also seriously misleading. Eight types of delivery; is that really possible? You check your glasses and look again. Eight types of delivery.
As someone with a Level II senior acceptance grade coaching certificate in South Africa, who had been an umpire for more than a decade, which included some first-class games as well, bowled leg-spin before a knee injury ended a playing career, and having seen Sonny Ramadhin, Jack Iverson and Johnny Gleeson, long before Mendis was born, it made you suddenly wonder.
There are topspin, leg-spin, googly, flipper, slider, off-spin, doosra, which is the wrong'un anyway and doesn't really count. Later, we were given some manufactured name, the 'carom ball'. This in reality is the topspin that Iverson and Ramadhin bowled to great effect: the finger-flick that Iverson shot out from the middle finger and spun either way, depending on which side of the finger was used. After a close analysis of the bowler in the nets, it could be seen he had really three types of delivery.
Also, play him as you would a seamer, use your feet and narrow the angle at which he bowls and also shorten the length and he is in trouble.
It is useless telling anyone of recent generations about names like Ramadhin, an East Indian born in Trinidad and discovered by accident. Or Iverson, whose grip and spin bamboozled England during the 1950-51 Ashes Tests. They are just names and don't really count, nor do their records.
Mendis, it was said would recreate history. Sri Lanka had found the heir apparent to an ageing Muttiah Muralitharan's crown and just in time. The island had found another freak.
At the end of the 2008 tour, the then captain, Mahela Jayawardene, lifted the veil on Sri Lanka's thinking that series. While possibly the oldest strategy in term of pre-match planning, Sri Lanka's gamble to play Mendis in that Test series paid off in the third Test at Saravanamuttu.
Jayawardene hinted at the plan, but a little further digging revealed how they went about curbing not only India's vaunted "fabulous four" but also worked on other areas and weaknesses in the Indian batsmen to reduce their effectiveness.
This had as much to do with field settings and bowling to them than anything else, and where the bowling to a field played such an important role. The only time this tactic failed was in Galle where Virender Sehwag's battering ram rendered it almost useless.
It was the way the Sri Lankans went about attacking the Indian middle order through the double-edged sword of spin that created doubt in the minds of the big name players. It suggests that the big three, Rahul Dravid, Sourav Ganguly and Sachin Tendulkar have become predictable in their approach to the game. Only Vangipurappu Laxman read him the way he should, as a medium-paced bowler.
In this the trick to bowl Mendis in the 2008 Asia Cup as a trial worked. In the final, he did much to cause havoc among the young batting side by sowing doubt. And when it came to the first Test, there was the distinct impression the Indians didn't quite know what to expect. They also did not seem to have pooled their knowledge too well.
In 1950, Len Hutton, a master technician and tactician, took until The Oval Test to fathom out the spin mystery of Sonny Ramadhin. Others though failed to read him well and their big mistake is that they didn't pass on what they had learnt to other members of the team.
Yet the axing of Mendis almost 24 months later for the first Test of the 13th Test series between the two countries in Galle, starting July 18, and being offered a lesser central contract, explains only part of the steep fall from his once exalted pinnacle. Instead, it is left-arm spinner Rangana Herath who is seen as the new heir apparent to the Muttiah Muralitharan crown.
In 2008, it was Mendis who touted as the long-awaited successor, and before that series, experienced commentators in the West Indies, catching first sight of him, were offering eulogies galore, suggesting he had types of deliveries, which were more about illusions and imagination than genuine fact.
Memories are often so short when it comes to history and Ramadhin, the first of his kind and plucked out of the dusty wastes outside Port of Spain remained a mystery on the 1950 tour on England. Only (Sir) Leonard Hutton managed to work him out and Iverson as well.
Rangana Herath, recalled last year when Muralitharan was injured before the series against Pakistan, out-bowled Mendis, who was reduced to the role of another just player whose fielding levels were laughable. This is largely because of school coaches fail to understand the importance in a player's development and how fielding is needed to sharpen their thinking.
Sri Lanka though thought they had it made with Mendis. Almost everyone was awed by his bowling style. Along with Lasith Malinga, they were the mystery bowlers aiding and abetting Murali. The coaches would not alter actions as it meant interfering with nature. When he bowled, batsmen were looking for deliveries that were a mix of leg-spin, off-spin, topspin, googly and the Iverson finger flick trick, when in fact he has three types of delivery not six as is claimed.
Malinga's slingy style action, which made him such a threat in the recent Asia Cup in the elevated up-country conditions of Dambulla, is also back to test the visiting batsmen at the venue where he played his last Test, against England in December 2007, a game badly affected by the weather. Just how these conditions will favour seam and swing bowlers depends so much on the seas breeze and the type of cloud cover there is.
At least Malinga's pace will give Sri Lanka a strike weapon for it is being said that despite the game being the last hurrah at Test level for Muralitharan, eight wickets short of 800, it will not favour spin.
It was in Galle two years ago where Sehwag's technique unpicked the Mendis mystery lock and where he slapped an impressive double century. In support was Gautam Gambhir with India levelling that series with a massive victory. Yet the series ended with Mendis claiming 26 wickets at 18.38 and Murali's haul of 21 at 22.23 picked up, giving the duo 47 of the 58 wickets that fell to the bowlers in that series.
Fifteen months later in Kanpur Mendis was found out. Dravid used his feet and had the bowler delivering the length he wanted, Sehwag helped himself and Sachin Tendulkar, used him like a wind-up toy train. The Mendis mystery was throttled into submission. His two wickets cost 162 from the 38 overs and he was dropped from the Mumbai Test.
© Trevor Chesterfield/Island Cricket.
(For reasons of copyright, permission is required from the author and/or webmaster/editor of islandcricket.lk for publication).