By Trevor Chesterfield | July 27, 2010

The 33-year-old Jayawardene's classical strokeplay enabled Sri Lanka to take full toll of the largely misfiring Indian bowling attack on a pitch which although has bounce, left more questions than answers for Indian bowling coach Eric Simons. AFP PHOTO/Lakruwan WANNIARACHCHI.
Rare are the days when a Bradman record falls. Now Sri Lanka's Mahela Jayawardene has joined Sunil Gavaksar to eclipse one of the Australian legend's landmarks.
Executing a quality, stylish 28th Test century as Sri Lanka mounted a near impregnable first innings total of 642 for four, declared, Jayawardene's innings of 174 is his tenth at the Singhalese Sports Club in the island nation's capital.
It eclipses the nine that Sir Donald Bradman scored at the Melbourne Cricket Ground in 11 Tests between 1928 and 1948, although as Jayawardene pointed out, it has taken him 23 Tests during what has so far been a 13-year career. Bradman's record has stood for an incrediable 62 years.
"I think we need to get something straight here," he said, nodding thoughtfully. "I needed twenty-three Tests to get there and Sir Donald (Bradman) managed nine or ten at the MCG" – (it was 11 Tests) – "That explains the difference. I am pleased that I have broken the record, but I don't think you can compare what he (Bradman) did in his day and what we are doing right now. He is a legend, and we need to remember that.
"But achieving this record will definitely be a moment for me to remember," he added with the sort of care and attention to his remarks that he applies to his batting.
"It is something so special, but also, I love to play here (at SSC), it is my home ground. I grew up playing here. It is fun play before the club members. It is something special. But also, you have to be very humble when you break something like Sir Don Bradman's record."
The 33-year-old Jayawardene's classical strokeplay enabled Sri Lanka to take full toll of the largely misfiring Indian bowling attack on a pitch which although has bounce, left more questions than answers for Indian bowling coach Eric Simons. With Harbhajan Singh battling to strike a rhythm there were serious problems on a pitch "from hell" for the bowlers.
Jayawardene's innings was typical of his hallmark technique with its smooth flowing drives, delicate cuts and punishing backfoot shots where he works the ball into the gaps, often with tantalising ease.
Typically, it was the antithesis of the Kumar Sangakkara double century. This is his seventh, joining Wally Hammond as the second to achieve this mark and now trails Brian Lara (9) and Bradman (12) heading the list. The Sri Lankan captain and left-hander took 16 runs in one over from Pragyan Ojha in a remarkable display of fluency, showing neat touches on his way to the landmark, the most by an Asian batsman.
Jayawardene put the partnership into perspective with the remark of how their style compliment's each-others ability to work out a batting plan and execute it. They have done it often enough and their 193 runs for the third wicket is the fourth century partnership at SSC.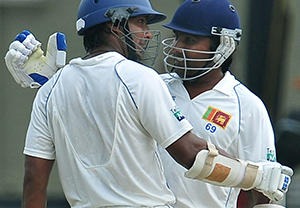 "Sanga and I complement each other well as we bring the right and left hand factors to the crease and that is often trouble for an opposing side," he said. "The bowlers find it difficult to settle to one line. Both of us are now more attacking. Earlier in our careers we were more defensive at Test level, but now I think we attack more and this places a lot of pressure on the opposing bowlers."
It was left to Virender Sehwag to bring some Indian batting dynamics to the game. His undefeated 64 in a partnership of 95 for the unbroken first wicket with Murali Vijay (22 not out), was at a strike rate of 101 and could spell danger for Sri Lanka's bowlers today.
Thinking ahead to day three of the Test, and where Sehwag needs to give India a head start if they are to make any sort of challenge, Jayawardene is full of ideas, as a former captain should be.
"We have the runs on the board, so our guys will go on the attack," he said. "At the same time we know India have some quality batsmen who could bit for long periods of time. So we need to make sure that we don't give away too many easy runs and control Viru and other batsmen.
"We have three days of play left and just needed a couple of opportunities to run through their side. The game is in our hands. We need to put in lot of efforts. The surface is still pretty good, and we just need to be smart about it and try to get the first ten wickets and then see how we can get the next ten.
"I think our two fast bowlers with the old ball can reverse the ball quite a bit. I think that is one of the reasons why we have played these two guys (Prasad and Dilhara Fernando). They have good pace. They both can reverse the ball. That is something we can work on.
"Suraj Mandiv looked a bit nervous because he was playing the first Test. But he is a very dangerous bowler, especially if he can get the bounce and spin out of this surface. And then there is Ajantha Mendis, coming back and I know that he is very eager to do well and create opportunities as well. So we have to make sure that we stick to our game plan and execute them well."
This is a reproduction of a commissioned story for the Mumbai tabloid newspaper Mid-Day and is produced here with their kind permission.