By Trevor Chesterfield | February 18, 2011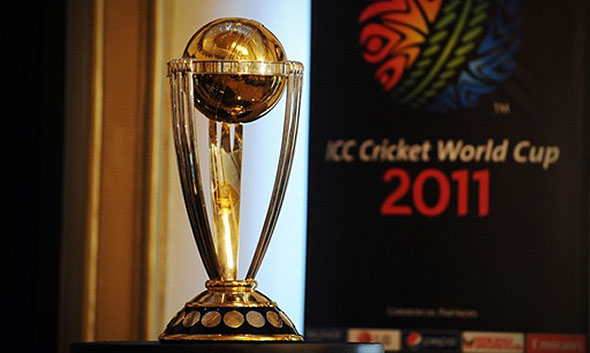 The ICC Cricket World Cup 2011 trophy. AFP PHOTO/ Lakruwan WANNIARACHCHI.
Is it a case of déjà vu for Australia? Even South Africa and India, for that matter as the analysing of the series of practice games are mulled.
How serious can the challenge of defending title-holders Australia be viewed for the ICC Cricket World Cup 2011? For Australia, seeking title number four in succession, it is two games, two defeats; the second, against South Africa is far more alarming for the boys form Oz, if not embarrassing than the game against India where the batting crumbled like badly baked flaky pastry.
Australia are looking out of shape, struggling to adapt; so reminiscent of the 1999 side's erratic performance in England. If they were shown up by India's spin, they were wrecked by South Africa's seam and pace at Bangalore. What made it worse, against Graeme Smith's team, is the galling experience of two batsmen being retired out to give others a chance to experience some middle net batting before the result was achieved.
Smith, in his second World Cup as captain and his third as a player, and Hashim Amla, felt they had done enough and their 'retired out' meant that Australia's bowling options were under the sort of pressure they need to think how to combat such flaws.
Worse still, for Ricky Ponting: South Africa didn't even use the batting power play; such was their command of an Australian attack whose radar was out of kilter: Shaun Tait and Brett Lee would have been far better employed as spray-painters.
India struggled against Australia as well and although they at least put big runs on the board against a New Zealand side battling with their bowling, as was seen with the game against Ireland and then India. On this form, they might struggle to make the last eight.
Yet, of the five sides fancied to "rule the world" come April 2, India and South Africa have displayed their capabilities; Australia and England are like light-heavyweight battlers, trying to get a grip on the conditions they face and Sri Lanka having mauled Holland, were in a bigger scrap with West Indies, yet were balanced enough to muscle their way through. The bowlers struggled, and Premadasa despite the usual overt security glitches, had bounce and the batsmen were in reasonable scoring mood.
How reliable are such results, where experiments were made to batting and bowling and fielding gameplans, depends largely on the big picture. Coaches of India (Gary Kirsten) and Sri Lanka (Trevor Bayliss) quit after the event; even Ponting's short-term future as captain is in doubt; Smith wants to resume his ODI career as a player, along with Daniel Vettori. How these changes will affect the teams depends on their ability to fit in with the long-term planning to 2015.
If it is a last World Cup tournament that looms for six big names: Jacques Kallis, Brett Lee, Muttiah Muralitharan, Ponting, Sachin Tendulkar and Vettori, what of the future players to embellish scoreboards and excite spectators and TV audiences.
Depending on fitness and form West Indies, New Zealand, England, South Africa, India and Bangladesh have promising talent that can make an impact again in 2015. That is the future; what of 2011?
Names like AB de Villiers, Dale Steyn, Morné Morkel and Imran Tahir loom in the South African side with Amla another likely candidate for honours.
Tim Southee and Kane Williamson of New Zealand excite as well; Adrian Barath and Darren Bravo are two West Indians with a future if allowed to develop; Virat Kohli, Suresh Riana, Chawla and Yuvraj Singh give India players to mull over how they will fare this tournament.
For England, Chris Broad may answer a need for Andrew Strauss to make up for his absence during the latter part of the Australian tour.
Now they are writing how Yusuf Pathan will emerge in 2011 as did Lance Klusener for South Africa in 1999 where his lower-order rescue acts turned games that seemed lost. These are the sort of expectation, which argues what type of role is envisaged for the all-rounder.
Listening to Kirsten last year, when lamenting the need of an all-rounder of the Brian McMillan/Klusener mould, Yusuf is the all-rounder that India are hoping will provide the lower-order muscle to power the side to victory.
Looking for something different, Kevin Pietersen, opening the batting for England, may have found his niche at last in the 50/50 overs limited game. Moving up from four to open with Strauss is a challenge he is willing to accept. This is good. No stoic, "I prefer four so find someone else" rant that was anticipated by some British tabloids, stirring to make a point, if that is possible. Pietersen it appears need little persuasion to make the switch.
"It's something you think about – could be nice, especially in the subcontinent," he is quoted as saying. "When it was being talked about seriously I went away and had a couple of days to think about. I thought it was exciting – and I have a nice feeling about it."
Sri Lanka, if you recall, making the final last World Cup – that overlong, often dog-eared event in the Caribbean – had a lot to thank Lasith Malinga for with his bowling efforts. In the series against the West Indies, he was lethal with the old ball. Just as Steyn is for South Africa when there is pressure and wickets are needed. Both want to emulate Lee who in 2003 played a major role for Australia at crucial times.
Can India, as an example create similar pressure? Such is the weight of expectations that as with Sri Lanka, there are those writing their World Cup victory speeches for the captains. When Kumar Sangakkara suggested it was premature and "favourite tag" is expecting the side to win the trophy as easy as walking across the field, it makes you wonder if people realise how tough winning a World Cup is these days.
Pakistan – sure we need to fit them into this picture as the wild card outsiders – are doing their best to be Pakistan. As an example, somehow, the comment read somewhere that Shoaib Akhtar is back elicited quiet a different response. In that sentence, the word "somehow" is an interesting one. Recall nandrolone. Now that is another interesting word aligned with Shoaib. And the phrase "drugs ban overturned by tribunal in Pakistan" is full of interesting words.
Despite the initial jingoistic bluff, Pakistan could do nothing to convince the ICC's anti-corruption tribunal they are 'fibbers off the field' over spotfixing.
In 2007, India and Pakistan crashed out in defeats scripted by fiendish horror storywriters. For the sake of and success of this tournament, hopefully there is no rerun of that movie.
This article first appeared on Trevor Chesterfield's column on CricketNext.com