By Trevor Chesterfield | January 07, 2011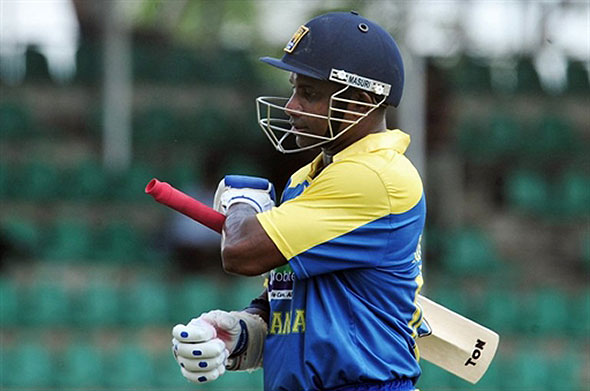 The end of the road for Sanath Jayasuriya. © AFP.
For Sanath Jayasuriya there is to be no final hurrah, or Chaminda Vaas for that matter. Frankly, it was a forlorn hope for their supporters they would be included in the final World Cup squad for 2011. It has also long been a selection story of riddles.
As, has the retirement story of both players been a serial of seriously botched episodes by the nefarious government appointed Sri Lanka Cricket interim committee. Of course, Nishantha Ranatunga and the rest of the coterie of ill-fitted administrative busybodies will deny this. They are so good at that.
It appears that what did force the selectors to name the final side at this early stage, or seven days ahead of schedule are Mahinda Rajapaksa's comments earlier in the week to select the best available talent. Whether this is the case is open for argument.
The one genuine shock is Rangana Herath ahead of the attacking off-spinner Suraj Randiv. In this very little difference to the squad that toured Australia last October and despite a 2-1 series victory, the analysis of the tour would show how rain and the D/L format along with Michael Clarke's poor captaincy cost Australia the opening game in Melbourne.
A shaper-thinking captain would have closed the game down before the Lasith Malinga partnership with Angelo Mathews was allowed to gather momentum. An examination of the Brisbane game shows just how bereft was Clarke's thinking.
There is a sameness about this squad which doesn't lift the team into the World Cup bracket. Certainly not as good as the squad of 2007. It lacks the sharpness that squad had and reached the final.
Even taking ownership of a particular programme designed to improve facilities for the World Cup, so close you can almost hear expectant buzz of the spectators, remains dodged in controversy.
So imagine the contradiction when it is said by those running Sri Lanka Cricket, aka the government enclave in Maitland Place, how the national selectors are not to consider the form of those playing in the limited overs Premier League for the World Cup. This being the case, why are those in the squad bothering to play in the league unless it is to retain a semblance of form.
Jayasuriya, aka the Matara Mauler, among other candidates, had been hoping to attract attention of the Aravinda de Silva selection panel. This mind you is fifteen years after he set the benchmark for the fifty overs format in CWC96.
De Silva said he would not tolerate interference. In trying to prove a point, Jayasuriya scored well against a near international bowling attack at Sinhalese Sports Club for his Bloomfield side in a display that showed why the term Matara Mauler is still an exciting brand name.
Now, pause for a moment. He is still playing for Bloomfield after all these years, which in a sense explains the sort of loyalty that deserves recognition. Why, year in year out, players transfer between teams is as regular as dining on egg hoppers for breakfast, or hoppers for that matter.
Past views expressed in these files have suggested it is time for the swashbuckling lefthander to move on into the role he has been elected to play by his Matara constituents. Only, like the heavyweight boxer aiming for one more shot at the title, he is clinging to the hope that he has the ability to walk out in the final of CWC11 at Wankhede Stadium, Mumbai, April 2.
It is still recalled in misleading headlines as a talisman saying that Sri Lanka will win the next World Cup. All heady stuff; dangerous too.
Just as Lord's and left-arm seamer, Alan Mullally equally exploded the myth on a murky, misty morning in 1999. It was a matter of placing too much faith in a team that many locals described as invincible. Neither Chaminda Vaas nor Muttiah Muralitharan's bowling could resuscitate the corpse of that game as England won by eight wickets.
No nightmare this; it was cold reality on a grey day, and after having to listen to Tony Blair, aka 'Blah Tony' giving his best Lord Haw Haw imitation. It showed how these days, no team is invincible.
Some months ago, when the Asantha de Mel selection panel were dithering and politics were also playing nasty rigged roulette games with policy, the views expressed in these files were how someone should find out from the two seniors and veterans what they were hoping to achieve. No one, it seems took the opportunity to do so.
After Sri Lanka's disastrous ICC World T20 tournament in the Caribbean, where Jayasuriya also failed, de Mel's panel was summarily "executed" as it were, for their bungling of affairs that led to the impasse over the selection of such veterans as Jayasuriya and Chaminda Vaas. This left an embarrassing cleft stick style operation for de Silva's panel to handle and so far they have done what they can in a handling a poisonous political maze.
It begs again the question of why is it no one has sat with Jayasuriya and Vaas for that matter and given them a timeline on their careers. After all, they deserve far better treatment than they have received. Neither has been honoured by the government appointed Interim Committee for their years of honourable service to the game.
That particular committee has been far too bothered by trying how best to improve their own sorry image. This mind you is under the harsh scrutiny of public, which has no confidence in their handling of the affairs of the one recognised international sport the island has. They are appointed, not elected and this is the difference.
Anyway, in Jayasuriya's case it is coming up to 21 years and in most corporate businesses, a formal recognition for such service is recognised form of reward. He was after all placed in a position of trust as captain of the side that revived Sri Lanka's fortunes after that mauling in the 1999 World Cup in England.
Squad: Kumar Sangakkara (capt & wk), Mahela Jayawardene, Tillakaratne Dilshan, Upul Tharanga, Thilan Samaraweera, Chamara Silva, Chamara Kapugedera, Angelo Mathews, Thisara Perera, Nuwan Kulasekara, Lasith Malinga, Dilhara Fernando, Muttiah Muralitharan, Ajantha Mendis, Rangana Herath.
© Trevor Chesterfield/Island Cricket.
(For reasons of copyright, permission is required from the author and/or webmaster/editor of islandcricket.lk for publication).