By Trevor Chesterfield | September 16, 2010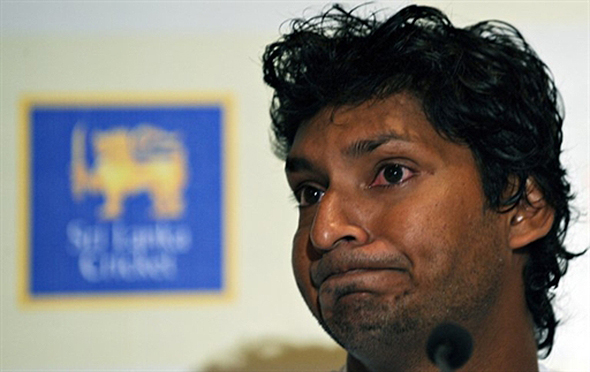 AFP PHOTO/ INDRANIL MUKHERJEE.
How interesting it is. First, there is Arjuna Ranatunga aka 'Cap'n Cool' shouting "conspiracy" against Sri Lankan and Pakistan teams. Only we can't read all he has to say of why it is a conspiracy and one that is launched by the media.
This is because there is a power outage for 12-hours, a regular even under the MR regime in this part of the island (I am told) since November 2005 for what is said to be repairs. It suggests there are more repairs needed a square kilometre in this area of 'paradise' than the rest of the nation. At least once every four weeks there is a 12-hour blackout for so-called 'urgent repairs'.
While all readers will not quite get the dysfunctional connection here, when we are finally allowed to switch on again, there is Kumar Sangakkara, aka 'Cap'n Cavalier' shouting as it were from the same "conspiracy" page. This is about how the players, and the administrators, are now in need of protection as they are "besieged" by allegations and "conspiracy" theories.
Well now, how intriguing is this claim. He is suggesting it seems the media has become a type of Mafia with Sicilian 'Cosa Nostra' aims from which a near faceless non-elected government appointed ad-hoc interim committee and the Sri Lanka team need to be mollycoddled as they cringe in 'fear of being exposed'.
As this is a team that harbours a player caught cheating on the field, the stain of guilt is indelible. Was it not Tillakaratne Dilshan who urged another player Suraj Randiv to bowl a deliberate 'no ball' for which the bowler copped a bigger penalty than did the motor-mouth miscreant, Dilshan? It turns so-called team transparency and innocence into a joke. Little wonder the so-called 'nation's hero' was able to smirk at such an insignificant punishment.
Where is the conspiracy in this? Is it because reporting facts as well as adding a fair interpretation of events of that 'no ball' incident is seen as a "dirty plot" against the team? Is asking questions of what is a non-elected body known as the interim committee, and over what are questionable issues seen as a form of harassment? What conspiracy is this?
Protection of administrators? Wow . . . in what way protection? They are there to do a job and that is the welfare of Sri Lanka cricket, but so far, this is not entirely the case. This is why they are being questioned.
While there was much, as was expected, criticism of the Kitbag column appearing under the headlined "Big-mouth Dilshan escapes lightly over no-ball call issue" and the comments made, I make no apology for writing them. In fact, I have lost total respect for this player trying to shirk the blame as well as the so call list of anonymous posters and others who jumped to his dodgy defence. They seem to prefer supporting a cheat to an honest player, as did the SLC by dishing out such an inadequate fine.
Bias towards cheating seems to be a typical habit in Sri Lanka, no doubt too the reason there were so few comments from readers regarding the remarks by former captain Marvan Atapattu in his Sunday Leader column on Dilshan's reprehensible behaviour. This is one where Atapattu criticised Dilshan's actions under the headline "Disgusting".
In this, he pointed out how a junior player has to follow the example of a senior player. If Dilshan is a senior player and this is the example he is allowed to set, why is it that the Sri Lanka team is being looked on with certain criticism. Here we have 'Cap'n Cavalier' in part ducking the issue.
For this, shame on Sri Lanka Cricket for allowing Dilshan to get away with such a light sentence, as the punishment handed out did not fit the crime.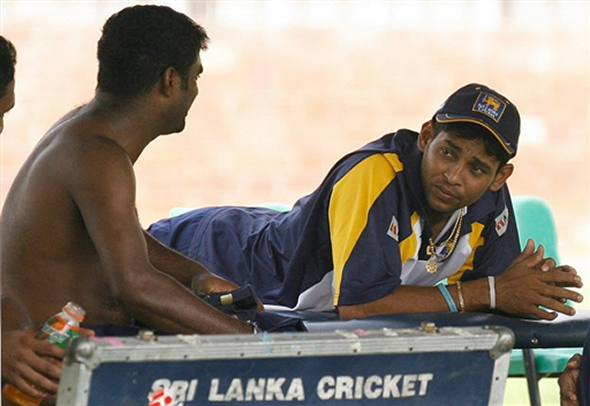 AFP PHOTO/ PRAKASH SINGH.
At the time, it was suggested in the Pavilion Kitbag column that Dilshan should have been banned for the rest of the tournament, and this is repeated here without apology. He should have been banned and forced to make a public apology to Randiv over the incident. He didn't make the apology. This is where there has been a breakdown in the system, to which Dilshan, by his action, presented an ugly middle finger.
Atapattu, in his weekly column on August 22, gave reasons how the team's culture worked and why such action was against the team's code. Frankly, it further exposed Dilshan's actions as being those of someone, who as a senior player should have known better. It throws up other issues and it is hard to respect a player who deliberately set out to twist the laws of the game to suit him and as such, the team.
'Cap'n' Cavalier' Sangakkara's reaction during his media briefing on August 18, and reviewing the "incident overall", added, "We need to take up the responsibility as a team and we need to get back to the right mindset (ahead of tomorrow's game). I spoke my mind out to the team on the whole incident. I had a chat with my team manager as well. Now it's up to the cricket board to decide."
It also explained the captain is not aware of intricacies of all the laws of the game, which perhaps is quite understandable. Yet in this case, Dilshan did. We all know the reaction of the board.
This also where the Indian electronic media behaved with the same callow instincts as did Dilshan. Instead of focussing attention on events of more importance, they were highlighting an incident without understanding (a) the laws of the game; (b), how these were applied in this case and (c) their lack of common sense by using a comment from Virender Sehwag on which to hang their argument about how he felt cheated.
This where it is disappointing, for instead of adding depth and calm to the TV debate they shot from the lip with the sort of nonsensical verbal dihorreah that made you wonder if whoever handled the programme and was asking questions, had been thinking logically at the time and doesn't want to hear an honest answer.
Unfortunately such actions as telling another player to break the law, is something that is quite repugnant and makes you wonder. This is despite the current SLC stance, which is one of typical bureaucratic obfuscation that you get from government departments, which in reality it is.
Nothing has yet been said by SLC about the alleged News of the World claims how the Pakistan Asia Cup match with Sri Lanka on June 15 was fixed. No denial, no comment. Here SLC have adopted the posture of the three "wise" monkeys – hear no evil, see no evil and speak no evil. As such, they believe in their own swill and want others to do the same.
When questioned on the subject of the claims of the Asia Cup game being fixed, Colin Gibson, head of the ICC media and communications, sent the following comment: "The Asia Cup mentioned in the News of the World (Pakistan against Sri Lanka, June 15 at Rangiri Stadium, Dambulla), would fall into Scotland Yard's investigations at present".
This is a lot more than SLC (and the Asia Cricket Council) have been saying and the question of why they have not as yet come up with a similar comment, in their rush to sanitise the images of the players, including big mouth Dilshan, then admit there has been certain 'improper conduct in Harare' by a Sri Lanka player, need to be asked. This is after their initial denial.
One of the two contacts in Harare who emailed the information has since had to go into hiding as Zanu-PF cadres have been trying to find how the information, routed through a South African contact, escaped their monitoring system. This is why the names and addresses were withheld. It is also shames those myopic readers who adopted the subservient postures of the SLC three wise monkeys.
If you haven't been to Zimbabwe, or experienced conditions in that country as a member of the opposition, who in 2008 wrested power from the Zanu-PF, yet have had to be forced into a power-sharing joke through brute force, rather keep your mouth shut as it only displays what an amazing ignorance you have of southern African affairs.
The comments last week by Zimbabwe Cricket are little more than a government cover up as well. The two Indian daily newspapers that published the information had reporters in Harare at the time and fully aware for the background and the incident involved.
One statement sent to me by a source from England, from yet another Sri Lanka website had the usual anonymous no-name brand label, who wanted to know why such remarks as these were not "edited". Perhaps they want the Daily News (Colombo) lies to be published where the view is "our players don't cheat" and it is a dirty "Western media" trick.
As for the Pakistan game against Sri Lanka, when pushed for an answer, Colin Gibson did confirm how the bookie involved in the News of the World sting Mazhar Majeed is subject to a criminal investigation. His status would have to be confirmed by Scotland Yard or Her Majesty's Revenue and Customs. This it has been pointed out was part of an investigation before the tabloid's explosive expose on 'spot fixing' of three Pakistan players, Salman Butt, Mohammad Asif and Mohammad Amir at the Lord's Test against England.
There is much more to this, but in Colombo the pile of rubbish is growing in Maitland Place and it is beginning to stink with certain political collusion.
© Trevor Chesterfield/Island Cricket.
(For reasons of copyright, permission is required from the author and/or webmaster/editor of islandcricket.lk for publication).