By Trevor Chesterfield | January 11, 2011
Well now, how many followed the latest Indian Premier League auction? How franchises new and old decided not to be spendthrifts funding players either passed their shelf-life usefulness, or for that matter didn't quite make an impact in 2009 and last year.
By eschewing some of the more fancy names, along with those Sri Lanka wannabes whose credentials have been found wanting at this level, include several World Cup squad members, and explains the more prudent buying of players.
Axed in the franchises search for fresh talent are Sourav Ganguly (quite an embarrassment that one), the laissez-faire Chris Gayle, a once combustive Sanath Jayasuriya, along with Brian Lara as well as Chaminda Vaas and . . . wait for it, no Ajantha Mendis, Chamara Silva, Chamara Kapugedara, Thilan Samaraweera, Upal Tharanaga, Dilhara Fernando, Farveez Maharoof, Thilan Kandamby and Rangana Herath.
Suraj Randiv, hard done by with his exclusion from the final World Cup fifteen, is one of the ten Sri Lankans earning a nod along with Thisara Perera. The biggest surprise is highly-rated but overlooked Test candidate Nuwan Pradeep Fernando, the fast bowler with the Lasith Malinga type action from Bloomfield, going to Royal Challengers Bangalore.
Which brings me to a point where some readers are either too obtuse to understand what has been written or, are looking for an excuse to be typically rude Sri Lankans because they don't like it when they have facts shoved up their nose.
For a matter of clarification, how good is your memory. Not up to the mark, it seems. Last October, the following introductory paragraph, "Telling old heroes that it is time to quit is as brutal as it gets" appeared under the headline of "Time to say farewell to the heroes".
Now, in reviewing the Sri Lanka World Cup team there is an impression there was a certain volte-face over the Jayasuriya selection issue. As that Italian noun has never been part of my lexicon, it should clarify the point there was no about turn in the comments made.
What is being suggested (read it again) is how that mediocre crowd of appointed cronies running the government appointed ad-hoc body known by its misshapen metaphor Interim Committee, and shelf life and sell by date is long over, has failed to give Jayasuriya recognition he deserves for his years of service to the game.
Repeated here, without apology are two paragraphs from that October column, to explain the opinions expressed then have not changed.
"Unlike Muttiah Muralitharan, who by his own admission, his body had told him it was time to retire as a Test player ("My knees are in need of a rest"), there are others, despite a certain age, who feel they still have the ability to deliver edge-cutting match-winning performances past the mid to late thirties or those nudging into the lower forties; even at the shorter version of the game.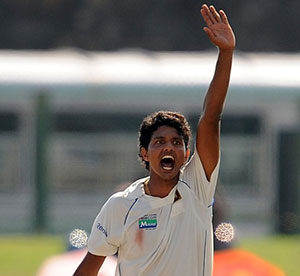 "Sentiment is one thing, fraught as it can be with emotion. Reality is, the game at international level is tough enough without trying to win with players who are hanging around to indulge in a 'last hurrah' which ends up costing a side their chance to winning the title. Selectors have to be realistic and know the way ahead is tough enough without being saddled with the added trepidation of aging players retarding a team's development."
It is easy to understand too, when talking to the media at Sri Lanka Cricket government's enclave, the man who should be running the game on the island, Aravinda de Silva, as convener of selectors went to extraordinary lengths to explain his committee's view of the hard choices that had to be made regarding the veterans. Jayasuriya and Vaas would have wanted a farewell performance before fans at home.
"We have looked at every possible option to select the best possible team, and with due respect to both veterans, and the young spinner (Suraj Randiv) who has done nothing wrong to be left out, it should be explained it was a very hard and emotional decision," de Silva said.
No one can argue with such sentiments. It is tough though on Randiv and here it is easy to sympathise with a classy player. Yet he is young enough to get a chance in 2015 in Australia and New Zealand.
Vaas has been given a window should Nuwan Kalusekara or Lasith Malinga become injured at some stage during pre-tournament preparation or in the practice matches.
As for farewell events to honour players, Cricket South Africa used the occasion of the first Krish Mackherdujh Trophy game with India at the former World Cup soccer venue, Moses Mabhida Stadium to pay tribute to Makhaya Ntini for his service to the game and his icon status. The game, which drew some of Bollywood stars was also designed to commemorate the arrival of the Indians in South Africa 150 years ago. It is hard to imagine, though, the SLC cronies even thinking of pay a fitting tribute to both veterans.
It was unfortunate, and few will recall the poignancy of the moment, as de Silva's own farewell performance at home was despoiled by rain in September 2002 during the Champions Trophy final at Premadasa; his last World Cup innings was the semi-final against Australia at St George's Park, in Port Elizabeth seven months later.
So, yes, when he talked about "hard emotional decisions" he chose his words well. He knows from personal experience far more than possibly all but a handful of those at the media conference on Saturday what he meant by the expression he used.
One of the more important and innovative points made is the possible use of vice-captain Mahela Jayawardene as an opening batsman during the event. It is here where the selectors have acted with judicious prudence. Jayawardene is such a masterful, artistic batsman to watch at the best of times and paying an entrance fee to see him in action, is worth all the rupees asked to do so.
Should change in the batting order be needed, more responsibility will be required from the middle-order to buy into the selection strategy and play the third spinner when needed. It could be seen how the lightbulb had yet to switch on among some when it comes to questioning reasons for such policy change.
It is one with several associated ponderable issues. One is that it depends largely on the form of the openers as well and requires someone in the middle-order to deliver a similar performance to that of Jayawardene. It is why someone like Chamara Silva still has a question mark against his name.
Second, it depends largely on weather conditions as well as the surfaces to be played on, especially at Hambantota, which has yet to be tested and Premadasa. There has been criticism of the pitch prepared for the limited overs Premier League semi-final at the Khettarama venue between Sinhalese Sports Club, and their Maitland Place neighbours Nondescripts.
Avishka Gunawadena, a former Test and limited overs international and now coach of SSC, knows enough about such conditions, and recently as well, to voice a critical opinion of such surfaces. It should have those responsible mindful of how the pitch played on the last day of the rain-wrecked Test against the West Indies to cause some concern.
Another question mark hovers over Kapugedara: ODI batting average 22.95 and local A List average of 25.79 hardly qualifies him for a World Cup cap; yet there is this member of the hoi polloi sitting among the batting elite of the side. There was a remark how his fielding was good enough to warrant a place in the side.
"As good as Jonty Rhodes," was a comment during the Asia Cup. Rhodes scored runs and saved many as well scored centuries at Test and ODI level. Kapugedara has seven ODI half-centuries to his name in 69 innings. That explains one thing: he is not a World Cup class player. It is a weak spot in the team and can create a problem when pressure is on and a match-winning innings is needed.
Anywhere else, despite the age of 23, he would have been packed off to a coaching school to learn how to bat like the elite and not the hoi polloi.
© Trevor Chesterfield/Island Cricket.
(For reasons of copyright, permission is required from the author and/or webmaster/editor of islandcricket.lk for publication).