By Trevor Chesterfield in Dambulla | June 24, 2010
On Tuesday night, it was carnival time. They were singing and dancing in the Rangiri Stadium isles. India were being crushed and given a good hiding.
Come Asia Cup final night, chasing down a target of 269 to retain the trophy was proving to be a lot more difficult for Sri Lanka's batsmen. The top-order was swept away by the end of the first 16 overs with some explosive and clever bowling as India stared down their island rivals.
By the end of the evening, they were 81 runs short and frankly, never looked as though they were going to score the 269 needed to win a game they had all but swaggered into, a tad overconfident, although no one would admit it before the game. Certainly not the coaching staff; to them, Sri Lanka had the wherewithal and smoking guns to hammer India into submission to claim the third successive title.
In fact India batted far better than had been expected, and sitting with the former highly stylish South African batsman, Daryll Cullinan, who was doing commentary stints, and chatting about the series, it was agreed, India were a more composed side than Sri Lanka. Lessons from the Tuesday defeat weighed on the minds of Dhoni and the coach, Gary Kirsten. A total of 187 by Sri Lanka, dismissed in the 45th over was good payback.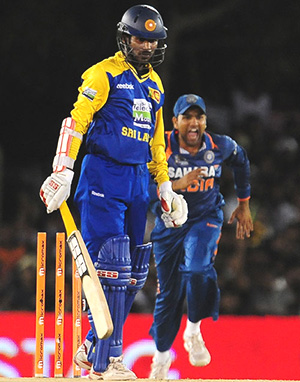 It was a lot tougher too with a green tinged pitch, some life for the bowlers and Ashish Nehra, labouring this tournament with form and confidence suddenly becoming the magician pulling a series of thrilling tricks from his fast-medium seam repertoire and gave India a chance to hope.
Hope that is India were able to think in terms of ending a 15-year long drought with a victory looming in the 2010 Asia Cup final. As Sri Lanka Cricket officials, miffed over charges that the lighting at the stadium in the heart of the cultural centre of the island were not up to international standard, Nehra laid waste to the top and middle order in a five over spell as first change, he grabbed the wickets of Kumar Sangakkara, Mahela Jayawardene and Angelo Mathews to have the hosts struggling.
The loss of five top-order wickets, with Tillakaratne Dilshan falling for a duck second ball of the innings with a premeditated pull that went seriously wrong, top-edging a catch. It silenced the crowd expecting an explosive start. Disaster for Sri Lanka but an impressive start for India, and Zaheer Khan and Praveen Kumar were hunting for wickets.
Yet there was doubt whether India's innings of 268 for six would be enough runs after Sri Lanka's practice run on Tuesday night.
Dinesh Karthik could almost take a bow. His innings of 66 was a mixed effort. There were stylish strokes mixed with cagey defence. After the early departure of Gautam Gambhir and the Virat Kohli effort to go fishing outside the off stump had India in early strife, it needed some sensible, intelligent batting to build the semblance of a match-winning total.
At least Karthik, with the skipper MS Dhoni guiding the innings from the middle, was attempting to rotate the strike at a time the momentum was in India's favour. The Dhoni decision to bat at four, as he did against Pakistan, was invaluable as it went someway to replaying the innings total platform after Karthik's untimely departure.
Karthik, having made 66, took on the part-time leg-spinner Thilan Kandamby, the result was an attempted slog-sweep that ended up with the batsman failing to judge the distance, always a risk if you do not know the ground.
If Karthik's departure with the total at 146 for three left India looking vulnerable what happened after that was a story of solid scores, but no one really kicking on to make a more impressive contribution. It was felt a 300 total would put Sri Lanka under pressure, which frankly failed to materialise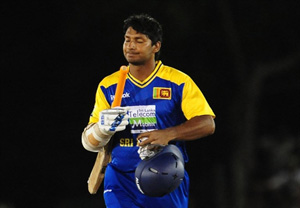 "Most of us had the kind of starts that we needed and we should have converted those starts into big innings," Dhoni admitted. "It's important to learn (from your mistakes) even if you are winning games."
As for Sri Lanka's innings, there was always the feeling the selectors didn't make the right choice in going for Thilina Kandamby ahead of Thilan Samaraweera. It was where experience in the middle-order was needed. Okay, so they wanted to give Kandamby's leg-spin a twirl. Wreckless shots by the Indians earned two fortunate wickets, his first at this level, fulfilling the pre-tournament plan to trial his leg-spin.
Or as Sangakkara agreed after the game when explaining his thoughts, "We were expecting the ball to move anyway in Dambulla. Unfortunately we could not deal with the swing that was there," Sangakkara said.
"Technically I think we could have dealt with it a lot better; mentally we could have dealt with it a lot better." A lot to ponder there.
At least the selectors were able to see how the portly Kandamby and the so-called Sri Lankan 'Jonty Rhodes' were able to cope with pressure. And what pressure. With the fifth wicket falling with the total at 51 in the 16th over when Nehra snared Sangakkara, with a pull shot the Sri Lanka captain would have wished he had not played, other than a miracle, there was no way back for Sri Lanka.
Whatever local bias says, batsmen such Kandamby and Chamara Kapugedara, despite the views of the national selectors, are not equipped enough to withstand pressure at this level. A partnership scraped together explained the level of expertise.
As for the Kapugedara being as good a Rhodes, it was suggested by a local columnist. Only he and his cronies missed the point. Rhodes scored centuries at Test and ODI levels; Kapugedara has yet to reach a three-figure total. His undefeated innings of 55 lifted his ODI average to 23.20 and it was his fifth half-century in 77 games.
© Trevor Chesterfield/Island Cricket.
(For reasons of copyright, permission is required from the author and/or webmaster/editor of islandcricket.lk for publication).