By Trevor Chesterfield | December 29, 2010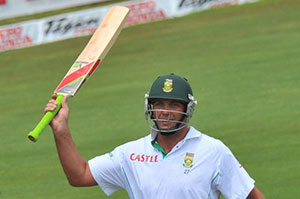 It is not too often that India's media circus get it wrong. When they do, it becomes a bemusing and at times seriously clumsy image, as has been the case in South Africa this past week.
Currently, India and South Africa are in the middle of a serious joust for top Test ranking in Durban where Sachin Tendulkar's two failures, following his 50th Test century at the Centurion venue, SuperSport Park, has been hard for India's media to stomach on Day Two.
In India, Tendulkar failing is not the news networks want to broadcast, which means they have to fabricate a line of how after losing the first Test – some networks decided not to report India's defeat as it is an embarrassment – the big news was how he was the first to score 50 Test centuries.
While in Durban this second Test, a lot of world-class batsmen have battled against the moving ball with levels of technique questions, the scenes at Centurion after the first Test were at best, chaotic.
Picture the scene. India have lost the first Test to South Africa of the so-called hyped 'Final Frontier' tour by an innings and twenty-five runs. There are about a dozen hard-working print media guys; in this scene they are the goodies: most of them have been doing this job for a decade or longer. A good, regular bunch. The remainder who make up the 100 or so Indian media in South Africa for this tour are from television stations – and not necessarily sports channels or for sports-related broadcasts reporters are generally what is known as 'airheads'.
What it says that there are as many as thirty-six television channels jostling for the best story: filing a snippet from the team's practice, a day's play or post-match conference has a habit of descending into a mad, often frenzied scramble for bytes. It is why it is often so fraught with compelling video footage.
Such as that at Centurion, following Tendulkar's landmark fiftieth Test century. It is where reality was traded for a misplaced perception; where the story of humbling defeat is switched by the type of idealism and hero-worshiping the masses enjoy. As with any good government propaganda, the Tendulkar century was used as a ploy by the television networks to cover the team's embarrassing defeat.
It is also why events became so twisted, and comments so distorted, the feedback jockeys, when making their comments, had the wrong end of the story as what did happen wasn't reported in the India media and therefore was not fully told, or explained. So, when something as simple as the facts are hidden, feedback can be treated with a certain scorn.
Jacques Kallis gave a chuckle when instead of being asked how he felt about scoring his first double century was accused of not applauding Tendulkar on achieving his fiftieth century.
"You will find that while I was applauding, the cameras were focussed on Sachin and not me," he remarked. It is a comment confirmed by a South African journalist of Indian ancestry, who was shocked at how largely, the Indian (TV and in part electronic) media were more interested in the cult of Tendulkar aka the "Little Master" than what had happened on the field.
"Did losing the game mean so little to you?" an Indian TV reporter was asked by the South African.
"It doesn't matter, our editor is more interested in Sachin's fiftieth (Test) century," came the response.
"You mean defeat by an innings, and the biggest India have had in South Africa, means nothing?" was the surprised reaction.
"We are interested only in the Sachin story today; viewers are interested in that, not the team losing,' was the comment. 'Bhai Gary (Kirsten) will give it a mention.'
It was during this point of the post-match conference when South Africa's captain Graeme Smith suggested how it was the Indian captain, Mahendra Singh Dhoni's innings of 90 which should also be looked at for the role it had in helping Tendulkar reach the landmark. This is where the Indian TV people lost it. They were first largely dismissive of the maiden double century by Kallis and failed to acknowledge as well, the centuries by Hashim Amla and AB de Villiers.
As with Dhoni aiding Tendulkar, de Villiers played a major role in helping Kallis achieve a long elusive statistic, a double century. Anyone who watched the de Villiers innings would have been impressed. He was brilliant in all he did and hammered schoolboy standard bowling. It was quite an embarrassment for Kirsten to see the attack handled the way it was.
Bowling coach Eric Simons would have been equally befuddled. Wide-eyed and full of fulsome praise after the victories against an under-powered New Zealand side in the third Test and limited-overs games, he was left opened mouthed. The Indian attack was manhandled with total disrespect and in tough batting conditions until tea on day two. It would have been enough to chasten anyone. Dhoni later admitted the bowling gameplan, whatever it may have been, had not worked.
De Villiers joined a select list of players who have scored a century before lunch in a Test; he becomes the second South African after "Tuppy" Owen-Smith who did as a 21-year-old Rhodes Scholar in 1929. Interestingly both scored their centuries on the third morning of a Test.
Such events, however, were ignored by the India TV media more eager to forget the misery of defeat. Like an alcoholic begging for a drink or a drug addict for a fix, anything to escape the reality of what happened on the field. It explains a sad state of myopic media fixation and why some gawped with the sort of hero-worship that is unbecoming of the forth estate.
Dhoni did his best to restore a balance to the questioning, yet like Tendulkar, the Indian captain grew tired of the mindless questioning and became blunt in his reply when asked to compare Tendulkar to Sir Donald Bradman.
"Frankly speaking, I don't believe in comparisons. I've never seen Bradman bat. I'm a new age cricketer, but I'm sure Bradman was really great," he tried to explain to those prepared to listen to reason. "The different thing about Sachin is that he's seen the format change – from Test to ODIs and back to Test cricket and now the twenty/twenty format.
"It's two different eras where you can't compare the individuals as the dimensions are totally different." Maybe that will keep Tendulkar's media adorers quiet – at least until next time.
Meanwhile, many of the Indian TV commentators at Kingsmead suddenly realised when talking about the second Test of the series that India's No1 ranking is under siege. They will now need to explain another story to their viewers without the embellishment of a century that didn't win the game and keep their "Final Frontier" dreams alive.
© Trevor Chesterfield/Island Cricket.
(For reasons of copyright, permission is required from the author and/or webmaster/editor of islandcricket.lk for publication).