By Hilal Suhaib | April 6, 2011

"Cricket is life . . . what comes after are mere details." – Trevor Chesterfield (1935 – 2011)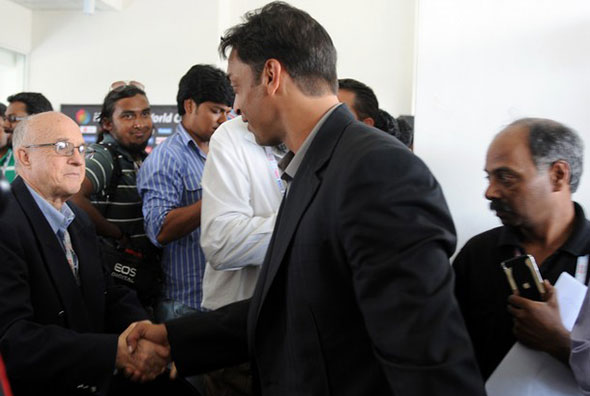 Shoaib Akhtar shakes hands with cricket journalist Trevor Chesterfield at the end of a press conference in Colombo on March 17, 2011, where the Pakistani fast bowler announced that he would retire from cricket after the ICC Cricket World Cup 2011. AFP PHOTO/Lakruwan WANNIARACHCHI.
The photo above was sent to me by Trevor Chesterfield on April 1, in one of his final e-mails to me. "It was taken the day Shoaib [Akthar] retired," he told me proudly. As an accredited ICC Cricket World Cup 2011 correspondent, Chesterfield was present during all World Cup games played in Sri Lanka, where he was able to bid farewell to the Pakistani paceman.
On March 31, I wrote to him inquiring about his health, as I had not heard from him in several days, which was unusual.
"All going well, I have a story for you – shall send later. Health is fine – enjoyed being home last night for the first time. Paula enjoyed it as well," he replied the same day, appreciating the break after the World Cup semi-finals and the time spent with his Sri Lankan wife Paula.
Chesterfield passed away today at the age of 75 in the sunny seaside town of Moratuwa, where he called home. With his passing, his column 'My Pavilion Kitbag' now comes to an end.
For those who care deeply about Sri Lanka cricket, Chesterfield's passing comes as a gut-wrenching blow. He was one of only a few journalists in Sri Lanka willing to be openly critical about the administrators, ensuring Sri Lanka Cricket (SLC) played fair. His articles were a valuable source of information to Sri Lanka cricket fans around the globe.
But Chesterfield was often misunderstood. Some failed to understand his sense of humour, mistaking it for what they thought was jeering from a foreigner. Had they known Chesterfield, they would have come to realise that it would be hard to love Sri Lanka – the birth nation of his wife – any more than he did. He had, after all, settled down on the shores of the island after falling in love with its people and its beauty.
In his many years as a cricket writer, he always took a strong stance on administrative malpractice and the lack of selection transparency policies, as well as institutionalised hegemony in cricket administration. His views on the game over matters of player manipulation of the laws, match-fixing, and technology issues, among other subjects, were rarely popular or appreciated because of his stance.
He exposed wastage of player resources and stood against nepotism in administrative areas, which he said, "allowed the game to be controlled by a few to its detriment as a sport for all."
In early 1996, on a freelance and unpaid basis, Chesterfield was one of many who helped establish Cricinfo.com as a creditable international cricket web-based site.
In 1989, he was approached by long-time close friend Jackie McGlew, a former South African captain, to collaborate in writing a book on South Africa's cricket captains. While the first edition was successful in many ways as an acceptable and typically mainstream publication, Chesterfield was aware of criticism from many of his non-white community friends of how the book still followed the establishment view and as such presented a bland view of the game, eschewing the views of those activists who wanted the fuller picture explained.
To them, the 1994 version of the book failed to touch on issues of apartheid, of how the majority were excluded from the game because of the country's abhorrent institutionalised laws. He also realised that the black cricket administration, fractured in its early years, needed to be given a voice.
On McGlew's death in June 1998, Chesterfield began to delve into the ugly morass of cricket administration and tackled reactionary views to expose how they had created a myth of how white cricket governance lied to the their own constituents. He set about correcting such issues in the second (2003) edition but with the reactionary establishment and largely white readership failing to appreciate the other side of the story – the book caused controversy.
"Someone had to tackle such issues, as they are relevant in South African sports history," he told an interviewer in Cape Town, when the book was released on the eve of the 2003 World Cup.
"It is an honest attempt to bring into the open issues which have been hidden for too long and allowed to be accepted because they were written by pro-establishment men.
"All I have done is create an alternative view, and that to me is more important than allowing the status quo to remain and readers be kept ignorant of such matters, as how the South African white cricket establishment deliberately excluded non-whites until faced with the country being thrown out of the British Commonwealth because of the apartheid laws."
Similarly, his biography on Fanie de Villiers: portrait of a fast bowler, hits out at analogous bad governance and the shabby treatment of those who wanted to play the game but were often denied opportunities. This included young Afrikaans speaking children. He again fearlessly delved into the history of the sport in the country, which he had then adopted and his strident independent views could not be silenced by any variety of threats.
Chesterfield will be missed by all those who are able to comprehend the importance of the role of a forthright journalist in creating a free and fair society. He will be missed by those who relied on his reports for an untainted and honest view of matters relating to Sri Lanka cricket.
Goodbye, Trevor Chesterfield.