By Trevor Chesterfield | March 1, 2010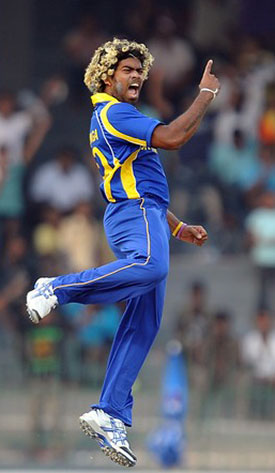 You cannot miss Lasith Malinga. He is the Sri Lankan slingshot shock weapon with the fancy goldilocks highlights in his hair. He is also one up on the Australian pace trio of Brett Lee, Shaun Tait and Mitchell Johnson.
Two World Cup hattricks on the Malinga CV makes him special and is why a battle of sharp-edged pace is expected to explode in Khettarama on Saturday night. This is when Sri Lanka tackle World Cup title-holders Australia in what should be one of the major contests of this year's tournament.
It sort of blows a hole in the "spin is king" theory in this tournament as there have been two hattricks in 24 hours of high explosive bowling with Kemar Roach flattening the bottom end of The Netherland innings in such a way it left no one in doubt who played a major role in that victory.
So far, Australia have used their pace as a weapon to force the opposition into buckling at the knees and it has worked. Whether they will have the same impact against Sri Lanka on what is expected to be another flat pitch at the R. Premadasa Stadium is a question of firing the ball in the right areas.
For example, after a back injury kept him out of the side in the first two games, including the important one against Pakistan, it didn't take goldilocks Malinga long to wind up and blow away the Kenyans here, Tuesday, as Sri Lanka sauntered to a comfortable nine-wicket victory.
He had to wait though until the 32nd over when he was brought back to do the job the so-called big-named spinners, Muttiah Muralitharan and Ajantha Mendis had largely failed to do. That is to take wickets.
Up to that, point Kenyan brothers Collins and David Obuya had done a fairly solid job of pulling the innings together and a possible Kenyan total of 200 loomed. Not a challenging one it would be admitted, but at least keep the big crowd entertained for as long as possible.
Collins Obuya at least looked the part of a World Cup batsman and put together some stylish strokes. The experienced veteran Steve Tikolo fell for seven, cutting an Angelo Mathews delivery to Tillakaratne Dilshan in what was little more than catching practice, the innings imploded from there on as would any soggy paper bag when given a solid punch.
Anyone who watched Roach's demolition of The Netherlands on Monday at Kotla in New Delhi could not but have noticed how he delivered the ball, fast and straight and aimed to scythe in at pace. This is the way Shoaib Akhtar bowled Mahela Jayawardene on Saturday with a delivery clocked at 149 kph.
Now Malinga aka Deadly Goldilocks did a similar trick. This time he was on the winning side. Four years ago, at Providence, Guyana, he took out Shaun Pollock, Andrew Hall, Jacques Kallis and Makhaya Ntini. South Africa though scraped through to win by one wicket. They were all the same deliveries, swift, straight and oh so very deadly.
Against Kenya, he went for 20 in his first four overs and the thought was he was bowling perhaps too fast at first before getting his rhythm going, such as it is. He did have Seren Waters lbw for three in his second over, then delivered a few loose ones, including a couple of wides before settling in his familiar shock troop fashion.
Bowling from the Khettarama (south) end of the reshaped venue, he was on target and the pace was plus 140 kph most of the time. It was aggressive and any Australian watching would have been left wondering just how true have been the stories of the knee injury which have plagued the bowler for the past four years.
Initially, the thought was he would be given more time to recover from the back problem he picked up in recent days and this was the subtle hint on Monday. When the team list was released and his name was included instead of Thisara Perera, the indication is that Malinga was ready to fire off his sidewinder style deliveries.
The way he ripped the bottom section of the Kenya innings apart was as awe-inspiring as it gets for the Sri Lankans, with Tanmay Mishra, Peter Ongongo, Shem Ngoche and Elijah Otieno all falling in the space of five deliveries, which included the hattrick.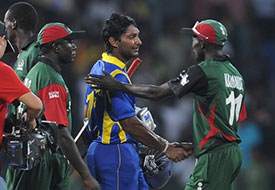 Kumar Sangakkara suggested how Sri Lanka's response of knocking off the victory target for the loss of one wicket explained the team had recovered well from Saturday's 11-run defeat by Pakistan.
Upul Tharanga and Sangakkara added 74 in an unbroken partnership in a matter of 10.2 overs to wrap up the game in easy fashion for an early finish. This was after the expected dismissal of Dilshan, cutting too close to his body when on 44. Against faster, more accurate bowling he is going to face in other games in this tournament, his technique maybe found out.
The major question facing Sangakkara, the selectors and the team's management is whether they can learn from the seventh defeat to Pakistan at a World Cup. For one thing, the hope is that Lasith Malinga will have recovered enough to offer the team that incisive penetrative edge to the attack needed to fire at opposing sides.
Sangakkara talked about learning from the positives while another colleague said that as Sri Lanka were missing "four" players, it needed to be remembered it was not the "full team". It was a tongue-in-cheek comment laced with the irony of how the team that played Pakistan was perhaps missing – the injured Malinga apart – players who could have contributed to winning the match.
This of course overlooks how Sri Lanka slipped from 76 without loss to 96 for four and one of those wickets was that of Mahela Jayawardene, dismissed by a Shoaib Akhtar delivery that caught the batsman on the crease and his usually nifty footwork failing him. From that point, it was always going to be a struggle. Getting as close as they did to winning the game was more a case of how Pakistan's fielding let them down.
To be fair, missed stumping chances, dropped catches and missed run out chances left coach Waqar Younis just as frustrated and bemused as it also did man of the match Shahid Afridi. Had the chances offered been taken, Sri Lanka may have barely reached 200, such was the error-riddled fielding efforts. This is where the running between wickets so often left so much to be desired.
For a start, any doubts the career of the chugging Rawalpindi Express Shoaib Akhtar was about to run out of steam has been sadly misplaced. There is still fire in the engine and an ability to take the important wickets when it matters.
His dismissals of Jayawardene and later Thisara Perera spiked the Sri Lankan batting efforts at crucial stages of the Sri Lankan reply. Jayawardene's footwork was misplaced when he was bowled for two.
Shoaib's second wicket came when Perera, a hard-hitting all-rounder, was bowled at a time the innings was being rescued as Chamara Silva did what he could to lead the fightback from the debris of a lower middle-order collapse.
It was one of those evenings where at times the game teetered on the brink of the bizarre yet it lived up to a classic World Cup game that will be more remembered for what didn't happen apart from the Shoaib showmanship style and Shahid Afridi's signalling the dismissal of the Sri Lanka batsman in typical style – arms and fingers stretched aloft in the humid evening to silence a partisan crowd.