By Trevor Chesterfield in Galle | July 18, 2010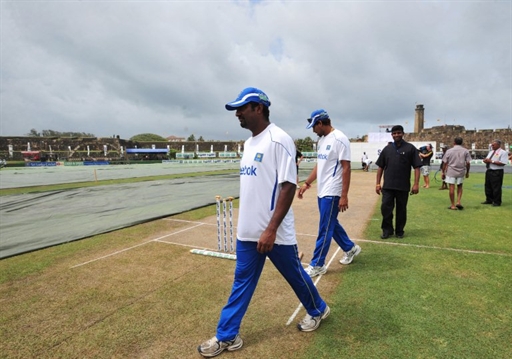 Muttiah Muralitharan inspects the pitch in Galle. AFP PHOTO/Lakruwan WANNIARACHCHI.
It is supposed to be the farewell to the Muttiah Muralitharan show. The end of an era and at the venue here in this southern coastal town of Sri Lanka where he has set a few Test records in the past.
From today, July 18, which just happens to be the 162nd anniversary of W. G. Grace's birth and celebration of Nelson Mandela's 92nd birthday, Muralitharan is hoping to end his career in his 133rd Test at this level, by taking the remaining eight wickets he needs to reach 800. This it is being touted is a record that no one can surpass, although he has nominated Harbhajan Singh as the one who might come closest.
Harbhajan Singh is an interesting choice. Maybe it is done out of sympathy with the Indian also having his doosra questioned. Who can tell? Harbhajan is a genuine character and not shy in dishing out his own form of punishment to those who step out of line; ask Shanthakumaran Sreesanth and the face-slapping incident during the first IPL.
For Sri Lanka and global Test cricket, though, it is the end of an era as his retirement, at 38, is one he would have given consideration to for some time: his 792 wickets at 22.71 and with a remarkable economy rate of less than three an over, well, what more can a captain ask for in a bowler of this class and category.
His prosaic view is that as he has nothing else to achieve at Test level, it is time to quit. And if he fails to get the eight wickets, he is not going to stay on and try and get the wickets needed. He needs three to reach the 100 mark against India. Hopefully, the weather is kinder than it has been.
Muralitharan possibly realised a year ago, when injury before the Pakistan series overcame him and Rangana Herath stepped in to fill the vacancy with some success, how it signaled a suggestion then his days were numbered as a Test bowler.
Not that Muralitharan's career has been without controversy and his trial and error with Australian umpires as well as some media being subjected to his action being tested ad nauseum, and remarks from some past players. Alec Stewart the former England captain and wicketkeeper, as an example tells of the time Murali sat with his shirt off in the dressing room and the way his right shoulder rotated without coming out of his socket impressed a doubting Englishman and laid the ghost of any future misgivings over the freakish action.
In his 14 Tests at Galle International, he has earned 103 wickets with a match haul best of 13 against South Africa 10 years ago when they were playing their first Test under Shaun Pollock's leadership and Sri Lanka won by an innings.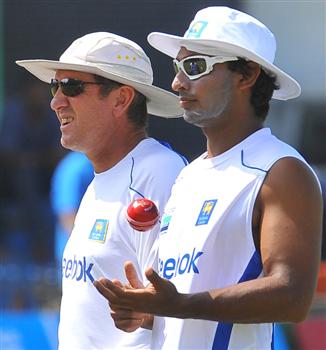 Naturally Indian captain Mahendra Singh Dhoni played down the focus on Muralitharan's farewell performance in a Test, and his selecting India as the team to sign off his career instead of West Indies in November, and meant bringing forward the retirement. It is understandable as well. India have been invited by Sri Lanka Cricket to play this unscheduled Test series to fill a gap in the calendar and the need is to concentrate on their gameplan.
"I don't believe in miracles or predicting results or games," Dhoni commented. "It is all about preplanning and how we manage to organise ourselves that is important. The retirement factor is just another part of the game."
Explaining the practice game policy where the Sri Lanka Board President's XI scored 514 for six, declared, Dhoni said the use of attacking field placings had led in part to such a high-scoring innings and not too much should be read into India's batting performance. There were strategies in place and it was the ideal place and time, to use them.
He added India were going to do what they could to upset local predictions and work towards winning the game with the impressive 330 year-old Galle Fort, a UNESCO monument, as an imposing backdrop.
"We all know it is Mural's last Test, and we'll make it one to remember," he said. "But we are here to win, as well as be part of the celebrations."
As for the pitch, it carried a lot more grass on it than is normal for Galle. Just how much is shaved off before the match depends on what is considered acceptable. Rahul Dravid had a long hard look at the surface and smiled as well. It is a pitch designed to help seamers and not spinners. It has also been pointed out that a spinner like Muralitharan doesn't need helpful conditions.
Sri Lanka captain, Kumara Sangakkara, apart from admitting that he had problems when it came to reading pitches, agreed there was a need to concentrate on the game and not the performance of an individual (Muralitharan). As there has been a debate about both, it depends largely on what you know and understand that is important.
Already Sangakkara was thinking beyond the Muralitharan factor as he talked about Ajantha Mendis being included in the second Test at the Sinhalese Sports Club. This is as far as he would commit himself other than saying the 25-year-old Moratuwa 'mystery' man has "new deliveries to show us . . . Wait and see."
All that can be said is sure, let us wait and see. The series has yet to start and what with heavy showers and power outages, my favorite place on the island is not as it should be. Or, as a Galle Fort resident complains, along with my dear wife, "It's all to do with global warming."
© Trevor Chesterfield/Island Cricket.
(For reasons of copyright, permission is required from the author and/or webmaster/editor of islandcricket.lk for publication).