By Trevor Chesterfield | March 16, 2011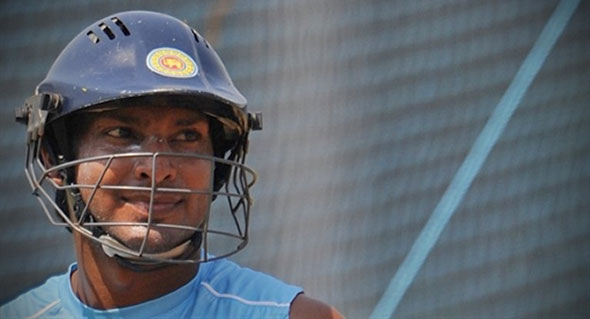 Kumar Sangakkara will be looking to finish the group stages off with a crushing win. AFP PHOTO/ Punit PARANJPE.
Friday is showdown time for more than Sri Lanka and New Zealand in Mumbai.
So far this World Cup, there have been the usual clutch of upsets, and marginal results litter this year's tournament, not just the Ireland and Bangladesh wins over England, the way the Kiwis manhandled Pakistan, India's bowling being exposed by England in their tied game and South Africa in their outing, where they took on the choker phobia and beat it.
And it seems, much to the chagrin of some critics who love to snipe away at Graeme Smith's side, reminding all of the team's so-called big-event ability to fail, when victory is expected. Forgetting, of course, how the team is human and errors in play happen.
In Sri Lanka, there has been more hype about annual big school games than there is about the World Cup. The way it is shaping, there is little to no mention that the quarter and semi-finals of the World Cup are being held in the nation's capital.
Tell a local that Sri Lanka are playing New Zealand in far-off Mumbai's Wankhede Stadium on Friday and it is greeted with a shrug. Even the back of the canopies of the trishaws shouting the pre-event proclamation "It is our cup" have disappeared from the streets.
After the defeat by Pakistan and rained off game against Australia, your usual adherents in the capital have switched off. So too, it seems the local cab jockeys who are touting Australia to beat South Africa in the final.
Yet, West Indies are the side in contention for a top quarterfinal ahead of England and their game on Thursday is important to both when they meet. South Africa went past Ireland on the back of some quality World Cup performances Tuesday and face Bangladesh; the latter, as this tournament has turned out, have not given in to the bigger names without a fight.
In a sense it is a repeat of the Caribbean journey four years ago where they eliminated India to the shock of the millions along with their sponsors and the deep disappointment of Rahul Dravid their captain.
After their success against Pakistan, in the Kandyan hills, where they took the powerplay early on, New Zealand employed a similar tactic against Canada at Wankhede Stadium where their game with Sri Lanka will be played. They opted for the powerplay from the 36 to 41st over, scoring 74 for two wickets at a rate of 14.8 runs an over – not quite the 20 an over they plundered off Pakistan.
South Africa had the better of the batting powerplay exchanges in their game against India at Nagpur, scoring 52 for two between overs 36 and 40 while India were blown away losing four wickets for 30 between overs 38 and 43 as part of their implosion. By scoring 300 for seven, South Africa celebrated the fifth anniversary of the famous 438 victory over Australia at The Wanderers in Johannesburg.
Yet they delayed it for as long as possible against Ireland and the result was some tough batting in the end when it should have been used in the JP Duminy/Colin Ingram partnership. His debut effort explains the depth in the South African side with AB de Villiers injured.
Sri Lanka's selectors will take some satisfaction from the allround double by Tillakaratne Dilshan against Zimbabwe. His innings, remarkable as it is, was to be honest against a bowling attack largely incapable of defending itself.
The Dilshan-Upul Tharanga first wicket partnership of 282 in the World Cup Group A game was one of sensible and attractive batting. It is also the fourth highest wicket partnership in the ODI arena and set up an impressive 327 for six total, which the Africans were never going to overhaul. Whether they can repeat it against New Zealand is another matter.
The Kiwis have shown durability when there were questions about their form and ability as well as handling subcontinent conditions, including inland Sri Lanka where the pitch at Pallekele did more to help their cause than hinder it. The problems with those critics at home, like David Leggat and Chris Rautte, and watching off television, are how they want the team to fail so they can write, "We told you so".
They have a grimace as wide as Auckland Harbour bridge every time New Zealand win and smirk as long as ninety mile beach when they lose. Nice guys to have reporting a team struggling with injuries that are ignored in the last of two top Group A games. A Kiwi win will send a few panic waves through the Sri Lankan ranks as well.
Whether Daniel Vettori fronts up as captain, or has not recovered enough to play, depends on his ability to recovery from the injury. He would like to get involved, but rushing in at this stage could be too risky in the long-term with the quarterfinals looming.
It is the quarterfinals where the cutthroat edge emerges and in Group A the top four have been settled as such. Friday's game will have a say of sorts who will be playing at Khettarama against the Group B winners. It is why Sri Lanka's game against New Zealand and the Aussie game against Pakistan are important.
Look at it this way. New Zealand have already experienced the Mumbai venue conditions where they beat Canada with a bowling attack struggling with fitness and almost on crutches at times. At least they have an idea of the pace of the surface and what team to select.
Sri Lanka are out of the island where they have been cushioned to an extent with their wins coming only against the Associate sides and not the two Test nations, Pakistan and Australia and this is where they admit there is a worry. Beating teams like Kenya, Canada and Zimbabwe were expected. It is the games against the big three, which count and their record has so far, not shown the quality needed to perform as World Cup winners.
This article first appeared on Trevor Chesterfield's column on Cricketnext.com. It is republished here with permission from the source.