By Trevor Chesterfield | August 01, 2010
While not quite death in the afternoon on this latest occasion, "slow strangulation" is perhaps, a more apt metaphor to describe what happened at the second Test at the Sinhalese Sports Club that ended last Friday. Test cricket, already in trouble, is in danger of losing serious public appeal if this disgrace is allowed to carry on unchecked.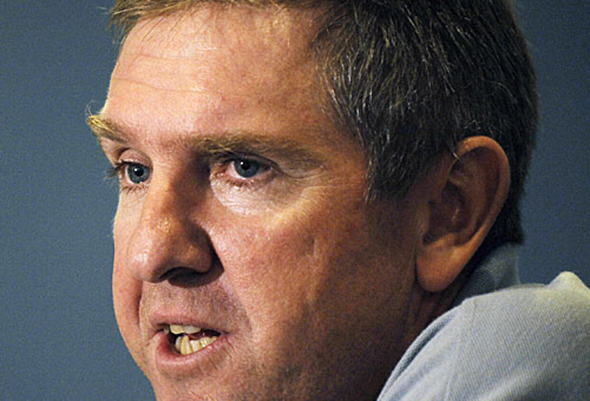 It also suggests either those responsible for this latest dereliction of the preservation of Test cricket are in fact paid up members of the local flat earth society, who were doing a jig when the game was called off, or are just plain scared to prepare a pitch where there are results likely to favour the opposition, preferring instead, a legion of meaningless records.
Naturally, the national curator Anuruddha Polonowita would lead the excuse me dance on the SSC square. He was apportioning the blaming game for the latest in a string of drawn matches. Only accusing the weak bowling by both sides in this game has that apocryphal imagery that says a lot and explains nothing.
A reality check shows that Sri Lanka's bowling was minus the retired Muttiah Muralitharan and injured Lasith Malinga. India's was headed by a couple of rookies and a largely unfit Harbhajan Singh.
History through the noughties shows a high percentage of draws at the SSC, even with better bowling resources than the two sides had at their disposal, and where even bowlers like Muralitharan have at times, struggled to make an impact. And here, forget games involving Bangladesh, Zimbabwe and West Indies, as they couldn't beat their own shadow.
It is why the coach Trevor Bayliss, in an honest assessment of the surface for this second game argued fairly that Murali would have struggled in such conditions. It is why the batting records set in this game become so many meaningless statistics. Mahela Jayawardene's innings of 174 becoming the 10th at his home venue overtaking that of Sir Donald Bradman's nine at the Melbourne Cricket Ground in 11 games has been used by some writers as a moment of Sri Lanka triumphalism.
Jayawardene's comments in playing down his breaking record was dismissed with reference to "our record-holder" and signs saying "Mahela 1, Bradman 2". Explain that Sir Donald didn't set out to establish records he created his own stage and knew the value of match-winning innings. He explained this in a rare interview that I did with him in Adelaide during the 1992 World Cup.
"It is one thing to score a century, even a double as they help build a total from which a team can win a game," he said. "What is important in games when scoring that century is to ensure they count – are not wasted. A drawn game is not a good way to play the game; you need to have a result and unless there is rain, winning should be the focus of the captain."
Don't forget as well, the now spacious MCG was a different shape and size in those days. The outfield was far larger than it is today.
As one email implied, "Who is Bradman anyway . . . Just another forgotten Australian, some people have never heard of him, so who really cares. Mahela holds the record now and that is more important for us."
This is so typical of the attitude problems some locals have. Jayawardene put a local hack in his place in the most polite way by referring to Bradman as a legend. He did argue that SSC needed to be more sporting.
It had good bounce and this, in a sense, helped India's last wicket pair to add the 49 runs to frustrate an already frustrated bowling strategy. It is something they are going to need to work on when it comes to post World Cup with a series of tours and Test series of three matches. It is the only way a side can develop and in this, the bowling needs to prepare for conditions as varied as those of England, South Africa and the United Arab Emirates where there will be the series against Pakistan. There is also a tour into the country by Australia.
What is more of a problem is how Sri Lanka are preparing for next year's busy schedule. Apart from a tour of the West Indies, they have not played outside the subcontinent since 2008, which was a shared series. Kumar Sangakkara is now seeking longer Test series. In this case, he has to make them viable for touring teams as well as those where they are touring outside the country.
Success on a tour lies in the preparation and pitches such as those of the flat earth society at SSC will not help achieve any type of genuine ranking. As it is, the ranking system is a conundrum and, as Sangakkara says, there is a long way to before Sri Lanka can aspire to being competitive until the tour programme becomes more consistent with regular foreign tours and not just to India or Bangladesh.
Chances of Pakistan resuming tours depend on so many mitigating factors. The first is stability in a nation that has been savaged by deliberate destabilisation. Long-standing friends in Lahore have since moved Australia because of their young family and give them a better life and others have followed.
The aftermath of March 3, 2009 lingers and that is disappointing, as the country will need to move forward and with it, the game itself.
© Trevor Chesterfield/Island Cricket.
(For reasons of copyright, permission is required from the author and/or webmaster/editor of islandcricket.lk for publication).