By Trevor Chesterfield | July 04, 2010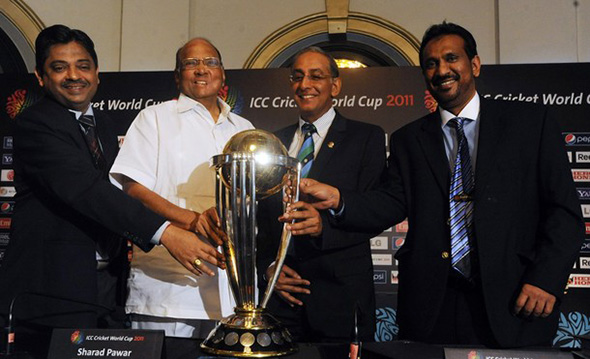 SRI LANKA, Colombo : (L-R) International Cricket Council (ICC) Cricket World Cup 2011 Tournament Director Ratnakar Shetty, ICC Vice-President Sharad Pawar, ICC Chief Executive Haroon Lorgat and Tournament Director for Sri Lanka Suraj Dandeniya pose with the ICC World Cup Cricket trophy at a press conference in Colombo on April 2, 2010. AFP PHOTO/ Lakruwan WANNIARACHCHI.
According to the countdown clock on the International Cricket Council ticket-purchasing website, there are, by the time you read this, 228 days, or less to the start of the 2011 World Cup.
In helping family and friends in New Zealand to find the page they needed to check out pricing and other details, it is interesting to note that the launch of ticketing of the games in the three South Asian nations had been handled by the ICC and not anyone from the central committee of the event's organising administration, headed by a so-called 'top BCCI administrator' Ratnakar Shetty.
Apart from this one name, the transparency available of who are on the various committees, and who is responsible for what section of this grandiose organised programme, reminds me of how the 1999 CWC administration in England handled events. They appeared to be operating from offices it seemed that were in a vacuum nobody quite knew where.
Even the media noises and notices that are usually churned out in frenzied haste during the build-up from such offices were uncommonly silent. Like a dozy Rip van Winkle, media information was sparse to non-existent. The website had not been updated in almost a month and everyone involved, it seems, had adjourned for a tiresome soccer sabbatical.
Suddenly, the day before the official launch at Lord's, an email invitation appeared in the 'inbox'. It was nothing fancy, mind you, just a few polite words to 'request the pleasure of . . .' to attend the opening and unveiling of the trophy at Lord's. Assembled to meet the media was a tired looking bunch of Po-faced nobodies.
Even the taxi driver, of West Indian parentage taking us to Lord's, needed directions along St John's Wood Road to the side entrance. This is about 120 metres sprint from the munificent Grace Gates and even then, he was bemused, not forgetting the bitterly cold early May day, how a World Cup was soon to be launched with England playing the Sri Lanka. He was still talking of the World Cup the previous year. I recall how in 1998 FIFA held an event played I have forgotten where, and won by whom I don't know, as I have no interest in popcorn sports and their lollypop events.
'Are you sure you have the right place?' he kept asking. It was drizzling and the wind had a decidedly arctic feel about it. Of Sundrenched fields, there were none. Like the CWC99 organising committee, packed in a vacuum somewhere.
'Have you heard of Sir Garfield Sobers,' my friend asked. 'He is West Indian. Played cricket, too.'
'Did he now,' the taxi driver gave a toothless grin, switching off the metre. 'My old folks may remember him. Famous was he?'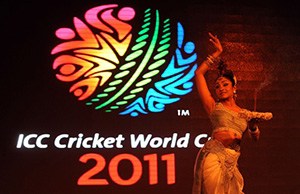 That was our entry to CWC99; England and title-holders Sri Lanka bundled out in the first round and Australia, just scraping through going on to beat a lamentable Pakistan in the final at Lord's where it had all started five weeks before.
As a public relations disaster, CWC99 ranks alongside the Pilcom fiasco of 1996, while the 1992 tournament in Australia matched the 1987 event in India and Pakistan for buzz, awareness and smooth administration, even if the media side of it needed brushing up. In fact, the counties where the pre-WCW99 games were played in England offered better media services. Whoever was handling media relations at the start of the CWC99 was as faceless as the current organisation led by the BCCI admin manager Shetty.
Ali Bacher, not my favourite national administrator (he didn't quite enjoy the inquisitive types who often asked awkward questions; ie: rebel tours, match-fixing, team selection policy), made a point of seeking opinions among the South African and other foreign media at CWC99 about the event. It was given a genuine raspberry – a minus five star rating – and he took note of its foibles.
As an energetic administrator, he knew the value of good media relations and realised how the media side of CWC99 was a public relations disaster. Not surprisingly, as soon as it was over, it was forgotten. The feedback was appalling. England CWC99 sucked.
Bacher took himself off to Sydney and the 2000 Olympic Games to see how an international event of such stature should be handled. He was impressed and arrived back in South Africa ready to handle the show with ideas of what committee he wanted and how it was to be run. Details, down to the impressive opening ceremony with its divergence of African cultures as the main theme, were part of the indepth planning needed and which began amid the catastrophic and divisive issue of Hansie Cronje match-fixing affair.
In March 2001, almost two years before the start of CWC03 in Cape Town, Bacher and a team of handpicked staff with solid cricket administrative backgrounds, were housed in a place called Summer Park, Sandton. The media manager, the now late Rodney Hartman, launched his first conference and with Bacher, in May 2001, explaining in detail a variety of pre-tournament planning details.
Priority would be given to the handling of security services with an emphasis on the public relations image. This included the appointment of about 15 000 volunteers who were part of an unpaid group designed to ensure media and public services were well handled. The theme was as CWC03 is a global event, foreign and local guests, whether media, VIP or spectators, were to be shown an image of the nation's open-handed hospitality.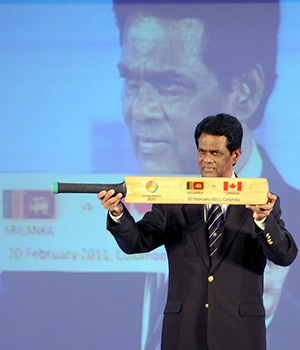 'This is something we all need to work towards,' Bacher emphasised. 'It is our window and how we are judged and in this, our public relations efforts are important whether people want to return and sports feel comfortable in staging future events in this country.'
Taking this further was the security head and deputy national police commissioner at the time, Andre Pruis. It was he who pointed out how the police and security arrangements are so important for an event to function effectively with minimum fuss.
'We cannot afford to be enemies at the gate and friends inside (the grounds),' he told a media conference in October 2001.
It is understood in India that the security services engaged for the event have as yet not cleared a similar volunteer exercise for safety reasons. They will evaluate the programme being used for the Commonwealth Games in New Delhi when it is over to decide if can be used.
In Sri Lanka, the local ICC Organising Committee, or secretariat, as with the central committee, has yet to issue any media releases of pre-tournament events to make the public aware of the tournament. So far, the function of local organising committee (secretariat) is involved in a serious appointment wrangle that has been going on for several months. The squabble is over whether Suraj Dandeniya, a relative of D S de Silva, Sri Lanka Cricket's chairman of the non-elected government appointed ad-hoc committee, is the head honcho of this organisation. So far, they behaved like a faceless arm of the interim committee and working in a vacuum as well.
It is said they have appointed media personnel 'on a consultancy basis' but as yet there have been no media releases. No doubt at some stage they will wake up and slip their head out of the vacuum in which they are cocooned to see what the rest of the world is doing.
May be, just may be, as in 1999, they will suddenly issue a spate of media notices and invitations. They hijacked one event from Sri Lanka Cricket media offices, as they 'wanted to show we are organised'. This was because types like Dandeniya and the rest of that mob with help of the tourist board, wanted to rub shoulders with politicians and Bollywood types to boost their ego at some Indian film awards held in Colombo at great cost. Funding which could have gone into housing projects, and aid the tsunami victims still destitute five and a half years later.
Meanwhile, Dambulla awaits another ODI series and after the last fiasco, with the arrogant top brass and their incoherent incomprehensible Singlish vernacular, I'll give it a miss and watch it on TV.
© Trevor Chesterfield/Island Cricket.
(For reasons of copyright, permission is required from the author and/or webmaster/editor of islandcricket.lk for publication).