By Trevor Chesterfield | September 24, 2010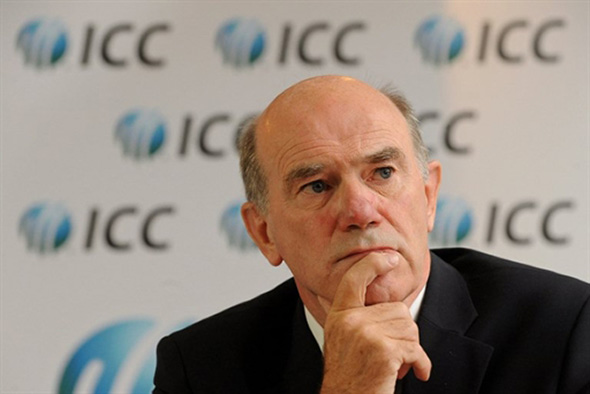 The International Cricket Council's (ICC) Anti Corruption and Security Unit chairman, Ronnie Flanagan, speaks during a press conference at Lord's Cricket Ground in London on September 3, 2010. AFP PHOTO/BEN STANSALL.
In the ten years since the hasty closing of the King Commission in Cape Town over the Hansie Cronje match-fixing probe, if world cricket chiefs were to be honest, they would admit they have failed the game and spectators as well as sponsors.
For years they patted themselves on their collective backs. As they saw it in July 2000, the ogre of malpractice within the game was over. The commission had in a sense, found a scapegoat in the former South African captain.
As near as could be gauged, the smirking "John's" of that sordid underworld of bookmakers and criminals had been dealt with. This is a subculture world of drugs, booze, and prostitution: one where there is a sleazy image of players taking bribes from nefarious bookies who have links to criminal elements and mafia style associates with their tawdry fawning appearances while hanging out in squalid apartments during clandestine visits.
If this is not the case, why did the International Cricket Council's chief executive, Haroon Lorgat, need to admit, in the presence of the new head of the ICC's anti-corruption and security unit, Ronnie Flanagan, on September 3, how the game is facing the worst corruption crisis since Cronje.
Then, in typical public servant fashion and language often steeped in obfuscation, the new ACSU man on board tried to steer around the obvious. This is why the Pakistan story, lurking so long in the underbrush of the game's system of "wink and nudge" connivance and dishonesty, had not been uncovered before during tours of Sri Lanka in 2009 and Australia, despite numerous allegations.
In Colombo last year, during the Champions Trophy and Australia tour, the Pakistan side was labelled as one where it could be said the ghost of Cronje haunted the pavilions warning the ICC of malpractice. Rumours of dishonesty swirled around the team and the players. So, is it any wonder that a newspaper would sniff around and pick up a story? It was a ripe for the plucking; as any banana you would find.
Yet it still needed the insouciance of a British tabloid to uncover the plot of corruption. Is it any wonder, however, with someone such as Ijaz (Mr Egomaniac) Butt, as head of a dysfunctional administration, the team's indiscipline has long been a major issue, explaining the weakness of its management.
When Cronje was caught, and admitted his guilt, he did so because the lies were eating him up; that he wanted to come clean.
What is important here is how many are there of today's players facing the same personal guilt persecution issues as did Cronje, yet are too scared to admit their role in acts of malpractice? Admit they have taken the money from sleazy soccer club owners like Mazher Majeed in scams performing other dishonest acts, such as deliberately failing to score a half-century, as is suggested of a player in the recent triangular series in Dambulla; admit as well, how the "lies are eating them up inside and they want to come clean"?
Cronje it was said would be granted indemnity from prosecution and jail, which amounted to an amnesty if he told the truth. So while it is not a new idea amnesty, a buzz word now being used in relation to cleaning up the game, is one that needs to be explored. Here, however, names of those who have admitted guilt, and those who were involved, whether agent or bookie, should be published. This would act as a deterrent and a way to clean up the game.
Yet how has Majeed, and other agents of a similar crooked nature, been allowed to get close to the players the way they have? This has been without regulation from the ICC or its ACSU, who can be accused of behaving like a secret society when it comes to seeking information. And this is a decade after Cronje and the King Commission exposed all the dirty tricks and ploys that were going on behind the scenes in the 1980s and 1990s.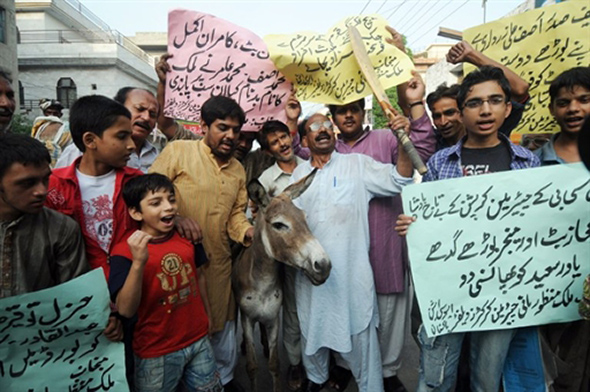 Pakistani cricket fans pose with a donkey as they shout slogans against national cricket team players involved in a match fixing scandal during a protest in Lahore on August 30, 2010. Pakistani cricket fans demonstrated against the scandal by pelting tomatoes at donkeys labelled with the names of top national players embroiled in the allegations. Seven members of the cricket team are facing a police investigation over claims they colluded with a middleman in a betting scam during their England tour, in a sting by British Sunday tabloid the News of the World. AFP PHOTO/ STR.
Sheila Dikshit, the Chief Minister of New Delhi, and her big-mouth cronies Suresh Kalmadi and Lalit Bhanot, had about seven years to prepare the Indian capital for the Commonwealth Games. Through her incompetence those involved, the nation has been shamed as the event slips from one chaotic construction episode to another malfunctioning incident. It points to a system of maladministration and coerced corruption of the heinous type that has surrounded her organisation and its mishandling of affairs as important as a major international event.
Disgust expressed at the shambolic Dikshit performance is similar to the infamy that went with Cronje's admission of taking bribes: the image of dishonesty in the pavilions as names emerged of those who dabbled in crooked deals; how the Sanjay Chawlas and MK Guptas were allowed to escape punishment instead of spending the rest of their life in jail.
If your national cricket captain could admit to dishonesty, who was there to trust? Who indeed? Such has been the mendacious culture that has been allowed to develop surrounding the game.
Now Ijaz Butt starts pointing fingers at the England team and shoots from the lip about how they made a pile of money by throwing The Oval game. Where though does his claim of "bookies told me" come? He says India. How convenient. It makes you wonder with whom he has been consorting to make such wild accusations without the proof he says is being aimed at the Pakistan squad.
In loud and vociferous language during an interview he was giving, Butt claimed he would start naming names of those involved. Challenged to do so, he could not revealed any names, then tried to bluster his way out of the statement suggesting he was not backtracking on his accusation.
During this high-octane attempt to assassinate the England team through his own flawed argument Butt and his ally, another motor mouth, Pakistan High Commissioner to England, Wajid Shamsul Hasan suggested it was all "a very innocent argument". Talk about political obfuscation to derail Butt's hyperbole.
If this is a "very innocent argument" what is the allegation that England players were consorting with Indian bookies. This is after the Sun report of a batting pattern that was highly suspicious during the 39th and 40th over of the Pakistan innings.
It is time someone told Butt and his diplomat pal in London, Hasan, to "shut up" and explain in detail who are bookies Butt has been dealing with and why: their names and locations.
What is of concern, and needs to be addressed is how four national captains – Daniel Vettori, Graeme Smith, Ricky Ponting and Andrew Strauss – have suggested the ICC's ACSU body need to get its house in order. Newspapers have twice uncovered what is argued as proof of Pakistan players involvement in match-fixing behaviour, not just in England but Sri Lanka during the Asia Cup in June.
Truth of the matter is that the ICC and the ACSU did lose sight of the important issues and can largely be blamed for ignoring the all too obvious when it came to cleaning up the game. This because in 2000 a genuine chance to investigate the leads they had and regulate the sport as it should be, was lost.

© Trevor Chesterfield/Island Cricket.
(For reasons of copyright, permission is required from the author and/or webmaster/editor of islandcricket.lk for publication).