By Trevor Chesterfield | August 19, 2010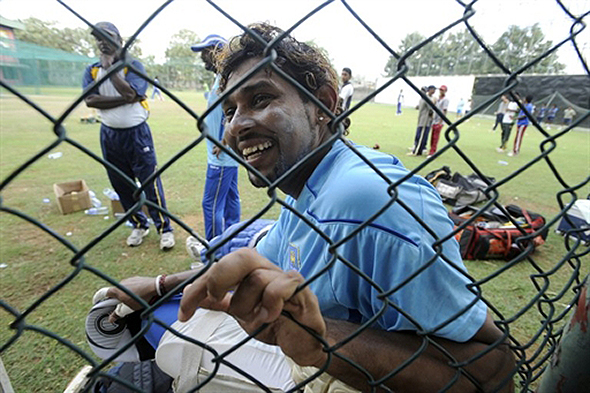 Already there are rumours surfacing that Sri Lanka Cricket are keeping a close watch on his future behaviour, which could have something to do with an unsavoury incident that took place on the tour of Zimbabwe a couple of months ago. AFP PHOTO/Ishara S.KODIKARA.
Like politicians, players who develop big egos and with it big mouths develop a habit of placing their foot in it when caught in the act.
Tillakaratne Dilshan did it on Monday when urging Suraj Randiv in Sinhala with the comment "oney nam, no-ball ekak danna puluwan" (If you want, you can bowl a no ball) with the fourth delivery of the 35th over to the facing batsman Virender Sehwag.
What a great attitude to adopt towards a fellow player, urging him deliberately go against the spirit of the game and to deliver a no-ball, all designed to deny Sehwag his 13th ODI century after a particularly well structured innings which enabled India to secure a batting bonus point as well as a six-wickets victory.
Dilshan has developed a big mouth to go with an ego to match following his performances at the ICC World T20 in England last year followed by a successful run as an opening batsman at Test level. It has been known though how more than once he has opened his mouth, just as wide as he did at Rangiri Stadium on Monday, and on one occasion in India, was told it might be advisable to keep his mouth shut.
Already there are rumours surfacing that Sri Lanka Cricket (SLC) are keeping a close watch on his future behaviour, which could have something to do with an unsavoury incident that took place on the tour of Zimbabwe a couple of months ago. Two contacts in Harare (names and emails withheld) suggest certain people in the landlocked African nation were pleased to see the back of Dilshan when the tour was over.
As for the no-ball incident, in which Indian television networks went overboard with a variety of accusations of how the Indian Board was bullying the International Cricket Council and pushing Sri Lanka Cricket as well to fine players and called it "cheating" the bottom line here is infringement of the spirit of the game and Law 42.1 (fair and unfair play). Anyway, who knows what takes place in those often treacherous corridors of power between boards.
That SLC acted the way they did because the tour is one designed to help their side as part of the pre-World Cup programme. As for the no-ball incident, while Randiv has been banned and lost US$3500 match fee, the same treatment should have handed to Dilshan with a full series ban for instigating the incident and begs a few questions about the role of the captain.
From the post match comment of 'Randiv possibly trying to bowl the doosra' to now accepting full responsibility suggests that the captain has escaped lightly as well.
The 'It may not have been intentional,' comment by Sangakkara also explains that he was not in touch with what was taking place on the field at the time of the incident. It appears too that his thinking was that Sehwag did score the century, as well without checking, how the no-ball was bowled in such a way it could only have been a deliberate act.
As a former umpire, and having experience such pernicious behaviour years ago in the final of a senior club game, my initial reaction was to call "dead ball" and warn the captain his actions were unfair. He had urged the bowler to (lewer 'n no-bal en die kolf sal ons die prys kry); Afrikaans for "deliver a no-ball and we'll get the batting prize". Apart from citing that the mode of delivery was deliberate and unfair citing the laws, the bowler had to deliver the ball again. The batsman facing was not about to score a century, but the winning runs that would earn his team the best batsman award of the series, which the opposition was trying to prevent.
It is why this type of thing would not have happened under the stewardship of Mahela Jayawardene, and also suggests that maybe a look at the team structure and Jayawardene be brought back as captain while telling Dilshan that if he steps out of line again, that his central contract could be cancelled.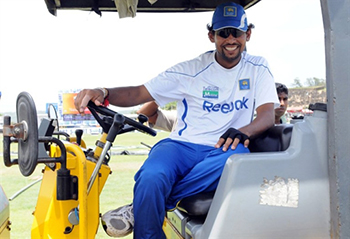 Tough? Well, if you are a professional sportsman, you should act like one, and had Dilshan kept his mouth shut none of this would have happened.
As it is, letter writers in some Sri Lanka papers have acted as foolishly as did Dilshan. Now, had this involved a Sri Lanka player being denied a century, the howling and headlines would have been strident enough to be heard from Dambulla to Mumbai and Dubai, with certain demands. One, it is suggested, would be the century be granted.
As with the Greg Chappell under-arm incident and instructions to his brother Trevor, and the Douglas Jardine 1932/33 Bodyline series in Australia, the captains accepted responsibility for their actions.
Sehwag, to an extent did over-react and this is not the first incident where players get involved in the heat of the theatre when they feel they have been cheated.
Sourav Ganguly in 2001 at Asgiriya was denied a three-figure score when Mohammad Kaif's leg-glance won the match for India. Dada's laconic post-match comment is of how Sri Lanka would have bowled a wide to stop the Indian captain getting a century and is also a point that should be noted.
My point is that the laws of the game cover a wide variety of action and the wording of Law 21 (note 6 winning runs and extras) are specific enough. It is why the laws cite fair and unfair play to protect the game from such incidents. The pity is how India's victory has been overshadowed by an incident that could have been prevented.

© Trevor Chesterfield/Island Cricket.
(For reasons of copyright, permission is required from the author and/or webmaster/editor of islandcricket.lk for publication).