By Trevor Chesterfield in Hambantota | February 21, 2011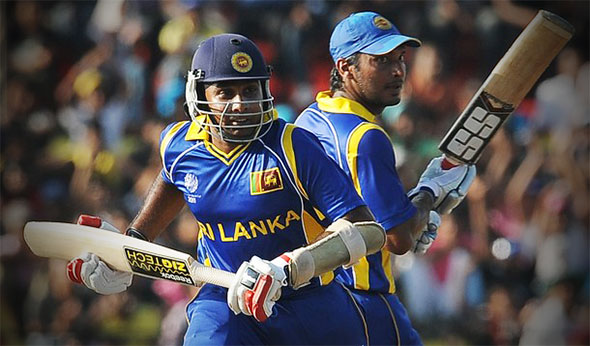 Mahela Jayawardene and Kumar Sangakkara put on 179 runs for the third wicket but Sri Lanka's lower-middle order struggled to carry on. AFP PHOTO/ Lakruwan WANNIARACHCHI.
Despite buoyancy in the camp after their handsome 210 runs victory in the opening A-Group World Cup game, there are still areas of concern in the Sri Lanka batting order.
If there is a genuine evaluation of the lower middle-order's performance against Canada, the analysis in the aftermath of the debut performance at the fancy Sooiryawewa Stadium against the Canadian bowling, will show how three batsmen missed their chance to make an important impact.
Thisara Perera, Angelo Matthews and Chamara Kapugedara wasted chances to follow on from the platform set by Kumar Sangakkara and Mahela Jayawardene in a brilliant partnership of 179. You are not going to see much better either – scored off 137 balls in 104 minutes, it was rhythm batting and broke through the tightly controlled Canadian game plan.
It was better than the Sri Lanka total of 332 in the 50 overs suggests and only two World Class batsmen in Sangakkara and Jayawardene made it possible. The slash and bash style employed by Tillakaratne Dilshan, is not the answer in such sluggish conditions and his continued role as an opener post CWC11 with a tour of England in seaming conditions could well be examined.
What was needed though was a senior batsman, either Sangakkara or Jayawardene to bat through the 50 overs to guide the lower order. With Sri Lanka's decision to trial the seven batsmen policy and five of them as possible bowling options, is going to be tested against the more streetwise Pakistan in Colombo on Saturday.
Where the overall plan failed is the smart run out of Perera and Mathews' decision to slog over cow-corner ending in a top-edged nothing shot and Kapugedera failing to read the delivery that sent him on his way. It is why there are going to be concerns whether Thilan Samaraweera should not bat five in the order.
It could be understood how Perera was sent in ahead of Samaraweera. It was a tactical move to push up the run scoring and it failed. The Canadians gameplan to work on the run out stratagem, as Upul Tharanga learnt, was good thinking. Also on a surface, which allowed for batsmen, once they had worked out the pace of the pitch, to score freely, allowed for some nifty batting skills.
As usual, Jayawardene was mindful of how the visitors, coming out of a long winter and had barely a chance to acclimatise, adopted the strategy the way they did.
"We had a few nerves before the game started to play a World Cup game in front of our own crowd," Jayawardene said in explanation. "It's not easy to play a team like Canada. You need to be prepared. It's a good start, but [make no mistake] we've a lot of hard work ahead of us with other teams.
"To be fair on the Canadian side they bowled really well and in good areas to start with, but it was important for us to keep wickets in hand [to build a total].
"We had a good partnership between Kumar [Sangakkara] and me. We needed to change that rhythm a bit in the middle overs and we managed to do that and took control of the game."
Fair comments when it is considered how the former captain played an innings likely to be remembered as much for its elegance and stroke rotation as it is for being the first batsman to score a century at this new venue.
Yet the innings lost its way after the Sangakkara/Jayawardene partnership and in part because batsmen, instead of adjusting to the conditions and working the ball around, thought the big hitting process was the way to create pressure on the visitors. It is why a suggestion that Kapugedara bat at five or even three to trial his abilities against better bowling is an option Sri Lanka may consider at some stage of this tournament or even post CWC11.
It should also be remembered how Canada do not have bowlers of this quality in their league system and they are given so few opportunities against Test nations it is unfair to ridicule their efforts at this level.
There are those who are trying to kill off the 50/50 game, so seduced are they by the T20 format with its diluted skills. Virender Sehwag's flamboyant innings against Bangladesh is one reason why the World Cup and the 50 over format is as relevant today as it was when the first World Cup was played on the subcontinent in 1987.
This article first appeared on Trevor Chesterfield's column on CricketNext.com