By Trevor Chesterfield | July 10, 2010
With Muttiah Muralitharan announcing his retirement from Test cricket, we revisit columnist Trevor Chesterfield's match analysis of the first Test of the South Africa tour of Sri Lanka in 2006. Chesterfield highlights the all-too often overlooked side of that sensational SSC Test where Mahela Jayawardene and Kumar Sangakkara were involved in a world record partnership of 624 runs, yet it was Murali's 54th 10 wicket haul in a match dominated by batsmen which earned praise from Jayawardene.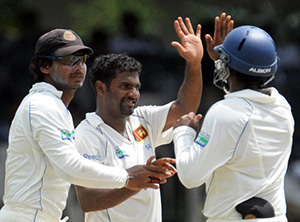 It is when Muttiah Muralitharan found some rare extra bounce with his sixth delivery of the final day, and sufficient to find the outside edge and safe hands of Mahela Jayawardene at slip, that South Africa's chances of a remarkable Houdini-escape all but evaporated in this first remarkable Test.
Eventually, mid-way through another sweltering afternoon, with politicians and VVIPs all crowded into the Chairman's box to get in on the act, Lasith Malinga knocked back a startled-looking Makhaya Ntini's off stump to seal a landslide win.
That precipitated the longest of over-the-top presentation post-match ceremony you are likely to have, with Jayawardene repeatedly called to the podium to receive no less than three commemorative awards and two Man-of-the-Match cheques for his magnificent 374. But although weighed down by his latest collection of memorabilia, Jayawardene was quick to point out that his record-breaking heroics with Kumar Sangakkara would have amounted to little without his bowlers' back-breaking toil.
Muttiah Muralitharan, as he so often does, led an attack that has manfully footslogged on for 157.2 overs to bowl out a South African team hell-bent on pride restoration after their woeful first-innings performance, in key passages of the game delivering 64 overs. Despite some slight deterioration, the Sinhalese Sports Club pitch became ever slower and more docile.
With a quick brush and new white lines, this strip might have even been able to stage the second Test too. Thus, slowly, patiently, skillfully wheedling out ten second innings wickets was always going to a major achievement. Muralitharan's contribution of 10 wickets for 172 runs during 82.2 overs explains how in such conditions he is so often the backbone of Sri Lanka's bowling.
Muralitharan reeled off over after over, perspiring a little in the scorching heat but never sagging as he bounced up to the crease. In total he delivered 384 deliveries, all with the same intensity and complete focus. The only time he grumbled was after stumps, quipping incredulously: "This SSC pitch is getting slower and slower with each series."
It was almost a warning to the authorities, urging them to find some more pace and bounce in local pitches. A 34-year-old can't churn out 82.2 overs per Test for much longer.
But Muralitharan has never shirked work and today he rolled up his sleeves for some good, old fashioned, blue collar labour. The chief threat of his doosra was numbed by the slowness of the pitch and instead he relied on pinpoint accuracy and subtle variations in both his flight and angle of delivery. It wasn't his most dazzlingly destructive ten-for, full of explosive wrong'uns and wonder balls, but it was still absorbing to watch and a brilliant effort.
There was support too from the other end, first from Dilhara Fernando – who had an excellent Test match – and then from Sanath Jayasuriya. Fernando had made the initial inroads on day four and Jayasuriya picked up a vital scalp today with his canny left-arm spin. It is hard for the other specialist spinners waiting in the wings – Malinga Bandara and Rangana Herath – but the fact is that Jayasuriya's bowling on dry pitches is a major asset that also balances the team.
The only disappointment will have been Farveez Maharoof. His two wickets in the first innings were priceless, swinging the match Sri Lanka's way, but in the second innings, aside from a couple of leg-cutters, he was the least threatening member of the attack. Sri Lanka will now have three days to consider changes to their attack for the second Test. With Chaminda Vaas due to return, Maharoof is the likeliest to make way.
South Africa fought bravely in the last two days but in the end their whole match was scarred by their first-innings failure. With hindsight, a grueling five-day Test in Colombo's sweltering heat and humidity was a tall order for a team given a solitary first-class match as preparation for a two-Test series after a 10-week holiday. Their batting though in the second-innings will have boosted confidence. The crucial issue though will be whether their bowlers, especially Makhaya Ntini, can conjure sufficient fire and potency to trouble a now buoyant Sri Lankan top order.
In the same 2006 series, originally written by Chesterfield as a preview of the second Test, coach Tom Moody underlines the legendary bowler's all-round capabilities and his value to the side.
Moody explains value of the Murali factor
At some stage during this second Test against South Africa at Saravanamuttu, Sri Lanka off-spinner Muttiah Muralitharan will take his 100th wicket against South Africa, joining Shane Warne in an elite group of bowlers. And when you consider this simple calculation, it explains just how important is the smiling assassin to the team's overall match-winning performances.
When he bagged Makhaya Ntini's wicket at the end of day of one to help dismiss South Africa for 361, it gave him Mural his impressive 55th five wicket haul and at a cost of 128 runs, while bowling a more than a third of the overs. It also took his tally to 650 Test wickets, second to Warne on the wicket-taking list.
But there is a lot more to Muralitharan the bowler with his once identifiable trademark of a battered floppy, than the enigmatic smile and action that has stirred more disputes and resultant ICC mission flexation tests than any John le Carre spy thriller. Well, for those, that is who had a particular fondness for this particular writing genre.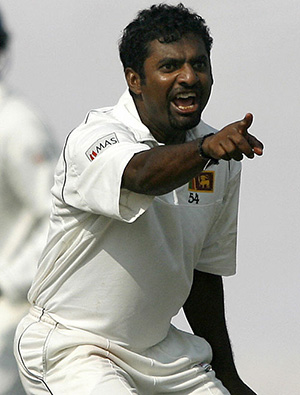 The question arose of why Sri Lanka didn't include a second recognisable spinner in this Test against South Africa at the Saravanamuttu Oval. As the team's coach, man mountain Tom Moody explained, and it makes sense as well, the bowling emphasis in the Sri Lanka team scenario is changing. It has been for the last four or five years and is a growing sign of the times.
Sri Lanka now have a couple of fast bowlers clocking speeds of 90 miles an hour, although for this game Dilhara Fernando failed to pass a fitness trial for this second game of the series, Lasith Malinga can still pack a punch at speeds in excess of 90 mph while Farveez Maharoof is upward of 80 mph. This being the case, it is not surprising to go with bowling attack with three fast bowlers, although Chaminda Vaas is not as quick as he was, he is still highly deceptive.
This is where Muralitharan comes in handy as a bowler who is not only a top strike weapon in the Sri Lanka team, he delivers a large percentage of deliveries and is where his value to the team is so important. As Moody rightly points out, he is as much a strike bowler as Vaas, Malinga and Fernando.
'He (Murali) is a hungry bowler,' the Australian emphasised with typical laconic style. 'He is hungry for wickets; loves bowling a lot of overs and helping Sri Lanka win Tests. It is hard to get that Kookaburra (ball) out of his hand.
'When he was injured last year, Rangana Herath did a great job for us. When Mural returned to Sri Lanka early from the England tour, Malinga Bandara stepped in.
'Sure, there are good spinners around in the wings, but it simply doesn't make sense when with Murali bowling the bulk of the overs to include another spinners who is hardly going to get a chance,' Moody explained. 'As he is going to do that job for a long time and do it effectively, the way the (Test) bowling attack is now structured helps Sri Lanka's cause.'
This second Test of the series was Murali's 108th and already he has taken 15 wickets in the series and needs three more to join Warne as the second bowler to take 100 Test wickets against South Africa.
What Moody did highlight was how Maharoof's inclusion for the injured Fernando did show a growing depth in Sri Lanka's bowling. There was the added advantage as well as the tall Bloomfield all-rounder had shown his capabilities as a batsman during the England tour. But here Moody was highlighting how in the past Sri Lanka would have used three or four spinners. Now they had a more settled attack with a crop of good fast bowlers built around the experience of Vaas.
'It is a good position to be in and this is where we are moving forward with bowling attack,' the former all-rounder said. 'It is also good for the future in this country.'
© Trevor Chesterfield/Island Cricket.
(For reasons of copyright, permission is required from the author and/or webmaster/editor of islandcricket.lk for publication).