By Rex Clementine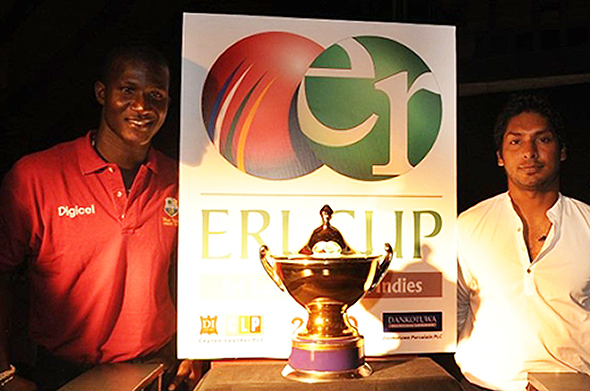 Kumar Sangakkara and Darren Sammy pose with the Test match trophy during a press conference in Colombo on November 9, 2010. The West Indians are in Sri Lanka to play three test matches, five ODIs and one T20 starting November 15. AFP PHOTO/Lakruwan WANNIARACHCHI.
November 13, 2010 (Island Cricket): On the previous two occasions the West Indies toured Sri Lanka, they were whitewashed. In 2001, Sri Lanka won 3-0 despite Brian Lara making heaps of runs and in 2005, a side that was missing Lara, Gayle, Sarwan and a host of others were beaten 2-0.
To avoid another embarrassing defeat, the West Indies will have to play extremely well, or hope for inclement weather to persist. Not even Brian Lara's 688 runs in six innings in 2001 failed to save them from a 3-0 whitewash.
This time, it's hard to think it will be any different.
With Jerome Taylor and Fidel Edwards sidelined, the only bowlers the Sri Lankans will claim to know are Kemar Roach and Suleiman Benn, and they would have hardly heard of Nelon Pascal and Andre Russell.
The West Indian captaincy over the years has been held by some of the all time legends of the sport. Frank Worrell, Wes Hall, Garfield Sobers, Clive Lloyd and Viv Richards led strong cricket teams whose hallmarks were aggressive batting and hostile fast bowling, and no other team dominated world cricket as they did.
West Indian cricket is at a sorry state at the moment, and Sri Lankan and Pakistani cricket aren't the only ones that are administered badly. Chris Gayle and Dwayne Bravo didn't want to sign central contracts, and wanted to remain 'freelance' in order to enjoy their lucrative Indian Premier League contracts, so the captaincy of West Indian cricket went by default to Darren Sammy, a 'veteran' of eight Test Matches, who'll become the 34th captain of West Indian cricket in Galle.
At a media briefing held in Colombo on Tuesday, Sammy promised to bring the glory days of West Indian cricket back. "For us in the Caribbean, cricket is more than just a game. All the players who are here are committed and in a way it is the legacy that West Indies cricket holds. We are going to bring back the passion and the pride and also perform for us to take the West Indies team up the ladder," he said.
Although West Indian bowling lacks teeth, the batting looks formidable. Shivnarine Chanderpaul and Chris Gayle are the cornerstones of their batting with the former is just 31 runs short of 9000 Test runs, and until recently was the highest ranked batsman in the world while the latter has piled up over 6000 runs at an alarming rate.
Like Angelo Mathews and Ross Taylor, Dwayne Bravo has been an exciting talent and other than putting his IPL cap ahead of the national cap it's hard not to admire the Trinidadian for when he's around; something is bound to happen all the time.
Adrian Barath is the other name to watch out for. He made a century on debut at the Gabba when all other big names failed, and caught the eye of Brian Lara at the age of 11. For a team that badly needs match winners, this could be the breakthrough series for the Trinidadian.
One major worry leading up to the series for the West Indies will be that their three day warm up game at SSC was washed off after just the first day's play.
Sri Lanka's batting, which has looked rock solid in home conditions in recent years, had just one hiccup in the third Test against India when they played last, and will be keen to put that disappointment away.
Tillekeratne Dilshan requires 94 more runs to become the ninth Sri Lankan to complete 4000 runs, while Tharanga Paranavithana has grabbed the opportunity that Michael Vandort and Malinda Warnapura failed to capitalise on, and has managed to keep even Upul Tharanga out of the Test squad.
Kumar Sangakkara seems to be getting better with every series. When the Indians were here, he scored more runs than Sachin Tendulkar, Virender Sehwag or Mahela Jayawardene, and had the best aggregate from both sides amassing 467 runs at a whooping 116.75.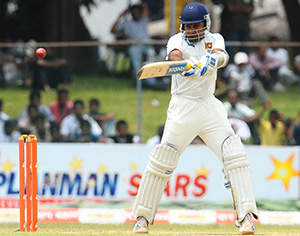 Jayawardene, meanwhile, requires 492 runs to become the first Sri Lankan to score 10,000 Test runs, and in the history of the game only eight others have achieved the feat. What an opportunity for him to bridge that gap and target the second Test against England at Lord's, the home of cricket to reach the milestone; IPL permitting!
While Sri Lanka's batting looks impregnable. There will be a few questions asked from their bowling. What after Muttiah Muralitharan is the big question?
After Muralitharan helped them to win the first Test against India in Galle in his farewell Test, Sri Lanka played two Tests drawing one and losing another. The likes of Rangana Herath, Suraj Randiv and Ajantha Mendis have big shoes to fill, and in Sangakkara they have a captain who is willing to back them.
"It is always going to be tough playing Test cricket without Murali. We found that out in the second and third Tests against India. The best way they can go about is to be themselves not try to be another Murali because that is impossible," Sangakkara said last week.
"I think for us as well the expectations of performance has to be realistic. For them to come in share the load with the other bowlers, and make sure they chip-in with what they do best as spinners is to try and take wickets and win matches for us," he added.
Thilan Thushara returns from injury after missing the series against India, and with Chaminda Vaas retired, and the selectors adopting a cautious policy with Lasith Malinga, Dilhara Fernando, too, has a good opportunity to become a regular member in the side. A host of Sri Lankan captains whether it was Sanath Jayasuriya, Hashan Tillekeratne or Kumar Sangakkara have rated him very highly and it's time he justifies their faith.
One guy who is unfortunate to miss out though is Chanaka Welagedara. In the Test series against India he was used defensively. On a flat track in Ahmedabad after being told in the last minute that he was going to play, he did exceptionally well troubling several famous names in the Indian batting line up last year, and he should have remained in the squad.