By Staff Writers | June 12, 2017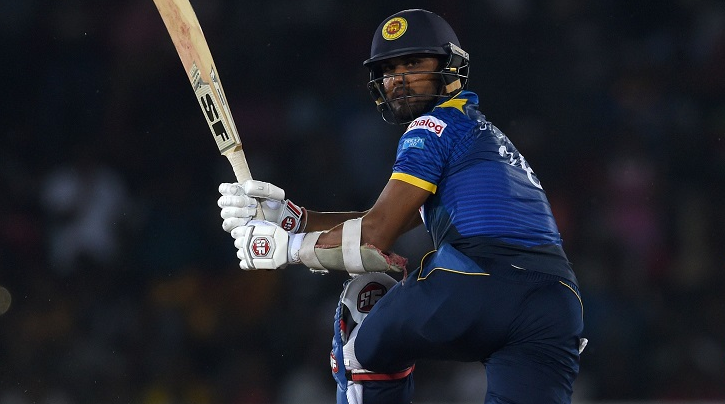 Kumar Sangakkara highlighted Dinesh Chandimal as a player to have been negatively impacted by the poor policies of SLC administrators. © AFP
Dinesh Chandimal has "never had a consistent run in the position that he was identified for" and is constantly playing for his place, Kumar Sangakkara said while on commentary during Sri Lanka's Champions Trophy group match against India.
Sangakkara felt Sri Lanka's recent string of defeats is as a result of not grooming replacements for Tillkaratne Dilshan, Mahela Jayawardene and himself.
"We have had two and a half years of looking for replacements for Dilshan and Mahela and we have had some fantastic young players coming through," Sangakkara said.
"One of the accusations directed at the management and the team has been that they haven't groomed anyone to fill those voids, but I think the one man that was identified very early was Dinesh Chandimal, who performed excellently in South Africa, in England, and in Australia
"He has actually had a period where he was identified as the best young player and appointed captain, probably a bit too soon, and then he was dropped from the captaincy and dropped from the team, so he's never had a consistent run in the position that he was identified for.
"I don't think the environment he has played in has been very good for his confidence. Every time he now takes the field, it's almost as if he is playing for his place, for survival, and that is not a good place for a young player to be."
Sri Lanka did not turn to the experienced Chandimal during their winning run-chase against India, and they opted instead for Asela Gunaratne to see them through. Gunaratne, with just 15 ODIs under his belt, has batted from No 4-7 in the ODI batting line-up in his short career and was sent ahead of Chandimal at The Oval last week.
There has been criticism that Chandimal was not only handed captaincy without merit by Sanath Jayasuriya's selection panel four years ago but also over what critics say is his continued selection to Sri Lanka's limited-overs sides despite his poor record over a period of seven years.
Chandimal, who made his ODI debut in 2010 and has played 127 ODIs, averages 33.80 and has four centuries and 21 half-centuries at a strike-rate of 75.14. After 48 T20Is since his debut in 2010, he averages 18 and has registered four half-centuries (strike rate: 103.29).
© Island Cricket