By Ranjan Paranavithana | May 29, 2011
It's no secret that Sri Lanka will be hosting an Indian Premier League-type tournament in July-August. All matches will be played at the R. Premadasa Stadium in Colombo, and seven teams will battle it out. They will be named: Ruhuna Rhinos, Basnahira Bears, Kandurata Kites, Wayamba Wolves, Uva Unicorns, Nagenahira Nagas and Uthura Oryxes. According to the Sri Lanka Cricket (SLC) interim committee, these teams represent the nine provinces in the country.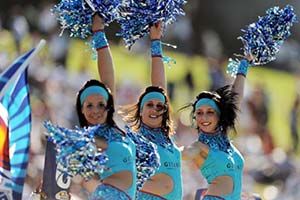 Although this tournament has been included in the annual fixtures list prepared by the tournament committee of the cricket board (SLC), the tournament committee is in the dark about this incredible tournament.
As per reports, former selection committee chairman Aravinda de Silva and interim committee secretary Nishantha Ranatunga, along with the Singapore-based company Somerset Entertainment Ventures, who have obtained the ownership of the Sri Lanka inter-provincial tournaments for five years, hold the sole authority of organising the tournament.
In the past, Sri Lanka did have inter-provincial tournaments, and the main aim then was to create opportunities for talented players scattered in various provinces. Provincial cricket associations were also allowed to select their players, and host their matches locally.
The Indian Premier League is a state tournament, and although the teams are known as Mumbai Indians, Kolkota Knight Riders and Kings Eleven Punjab, etc they actually are state teams.
All these state teams are powerful, and they have international standard venues and other facilities. Therefore, they are able to play more matches at their own grounds; India uses this tournament to develop the state associations and also to promote Indian cricket to the world.
Contrastingly, our inter-provincial tournament will be played in Colombo, forcing cricket fans to travel to Colombo from their various provinces to watch their provincial teams in action.
Why did the interim committee build international grounds in Sooriyawewa and Pallekele?
Sri Lanka have copied the name given to the tournament in India, but this tournament will mean nothing to provincial cricket in the country.
The names given to different provincial teams are odd. In a country where there are no rhinoceros, the Rhinos will take the field from Ruhuna. Furthermore, the names of animals that are in Sri Lanka could have been used, could it not?
Two foreign players will captain the teams from the north and east regions, which shows that our officials don't yet consider those places as proper provinces. And local players will not be representing their provinces or the places they were born.
As per the guidelines, teams need to have four foreign players, four Sri Lanka players and one under-21 player. That leaves only six more players. So, from some 165 players, who represent 'A' division club teams, only 42 will get a chance to play in this inter-provincial tournament. Sixteen of them will not be available as they will be touring England with the 'A' team.
Who stands to gain from this so-called inter-provincial tournament, if it is not the budding cricketers in Sri Lanka?
It is reliably learnt that players have already been selected for this tournament, and the selection has been carried out not by the present selection committee, but by the previous one headed by Aravinda de Silva (now involved in the tournament). And nobody knows how the players were selected, as the cricket board (SLC) scrapped the inter-club Twenty20 tournament this season.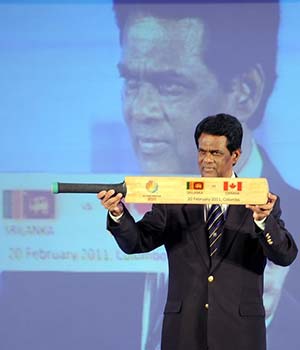 The interim committee headed by chairman Somchandra de Silva was not transparent when it entered into an agreement with the Singapore-based company for five years.
When this company came on board, it didn't have a website or an email address; is that not strange? And SLC will receive only 30 million rupees annually from this contract, with a five percent increase every year. The company will pocket revenue from sponsors and TV rights.
The officials of this company have already invited some leading foreign players, with a highest payment of 30,000 US dollars each. Sri Lankan players will not receive that amount of money. They will only receive a match fee, which amounts to a pittance.
Last year, the Wayamba team qualified for the Champions League tournament, and the same Singapore-based company looked for sponsors for the team. Finally, a company marketing a sex enhancing drug called 'Musli Power' came forward as sponsors.
The members of the Wayamba team, including Sri Lanka's top batsman Mahela Jayawardena wore t-shirts with the logo 'Musli Power', but they are yet to receive their payments. Who will Somerset Entertainment Ventures rope in this time?
In addition, due to the tournament being named as the 'Premier League' – the name used for the country's premier club tournament – the club tournament will have to find another name next season.
It seems like the only positive things to come out of this tournament is a chance for our players to share the dressing room with some top international players and play along side them.
It is said that this time the Indian Premier League has lost popularity. So, how will our tournament attract fans to the ground? India will not send their top players, but some second stringers. Perhaps to identify some good talent for the T20 World Cup scheduled to be played in Sri Lanka next year.
Was it wise on the part of SLC to cancel the inter-club Twenty20 tournament, especially at a time the country is preparing to host the T20 World Cup? Who will benefit from this inter-provincial tournament, which is more than likely to be a mockery?
The author is the coach of Baduraliya Cricket Club and the former sports editor of the Lakbima newspaper in Sri Lanka.