By Staff Writers
February 26, 2011 (Island Cricket): Australian captain Ricky Ponting said that he expected his side to be seriously tested by Sri Lanka in the ICC Cricket World Cup 2011.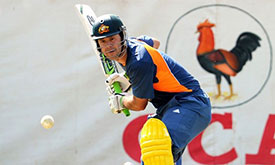 "We expect Sri Lanka to be a very tough contest," the Australian captain told reporters after defeating New Zealand by seven wickets in match-eight of the World Cup, played at the VCA Stadium in Nagpur yesterday.
"I think they'll be our toughest contest to date in this tournament. They're a good one-day side.
"But in saying that I think they rely on a few, certainly on the batting side of things. If you look at Tillakaratne Dilshan, Kumar Sangakkara and Mahela Jayawardene as the three that they rely on the most, they all had a pretty good start to the tournament."
Ponting was aware of Sri Lanka's recent performances and the last match played at the R. Premadasa Stadium.
"It's an interesting one with their conditions, because I think we're playing them on a wicket that's a new one and has been relaid," he added.
"The first game they had there was a really high-scoring one, and didn't really favour the spinners as much as they would like."
Australia will be vying for a third straight title when they meet the co-hosts for their Group-A clash on March 6.
© Island Cricket