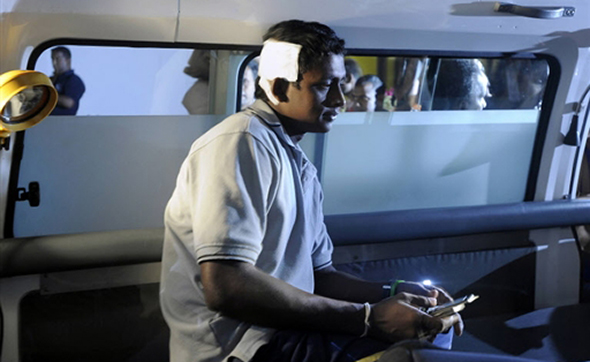 Ajantha Mendis sits inside an ambulance shortly after his return to Colombo on March 04, 2009 following the team's escape from a terrorist attack in an ambush outside a cricket stadium in Pakistan. Mendis suffered shrapnel wounds to the head and back as a result of the attack. Sri Lanka's wounded and shaken cricketers flew home to Colombo and were rushed straight to a local hospital, a day after the attack killed eight people and injured 19, including seven Sri Lankan players in Lahore. AFP PHOTO/ISHARA S. KODIKARA.
August 04, 2010 (islandcricket.lk): The secretary of Sri Lanka Cricket Nishantha Ranatunga has said that Sri Lanka are still undecided about ICC chief executive Haroon Lorgat's suggestion of sending an ICC XI to play cricket in Pakistan.
Last month Lorgat suggested that a visit to Pakistan from an ICC selected team with players from other nations would help maintain the popularity of the sport after international teams stopped touring there due to the 2009 terrorist attacks on the Sri Lankan cricket team.
"We will assess the situation very, very carefully. We know that we can't leave things as they are if it is at all possible to play in Pakistan. I'm not just suggesting a bi-lateral series. It may be an ICC XI. Whether it's a youth team, an older team, or whatever. I would go with that team as well," Lorgat told the BBC.
In 2009, when other teams refused to tour Pakistan, Sri Lanka visited the troubled nation's shores in support, but a brazen attack by gunmen which left several of the Sri Lankan team members injured ensured that that international cricket, at least for the moment, would not be played in Pakistan.
As co-host of the upcoming World Cup, Pakistan's 2011 World Cup matches too were moved to other venues as a result of the attacks.
According to a report compiled by Shabbar Raza Rizvi of the Lahore High Court, Pakistani police officials bore responsibility for the lack of security provided to the visiting Sri Lankan team.
Rightfully apprehensive just 17 months after the attack, Nishantha Ranatunga was quoted by the Indian news agency Daily News & Analysis as saying Sri Lanka Cricket was not "part of the [ICC] plan."
"I have read what ICC is planning to do about Pakistan but we are not a part of it as of now," Ranatunga said.
"Only Pakistan can bring the game back to their country. It is they who have to take the initiative.
They have to have a right structure in place. The government will have to take the responsibility of the safety of the players and it is they who can make the game in the country better. Let's hope things become better."