February 06, 2011 (Island Cricket): Adrian Barath said that Lasith Malinga is a player to watch for at the ICC Cricket World Cup 2011. Barath scored his maiden ODI century in last week's rain interrupted first ODI at the Sinhalese Sports Club (SSC) grounds in Colombo. The three-match ODI series currently being played out in Colombo is crucial towards both teams' World Cup preparations just 13 days ahead of cricket's show-piece event.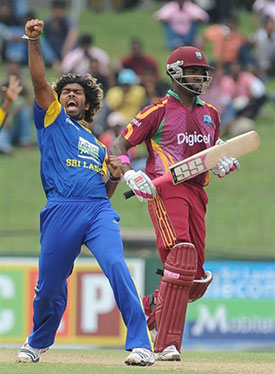 "We all know that Malinga is a world class bowler in this version of the game and in T20s," Barath told reporters recently.
He said his team hoped to counter the unorthodox Malinga with the use of technology.
"We all know his unique action. Most of the guys are not used to it, but at the end of the day we are going to be looking at footage of Lasith and ways of playing him," Barath said.
But he admitted that the use of footage could only take a batsman so far. Playing the 27 year old speedster was another matter.
"As a team, already, we have looked at these things, but he is on spot at the moment and any player on spot is a force to be reckoned with. All credit to him. He has been bowling well and he is in good form at the moment. We will be definitely looking to counteract his bowling."
Malinga has six wickets for 81 runs at the end of second ODI, making him the highest wicket taker in the series thus far. The third and final ODI will take place today at the SSC at 9:30 AM local time.
Heaping similar praise on Malinga and the Sri Lankan bowling attack, during the launch of his autobiography "Standing My Ground" in Mumbai on Thursday, former Australian opening batsman, Matthew Hayden, said that Malinga and his new ball partner, Nuwan Kalusekara, could be "very damaging with the new ball" in the World Cup.
Both Sri Lanka and South Africa had a damaging opening bowling attack, he added.
"I have a good feel about the Sri Lankan attack of Malinga and Kulasekara" Hayden said.
"Those two sides can be very damaging with the new ball and particularly South Africa.
"Sri Lanka and India I think are the most balanced units considering their spin options. I think [Muttiah] Muralitharan is naturally world class.
"He has been in World Cup finals before and this year I think is a big chance for Sri Lanka."
The ICC Cricket World Cup gets underway on February 19. Sri Lanka's World Cup campaign begins on February 20 when they play Canada in Hambantota.
© Island Cricket