By AFP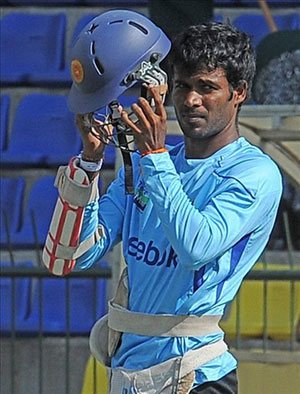 August 14, 2011 (AFP): Sri Lanka's opening batsman Upul Tharanga said Wednesday that his return to the national side after a three-month drugs ban was a chance to rebuild his career and reputation.
Tharanga, 26, who is back in the team for five one-day matches against the visiting Australians, missed a tour of England because of the ban.
He pleaded guilty after claiming the banned steroid was in a herbal remedy.
And he was back playing cricket on August 9 after the International Cricket Council accepted he had not taken the remedy with the aim of enhancing his performance.
"It was one of the most difficult situations I have experienced. The ban affected me psychologically and that was one of the toughest periods in my life," Tharanga said before Wednesday's game at the Pallekele Stadium in Kandy.
"Fortunately that is over now and I am looking forward to the future."
Tharanga was caught by a random urine test taken after the World Cup semi-final against New Zealand but went on to play in the side beaten by India in the final in Mumbai.
"I was shocked when I got to know that I had failed a drug test. I just couldn't understand what had happened," said Tharanga, who scored 395 runs during the World Cup at an average of over 55.
"Playing in England is what every player wants to do. It's a unique challenge to play and succeed in England… It was disappointing to miss out on this occasion.
"Everything is over now and the captain and the selectors have recalled me as soon as the ban is over. I am looking forward to do well in this series."
The one-day series will be followed by three Test matches, also against Australia.
© AFP