By Staff Writers | March 28, 2017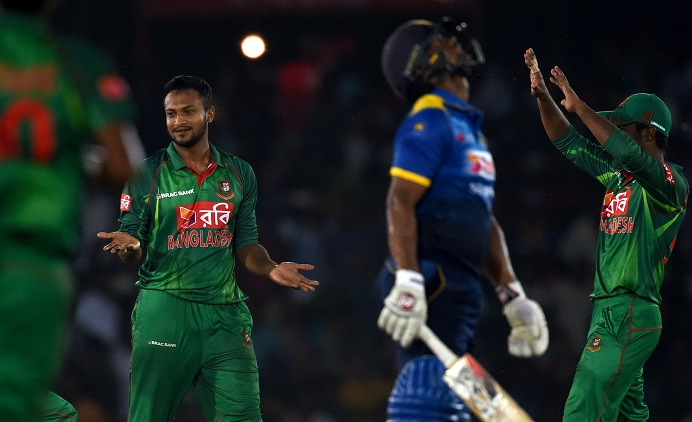 Bangladesh are looking to secure an unassailable 2-0 lead in the series, which will give them their first-ever ODI series win against Sri Lanka. © AFP
If Sri Lanka are defeated in today's second ODI against Bangladesh, they would have lost the series and are on their way to dropping below Bangladesh to seventh in the ODI rankings for teams, creating a lot of uncertainty over their qualification for the 2019 World Cup.
Sri Lanka have never lost an ODI series to Bangladesh and they go into the game having lost their last six ODIs, while the visitors are hoping to register only their third series win overseas.
Bangladesh have previously only secured series wins away from home against West Indies and Zimbabwe, but with Sri Lanka also having lost five of their last six one-dayers at home and under immense pressure to avoid their fifth-straight ODI series defeat against a Test nation, the visitors appear favourites to win.
Also read: Will Sri Lanka qualify for the 2019 Cricket World Cup?
After their loss to Bangladesh in the second Test earlier this month, the home team were comprehensively defeated by Bangladesh in the first match of the ODI series last week and Asanka Gurusinha, Sri Lanka's recently-appointed cricket manager, said this game is akin to a "final" for his side.
"We know the pressure is on us because we don't have any more chances," Gurusinha told journalist last evening in Dambulla.
"This is like a final for us, so the team is pumped up and we are confident that we can play much better than we did."
Perhaps in hopes of blunting Bangladesh's bowling attack the surface in Dambulla, where Sri Lanka have lost their last three ODIs played there, will reportedly see more grass left for the series decider.
England, the hosts of the next ODI World Cup, and the other seven top-ranked teams in the ODI rankings, by the cut-off date of September 30, will qualify for the World Cup. The remaining four teams will feature in a qualifying tournament in 2018 for another chance.
© Island Cricket