By Hilal Suhaib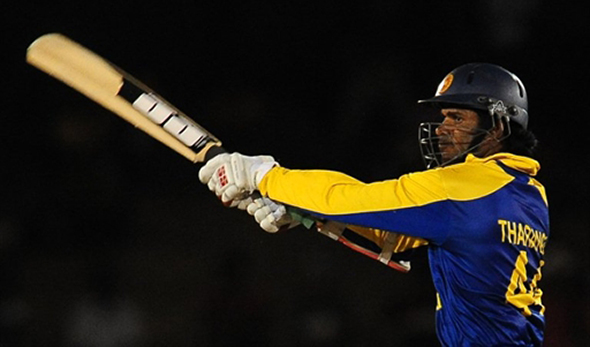 Upul Tharanga has a chance to secure a place in the Sri Lankan ODI side for the upcoming World Cup. AFP PHOTO/Lakruwan WANNIARACHCHI.
November 02, 2010 (Island Cricket): Sri Lankan captain, Kumar Sangakkara, has confirmed Upul Tharanga's place as the opening batsman for the ODI series starting tomorrow at the Melbourne Cricket Ground.
Sangakkara told reporters in Australia that Tharanga and Tillakaratne Dilshan will be opening the innings in the first ODI.
Sri Lanka utilised vice captain, Mahela Jayawardene, as opening partner for the dashing Dilshan in the Twenty20 tour opener at Perth, but have chosen to go with specialist opening batsman, Tharanga, for the 50 over format.
Tharanga, a more conventional left hander, along with Sanath Jayasuriya holds the record for the highest first wicket partnership in ODI cricket. The pair piled on 286/0 for the first wicket at Leeds in the summer of 2006, pummelling the hapless English bowling to all parts.
In January this year, Tharanga and Jayawardene shared another mammoth opening partnership. This time against Bangladesh in Dhaka, when they put on a 215 run partnership for the first wicket.
Similarly, Tharanga, 25, has been part of numerous partnerships for the first wicket in excess of 150 runs, highlighting the openers destructive ability in the limited overs format. Sri Lanka, however, have opted to leave him out of their Twenty20 plans.
Tharanga's record against Australia has been poor. In five matches, the left hander from the south of Sri Lanka has managed just 55 runs. He is yet to score a half century against them.
"The combinations we play will probably allow us to make some decisions about certain players, it will also give players opportunities to grab those elusive places in a final World Cup squad," Sangakkara said today, highlighting the importance of this short tour to Australia.
Sri Lanka appear to be undecided on who may partner Tillakaratne Dilshan at the ICC Cricket World Cup starting next year with Mahela Jayawardene also vying for a place as opener. The local media have also not ruled out veteran Sanath Jayasuriya's inclusion into the side.
For Tharanga, the opening game against Australia starting November 03 at the MCG will serve as yet another chance to cement his place in the side, but more importantly the series will help him secure a position in Sri Lanka's World Cup line up.
© Island Cricket.