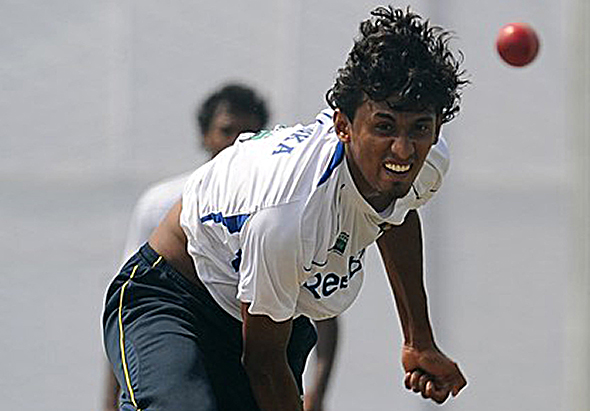 Suranga Lakmal delivers a ball during a practice session at the Galle International Cricket Stadium in Galle on November 14, 2010. AFP PHOTO/Lakruwan WANNIARACHCHI.
November 24, 2010 (Island Cricket): Ranasinghe Arachchige Suranga Lakmal made his Test debut on November 23, 2010, upon being selected to represent Sri Lanka against the West Indies in the second Test match played at the R. Premadasa Stadium.
Lakmal, 23, becomes Sri Lanka's 114th Test player. The lanky right arm fast bowler stands at six feet, two inches in height, and has represented Tamil Union Cricket and Athletic Club, Basnahira South, Matara Sports Club and Sri Lanka A.
He was part of the ill-fated squad that was ambushed by gunmen when Sri Lanka toured Pakistan in 2009, and much to the youngster's disappointment, with the tour being called off, he was unable to get a game. Lakmal hails form the rural south of Sri Lanka. His ODI debut was made against India at Nagpur on Dec 18, 2009.
© Island Cricket.