By Hilal Suhaib
December 19, 2010 (Island Cricket): Sri Lanka's assistant coach, Stuart Law, said it would be hard to turn down the position of head coach if it was offered to him. Law, 42, was named in October 2009 as assistant to Sri Lanka's head coach, Trevor Bayliss, and is expected to be his successor.
In October, this year,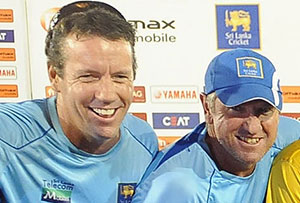 he would not be seeking an extension to his contract, which ends after the ICC Cricket World Cup 2011.
"Yes, if an offer is made, very definitely, I am willing to consider it," Law told the Lakbima newspaper in Sri Lanka recently, when asked if he would consider taking up the role after Bayliss' departure.
"It would also be an opportunity that would be very hard to turn down and there is no reason to ignore such a career-enhancing offer," he added.
Law said that he would also be prepared to continue in his role as assistant coach in the event Sri Lanka Cricket (SLC) handed the position over to someone other than him.
"If that is the way Sri Lanka Cricket is prepared to go, then I am not going to have my nose put out of joint," Law said.
"I too like to have a crack at coaching a team myself one day and from the modern game, I am not too far removed as I only stopped playing cricket only a year and half ago. And if they choose to go with someone else I am comfortable with that too."
Now a British citizen, Law, represented his native Australia in 54 ODIs and one Test match from 1994 – 1999. He was a prolific scorer in Australian domestic cricket and has represented Essex, Lancashire and Derbyshire in English county cricket, where he played a T20 as recently as 2009.
© Island Cricket