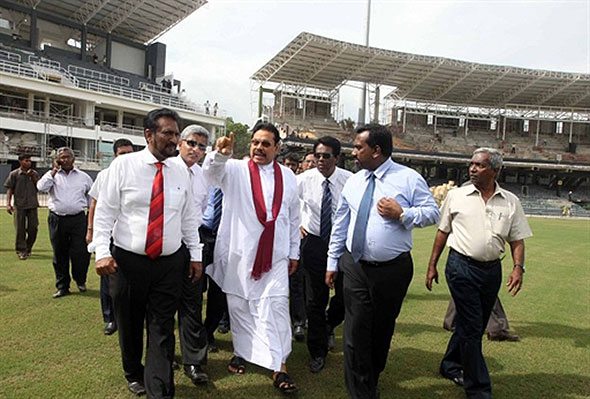 President Mahinda Rajapakse speaks with officials during a visit to the R. Premadasa Stadium in Colombo on January 04, 2011. AFP PHOTO/PRESIDENTIAL SECRETARIAT/STR.
January 04, 2011 (Island Cricket): Somachandra de Silva, the chairman of the interim committee which currently overseas the administration of Sri Lanka Cricket (SLC), informed the Sri Lankan President, Mahinda Rajapakasa, that Sri Lanka's World Cup venues will be ready by January 15 when the President met SLC officials this morning.
"De Silva said the construction of Pallekelle, Kettharama and Sooriyawewa grounds will be completed soon, and they will be handed over to the International Cricket Council [ICC] by the 15th of this month," the state run Sri Lanka Broadcasting Corporation (SLBC) reported today.
De Silva's interim committee failed to meet the ICC's deadline of November 30 and December 31 for venue completion prompting the ICC to set January 15 as a final deadline before moving the fixtures to other venues.
The Pallekele Stadium in Kandy, The Mahinda Rajapaksa Stadium in Hambantota and the R. Premadasa Stadium in Colombo resembled construction sites with unfinished concrete structures when journalist visited the venues in December.
Rajapaksa met SLC officials this morning at his official residence to discuss matters pertaining to the upcoming World Cup, including team selection, before heading out to inspect the R. Premadasa Stadium in Khettarama, Colombo.
"At a meeting held at the Temple Trees this morning with the Sri Lanka Cricket officials the president said each citizen in the country expects World Cup victory for Sri Lanka again. Therefore, all should be responsible to enhance the confidence of the Sri Lankan cricketers," the SLBC report stated.
It is not uncommon in Sri Lanka for the head of state to be closely involved in cricket, or to address the national selectors.
"The president instructed the selection committee to select the best cricketers for the 15 member team without omitting cricketers under personal grudge," the report goes on to state.
The 41 year old veteran, Sanath Jayasuriya, who is now also Member of Parliament, has been accused by the local media of utilising his influence with the President in order to be selected for the World Cup despite the lack of performances to show for his selection.
The current selection panel headed by Aravinda de Silva have included Jayasuriya in their preliminary 30-man squad for the World Cup, and with the selectors just days away from naming their final 15-man squad, the President's meeting with them today is certain to promote Jayasuriya's agenda, sources say.
The ICC Cricket World Cup 2011 gets under way with the opening ceremony on 17 February 2011, and will be played across India, Bangladesh and Sri Lanka. The first match of the tournament will be held on January 19.
© Island Cricket