By Dileep Premachandran | July 11, 2011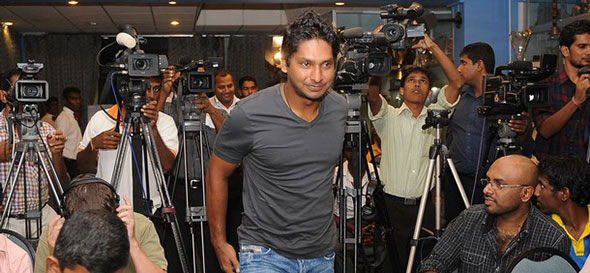 In his speech at Lord's, Kumar Sangakkara touched on the changed face of cricket administration in Sri Lanka. AFP/File/Lakruwan WANNIARACHCHI.
In a world of characters like Sepp Blatter, Jack Warner and Lalit Modi, we seldom have to go a fortnight without some outlandish pronouncement from a sports administrator. Sri Lanka Cricket (SLC), though, has done the impossible and managed to put those luminaries in the shade.
Soon after it was announced that the much-hyped Sri Lanka Premier League (SLPL) would be postponed by at least a year, a spokesman for the island nation's board told a website: "Honestly, we are finding it difficult to have the Premier League without India's support. We can't get into more debt."
Now, imagine arranging a party at your house, and sending out the invites months in advance. Then, picture a situation where you cancel it, saying that the rich neighbours did not want to attend. To say that SLC has made itself a laughing stock is an understatement.
In his remarkable "Spirit of Cricket" lecture at Lord's in England a week ago, Kumar Sangakkara had touched on the changed face of cricket administration in Sri Lanka.
(Watch the video: Kumar Sangakkara – MCC Spirit of Cricket Cowdrey Lecture at Lord's 2011.)
"With the [World Cup] victory in 1996 came money and power to the board and players," he said. "Players from within the team itself became involved in power games within the board. Officials elected to power in this way in turn manipulated player loyalty to achieve their own ends.
"At times, board politics would spill over in to the team, causing rift, ill feeling and distrust."
His comments led Mahindananda Aluthgamage, the sports minister, to ask for an inquiry from the board. The gist of his statement to Reuters was that, as a contracted player, Sangakkara had no business making such remarks, especially not without the board's permission.
There was just one problem. The board had cleared Sangakkara's Lord's address, even if it was not aware of everything that he would say. As for him being a contracted player, it was the sort of gaffe that Blatter would have been proud of.
SLC has spent beyond its means for years now, with massive official entourages a common factor for ICC conferences and overseas tours alike. They also inked dubious but lucrative television deals that effectively left them at the Indian cricket board's mercy.
As a result of all the financial mismanagement — there is to be a fresh government inquiry into overspending and dodgy accounting during the recent World Cup — Sri Lanka Cricket has not managed to award central contracts this year. So, Aluthgamage's strike one turns out to be a foul ball.
The SLPL debacle has roots in the board's agreement with the Singapore-based Somerset Entertainment Ventures, the organisers for the event. Having initially said that it would allow its players to participate, the Board of Control for Cricket in India (BCCI) pulled the plug when they learnt that Somerset, who have the commercial rights to the league, would be handling the player contracts.
Some say that there was also an unhealthy degree of paranoia on India's part about Modi's suspected involvement in the enterprise. Either way, it's ridiculous to blame India for what happened.
With the Sri Lankan board having had interim administrators for years now, there is a fair chance that those with vested interests would have shaped the event. The BCCI, which strained every considerably sinew to arm-twist others into ensuring that the Zee-owned Indian Cricket League went out of business, was being consistent when it came to its stance on private control of cricket competitions.
Instead of going begging bowl in hand to the BCCI, SLC needs to stem the rot within. Sangakkara acknowledged as much.
"Unless the administration is capable of becoming more professional, forward-thinking and transparent then we risk alienating the common man," he said.
"This is very dangerous because it is not the administrators or players that sustain the game – it is the cricket-loving public."
The above article was first published on The National, it is republished here with permission from the author.