By Staff Writers | June 8, 2017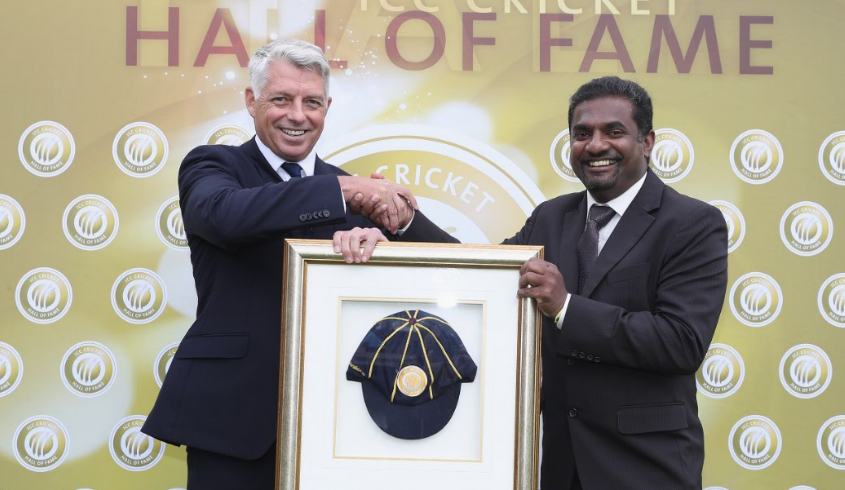 No bowler in the history of the game has more career wickets in Tests and ODIs than the Sri Lankan genius. © ICC
Muttiah Muralitharan, who is the most successful bowler in Test and One-Day International cricket, was today formally inducted into the ICC Cricket Hall of Fame during the innings break of the India versus Sri Lanka ICC Champions Trophy match at The Oval.
The retired Sri Lanka spin great was awarded the honour along with Arthur Morris, George Lohmann and Karen Rolton by fellow ICC Cricket Hall of Famers and members of the media.
Murali, as he is fondly known, became the first player from Sri Lanka and the 83rd overall to be formally inducted into the Hall of Fame when ICC Chief Executive David Richardson presented him with a commemorative framed cap.
"It is a moment of great pride and honour to be receiving this award, especially from the ICC, which is the ultimate any cricketer can aspire to achieve," Murali said.
"The induction during this prestigious ICC Champions Trophy makes it even more remarkable. I thank the ICC for making this possible because this is a moment I will cherish throughout life."
Richardson highlighted Murali's astonishing accomplishments with the ball for Sri Lanka in a statement.
"Murali's record speaks for itself," he said. "His control of line, pace and length coupled with his ability to spin the ball prodigiously are legendary. Once he developed the doosra he became almost unplayable.
"A character popular with fellow players and fans alike, he not only helped raise the profile of Sri Lankan cricket but was a player people came out to watch the world over.
"I congratulate him on behalf of the ICC on being inducted into the ICC Cricket Hall of Fame."
© Island Cricket