By Staff Writers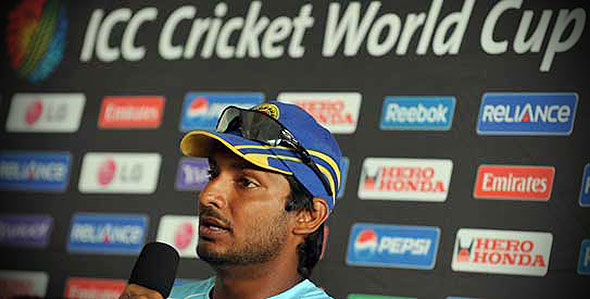 Kumar Sangakkara said that Sri Lanka should be playing all their World Cup group matches at home, like co-hosts India and Bangladesh. © AFP/Lakruwan WANNIARACHCHI.
March 6, 2011 (Island Cricket): Sri Lankan captain Kumar Sangakkara expressed his dismay over the scheduling of his side's group match against New Zealand at Mumbai's Wankhede Stadium on March 18.
"Why should we play in India against New Zealand when we are the hosts," Sangakkara asked reporters after a training session at the Pallekelle Cricket Stadium in Kandy today.
Sri Lanka and Zimbabwe are in the luscious hill capital for the 26th match of the ICC Cricket World Cup 2011 tournament, to be played on March 10.
"We were surprised when we learnt that we will have to travel to Mumbai to play the game against New Zealand," Sangakkara said.
"I was under the impression that as hosts we play all our matches at home.
"India and Bangladesh, who are also host countries, play all their matches at home. Why should we be exposed to alien conditions?"
After Sri Lanka's loss to Pakistan and the abandonment of their group match against Australia on Saturday, the co-hosts are under pressure to notch up wins in their remaining matches – against New Zealand and Zimbabwe.
"It does not matter where we finish, as long as we qualify," the Sri Lankan captain said.
"We will give our best in the coming matches.
"Playing the New Zealand game [in India] is beyond our control and you can't change that now. We need to be up for the task now."
The 2011 World Cup fixtures were announced in November 2009 and Muttiah Muralitharan was the first to highlight the strange scheduling.
During a press conference in Colombo on February 10 this year, Muralitharan said he was surprised to be playing in India, when the other two co-hosts enjoyed home advantage for their group matches.
"We are one of the co-hosts and I don't know what happened. It's a surprise for me to see us playing in India," he said at the time.
"If we play India in India that's fine and playing Bangladesh in Bangladesh is also fine, but why should we give [away] a home game to someone else?
"It's a mystery for me."
With media reports in India revealing that a laptop with data relating to the Wankhede Stadium had been stolen, the secretary of Sri Lanka Cricket (SLC) told The Sunday Times newspaper in Sri Lanka last week that his administration had raised concerns over the safety of Sri Lankan players in Mumbai with the International Cricket Council (ICC) and Indian officials.
Sri Lanka are scheduled to play New Zealand in the 38th match of the ICC Cricket World Cup 2011 on March 18 at the Wankhede Stadium in Mumbai.
© Island Cricket