By Rex Clementine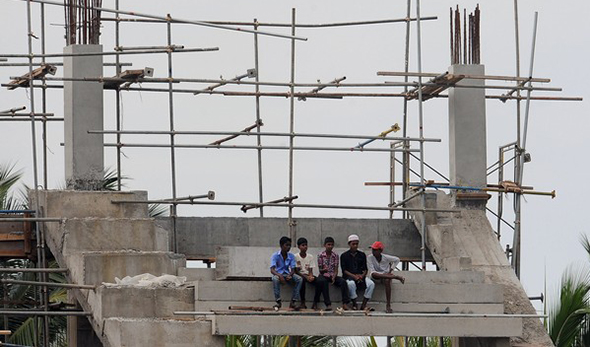 Partially completed stands just months ahead of the World Cup has shocked journalist who visited the R. Premadasa Stadium. The venu will play host to crucial World Cup fixtures next year. AFP PHOTO/Lakruwan WANNIARACHCHI.
November 22, 2010 (Island Cricket): There are serious concerns over Sri Lanka's venues for the 2011 Cricket World Cup and if they will be ready in time, after journalists were given a tour of the construction at the R. Premadasa International Cricket Stadium in Colombo yesterday, ahead of the second Test between Sri Lanka and West Indies, starting today.
R. Premadasa Stadium right now is well behind schedule and is not going to meet the ICC's deadline of 30th November, by which period all construction should be complete.
Incidentally, not too long ago, Sri Lanka's World Cup Director, Suraj Dandeniya, claimed that Sri Lanka's venues were "ten days ahead of schedule," but nothing could be further from the truth as the ICC guidelines demand the following: "…deadline date for the completion of all stadia construction work to be 30th of November 2010 and all playing facilities to be match-ready by 31st of December 2010."
A media release sent out by Sri Lanka Cricket said construction of the venue will only be complete by 31st of December and appears to admit that Sri Lanka Cricket has broken ICC guidelines.
Although the reconstructed R. Premadasa Stadium has several new stands, not a single one of them has been complete as of now and none of them are going to be ready before the November 30 deadline and Sri Lanka could be rebuked strongly by the ICC for these serious delays.
In a state of panic, Sri Lanka Cricket was quick to issue a media release yesterday, but at the same time was concerned that photographers were taking pictures of the half finished stadium.
Labourers were putting finishing touches to the dressing rooms yesterday while other important locations such as the Match Referee's Room, Commentator's Boxes and the Press Box were incomplete and some of these facilities were temporarily shifted elsewhere.
Furthermore, Sri Lanka Cricket may as well close down the venue for public access as there is not a single stand where spectators can witness the game from and the safety of everyone entering the venue remains a huge concern.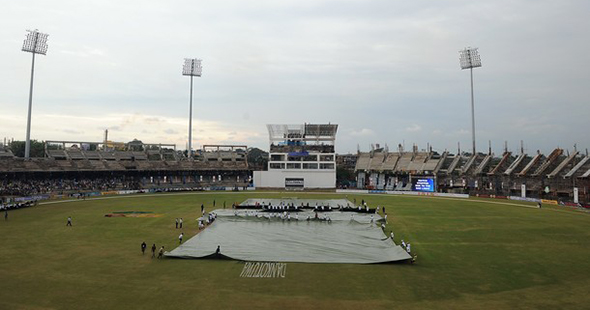 AFP PHOTO/Lakruwan WANNIARACHCHI.
Yesterday, players and team officials were seen struggling to get to practice nets through muddy narrow roads and with the venue in such a state, the teams would have found it extremely difficult to concentrate on cricket.
R. Premadasa will host the most number of games as a World Cup venue. Seven matches will be played there including a quarter-final and a semi-final encounter and with the World Cup just 87 days away, the organisers seem to be running out of time to complete construction.
Nishantha Ranatunga, the controversial Secretary of the Interim Committee, on a few occasions has spoken of corporate governance at Sri Lanka Cricket. Corporate Governance for him seems to be appointing the Chairman's nephew as the Director of the World Cup Secretariat. Today, the highest paid individual at Sri Lanka Cricket is Suraj Dandeniya – – the nephew of the Chairman of the Interim Committee — who is the Head of the World Cup Secretariat in Sri Lanka.
There's another nephew of the Chairman working at the World Cup Secretariat for another large salary and various other individuals were recruited on the recommendations of the Ministers, Secretaries of Ministers and so on.
The only person with any qualification working at the World Cup Secretariat is Sriyan Samararatne, a respected former Air Force official.
The delay in construction is the latest setback in an administration that is struggling to lift itself.
Duleep Mendis, the affable former Captain was told to vacate his position a few months back and wasn't even given a farewell after the stalwart served the game for over three decades in various capacities at Sri Lanka Cricket, with resounding success as well.
A request by national Captain, Kumar Sangakkara, to reinstate Chandika Hauturusinghe as a coach of the National Team too has not been considered favourably.
More shockingly, it has been revealed that the board officials have asked the country's Under-19 cricketers to throw away their wickets during an ODI game in England after the board had made a mess of travel arrangements. With these actions, cricket officials in Sri Lanka gave a first-hand experience to young cricketers on how to throw a cricket match. As a result, Sri Lanka missed out on a golden opportunity to record a series win in England.
Despite hiccups such as these, officials like D. S. de Silva and Nishantha Ranatunga have carried on in their capacities as their political clout seem to be standing in good stead. But little do the politicians who back them realise that officials such as de Silva and Ranatunga are doing irreparable damage to the sport.